December 20, 2011 -
Greg Gabriel
The lesson learned from the 2011 NFL season
After watching 15 weeks of NFL football this year the one thing that has become obvious to me is many clubs do a poor job handling the backup quarterback situation.
This season in particular it has become obvious that the backup quarterback is the single-most important backup position on the club and if you don't have a good one then your season could be lost. Just look at the Indianapolis Colts and the Chicago Bears as prime examples.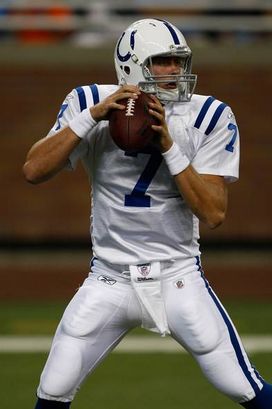 Curtis Painter couldn't help the Colts with Peyton Manning out of the lineup.
The Colts lost Peyton Manning before the season even began and did not have a quality backup on their roster. They went out and signed Kerry Collins but he had virtually no training camp and then got hurt a few games into the season. They then went to Curtis Painter and he proved that at best he's no better than a 3rd QB on a team's roster. Only in the last few weeks have they found out that Dan Orlovsky has the talent to be a quality backup. This is a team that has been a playoff team and Super Bowl contender for the last decade and by not having a quality backup quarterback it has fallen to a 1-13 record this year. Do you think it's an important position?
In Chicago, things were looking good after 10 games with the Bears having a 7-3 record. Unfortunately, Jay Cutler broke his thumb at the end of game 10 and had to have surgery. In came untested Caleb Hanie, a player who has been with the Bears for four seasons and most thought (including myself) that he could be a good backup but has since proven he can't. Once the bullets started flying, Hanie had that "deer in headlights" look. Not having the right guy at the position cost the Bears a playoff spot this year.
We have seen the same story played out at other places. In Oakland after Jason Campbell got hurt they went to Kyle Boller. It took the Raiders only a few weeks to figure out he is not a player and then they had to go out and give up a boatload of draft picks to get Carson Palmer. In Kansas City after Matt Cassel was lost they quickly found out that Tyler Palko wasn't a worthy backup either. They were lucky to have a poor enough record to be able to claim Kyle Orton and they will soon find out that he could be their quarterback of the future. The only problem is Orton is a free agent after this season. If the Chiefs want to keep him they have to pay. I'm sure there will be plenty of clubs looking to add Orton if they have the opportunity.
What does all this mean?
First off, it means that there are not enough quality quarterbacks in the league. One thing this season has done is jack up the price of quality backup quarterbacks. Next spring, I'm sure you will see a few teams pay a ransom for a solid veteran backup. You may also see clubs invest a high pick in a quarterback even though they may have a quality starter already. The position is that important as is the development of the players at that position.
What also needs to be looked at is how the backup quarterback practices during the week. Right now at many places the starter gets 90-100 percent of the reps during the week. The backup knows the game plan but he seldom gets to practice it. That's not the case at other positions. When you watch an NFL practice, you constantly see backups and role players gets practice reps but you never see the backup quarterback get equal reps. Who is more important to the club? I dare say after watching this season, the backup quarterback needs get at least 25 percent of the reps during the week. He HAS to be ready to play. Backups at other positions are.
Quarterback is a very difficult position to evaluate. Many evaluators look at the physical traits and project from there. While the physical traits are important, they aren't all important. Not at that position. I have seen many athletic, strong-armed quarterbacks fail because they lacked the proper intangibles. A quality quarterback has to have strong football character. He has to be a hard worker, a strong leader and HAS to be a quick thinker with very good instincts. It is a difficult job to find 32 players that fit that description let alone 64, but if teams are going to be successful they have to prepare for the worst-case scenario and have a legitimate backup quarterback. That means they have to have a player ready to play and have their cap budget set so that they can afford a quality backup. As we have seen this season, the risk of not having a competent backup can be very costly to a team.