August 29, 2014 -
Greg Gabriel
The magic number is 53
Roster cuts

All 32 NFL clubs have to get down to the required 53-man roster by Saturday afternoon. While some borderline players will be happy if they don't get a call from the "Turk," they still can't rest easy. There will be more roster changes over the next two weeks than at any other time during the NFL season.
Some clubs will make waiver acquisitions and, if awarded a player, they have to make room by cutting someone already on the 53. Clubs will also sign some of the street free agents who cleared waivers either earlier this week or from this weekend's cuts.
Lastly, after the first regular season game, a club can sign a vested veteran and not have to guarantee his contract for the entire season. A vested veteran is any player with four or more accrued seasons. If that player is on a club's 53-man roster for the first game, his contract is guaranteed for the entire season. If he gets cut and brought back after the first game, he is paid on a per game basis. This can help clubs who do not have a lot of salary cap money maneuver.
Practice squads

Previously, each club could sign up to eight players to their practice squad. Each player signed had to be practice squad eligible, meaning if he was on an active roster in the past for an extended period, he would be ineligible.
This year, the size of the practice squad has been raised to a maximum of ten players with two of those players being guys who have earned no more than two credited seasons towards free agency. Another change to the rule is that a player must be on a practice squad a total of six weeks in order to use up one of his "eligible" practice squad years. The old rule was that a player with three weeks on a practice squad used up one of his eligible years.
These changes are important in that they open the practice squad to more players. Also, a club could have a situation where a young player who they were counting on making the 53-man roster wound up missing a lot of practice time because of a minor injury. This could be a player who had made the club previously as, say, a rookie. Because he missed so much practice time, he was not properly evaluated. That player can now be signed to the practice squad where before he wasn't eligible. These rule changes give the clubs much more flexibility when it comes to finalizing the 53-man roster. In essence, it really increases the roster size, without it affecting the 53.
A practice squad player makes a minimum salary of $6,300.00 per week. That figure is not etched in stone and can be negotiated. There are some practice squad players who make the rookie minimum salary. In 2014, the rookie minimum is $420,000, which means that if you pay a practice squad player the rookie minimum he is getting more than $24,000 per week.
What will be interesting to see is how much league-wide competition there will be for these newly eligible "veterans" with practice squad eligibility. You can bet that most of these players won't be getting paid the practice squad minimum.
The Josh Gordon situation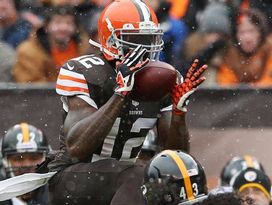 Gordon and the Browns have nobody to blame but themselves.
I have read countless articles over the past few days of people stating Browns wide receiver Josh Gordon was "wronged" by being suspended for a year. The thinking is that "It's only marijuana and marijuana is legal in some states."
I'm sorry, but that is foolish thinking. Josh Gordon has had a problem with marijuana for years. This is not a new development that occurred over the last few months. Gordon tested positive while he was in college and he has tested positive numerous times since he has been in the NFL.
Whether or not you agree with the NFL's rules on marijuana is not important. Those are the rules and all players must abide by them. Gordon knew that he was subject to spot testing, yet he still chose to smoke dope and the result was another positive test and a suspension for a full year. The man has a problem and it is time that he matures, owns up to his problem and gets treatment. If he doesn't, Gordon will never play another game in the NFL.
The Cleveland Browns are also said to be upset with the league's ruling, which is ludicrous. They knew before the draft that Gordon failed another drug test yet, they did nothing about trying to replace him during the draft. It's their own fault for not addressing the problem in a receiver-rich draft.
I understand that while appealing the NFL ruling, Gordon was eligible to be at training camp. But I don't understand why the Browns had him working with the first unit. In Philadelphia, starting tackle Lane Johnson will miss the first four games because he tested positive for PEDs. In camp, Johnson worked with the second unit so that his replacement Alan Barbre could get enough work with the first-team offense. That approach makes sense and Cleveland should have been doing the same thing.
New domestic violence policy

Since it was just Thursday afternoon that the new policy regarding domestic violence was announced, we don't know enough about it to get into it thoroughly. But this was a long time coming and Commissioner Roger Goodell should be commended.
A six-game suspension for a first offense is a strong detriment, as is the lifetime ban for a second offense. If this doesn't get the attention of NFL employees, nothing will. My only question to the policy is this: Because of the strong penalty, will a wife or girlfriend be silent to abuse because reporting it will cause their partner to lose a lot of money? I hope that is not the case, but we will find that out in the future.
I agree that the NFL dropped the ball with the Ray Rice incident. It's just too bad the penalties can't be retro- active to his case. He deserves much more than a two-game suspension.
Follow Greg on Twitter: @greggabe