November 21, 2014 -
Greg Gabriel
The maturation of Derek Carr
While the Oakland Raiders have not had a very good year, rookie second-round draft pick Derek Carr has had an excellent season. Thursday night in poor conditions, Carr led the Raiders to a 24-20 win over the Kansas City Chiefs for Oakland's first victory of the season.
Mind you, this was not a poor Kansas City team the Raiders were playing. This was a Chiefs team that had won five straight and is currently in the middle of the playoff chase. This game was extremely important to Kansas City.
Playing in awful conditions, Carr completed 18 of 35 passes for 185 yards and the game-winning touchdown pass with less than two minutes remaining. Was Carr flawless? No, but he was very efficient and that final drive was his first game-winning drive of the season. It will do wonders for not only his confidence, but the confidence of the team.
Going back to the pre-draft process, I had Carr as my top quarterback in 2014. Not only did I feel he had the necessary physical tools, but I also felt that he was the most NFL-ready as compared to the other signal-callers in the draft.
After three months of games, my thoughts were spot on. While each of the rookie quarterbacks have not had a chance to play, Carr has been head and shoulders above the ones who have had the opportunity to step under center (Bortles, Bridgewater, Mettenberger).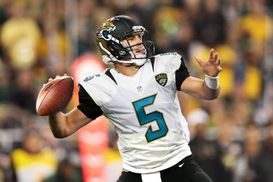 While Carr's stock is rising, Bortles (above) has been trending in the wrong direction as of late.
Bortles, who was the third overall pick in the draft, has almost as much playing time as Carr and hasn't been nearly as good. He has completed just 176 of 278 throws for a 63 percent completion percentage with eight touchdowns and 14 interceptions.
Carr has completed 240 of 406 throws for a 59 percent completion percentage with 14 touchdowns and nine interceptions. The touchdown to interception ratio is one of the most important stats to use in comparison.
When you look at the rosters, Jacksonville has a far better talent pool than the Raiders, but Minnesota has more quality players than both Jacksonville and Oakland.
I like Bridgewater's overall play, but by design, Vikings offensive coordinator Norv Turner has been conservative with his playcalling with a rookie quarterback at the helm. Turner is not about to ask Bridgewater to do things he is not ready to do. It's a smart move on Turner's part, as he is trying to build the confidence of Bridgewater.
Looking back at how I graded each of these three quarterbacks, Carr and Bortles are playing as expected and Bridgewater is playing a bit better.
I thought that if Bortles played in 2014 he would struggle, and so far he has. His play early as a starter has actually been better than his play as of late. Over his last four games, Bortles has thrown four touchdowns to seven interceptions and except for the Cincinnati game, his completion percentage has been around 55 percent.
When you evaluate the play of rookie quarterbacks, you don't expect them to play like a veteran, but you hope that week after week, the arrow is going up. With Carr and Bridgewater, the arrow is definitely going up as they keep showing improvement with poise, leadership and decision-making. I'm not so sure that is the case with Bortles.
If we had a redo of the 2014 draft, I doubt Jacksonville would take Bortles with the third overall pick. Knowing what they know now, they most likely would have traded down and taken him later. As for Bridgewater, he got drafted where he should have gotten drafted. I felt he was a high second-round pick, but with Minnesota trading up to select him with the final pick of the first round, it was a smart move. By taking Bridgewater in the first, the Vikings get the option of a fifth year, which is important if he develops as they anticipate.
With the way Carr has played, there is no way he would have lasted until the early second round. He more than likely would be the first quarterback taken. He is the best decision maker of the three quarterbacks and has the quickest release. I felt last spring that Carr had the traits to be a future Pro Bowl-type quarterback. I still feel that way. In fact, I'm surer now than I was six months ago.
As for Johnny Manziel, the other quarterback taken high, the jury is still out because he hasn't had the opportunity to play in Cleveland due to the play of Brian Hoyer. Hoyer has played so well that Manziel's chance may never come in Cleveland.
Follow Greg on Twitter: @greggabe