August 24, 2011 -
Barry Dorey
The media can't have it both ways on Tebow
On Tuesday, Michael Silver of Yahoo! Sports wrote a column stating that people in the Broncos organization claim Tim Tebow is no better than the 4th-best quarterback in camp.
I don't doubt what Silver had to say. In fact, I'm sure he is correct. What bothers me is that Tebow will be labeled a "bust" by the mainstream media when in fact it was media pressure that made him a first-round pick in the first place!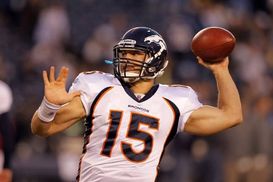 ICONIs it even fair to consider Tim Tebow a "bust" if things don't work out in Denver?
Heading into the 2010 NFL Draft, there were numerous articles and videos claiming Tebow was a can't-miss first-rounder when in fact I don't know too many people in the scouting business (and I know most of them) that had a first-round grade on him.
Tebow is not a "bust" — he never should have been drafted in the first round or second round for that matter. There is an old saying in football that goes like this: "Owners own, coaches coach and scouts scout." Now my friends in the coaching community will be angry with me for this comment but in this case a coach who was not a good evaluator of talent made the call and it will cost Denver a lot of money. He succumbed to his own ego and the media pressure to make Tebow a first-round pick.
Tebow was a great college football player who played for a great college coach (Urban Meyer), but Meyer has not developed top-notch NFL quarterbacks. At Utah he had Alex Smith, who also was hyped by the media and ended up being drafted first overall. It's now Smith's 7th year in the league and he has done nothing.
Tebow played in the same offense but to tell you the truth, that offense doesn't develop NFL-caliber quarterbacks — it develops college quarterbacks! The college game is so much different than the pro game with the high percentage spread offenses. These offenses put up a lot of points and are very fan-friendly but productive players in these offenses (especially quarterbacks) don't necessarily become good professional players.
Over the years I have seen many people in the media who can't and don't know how to evaluate say that certain players were "sure-fire" first-round picks. Two years ago right before the start of 2009 college season, people at ESPN were saying that Ole Miss quarterback Jevan Snead was a top-5 pick. That was one of the reasons the kid left school early. The problem was he was not a top-5 pick — he wasn't even a draftable prospect. He ended up being an undrafted free agent.
These people are not held accountable for what they say. In fact, people like Snead make decisions based on what these so called "experts" say when half the time they don't have a clue what they are talking about.
I feel bad for Tebow. He has been under a great deal of pressure to succeed since the day he was drafted. If he had been drafted where he should have been drafted (3rd or 4th round) he wouldn't have this daily pressure and it would be a lot easier for him to develop…and there wouldn't have been any expectations.