June 29, 2012 -
Greg Gabriel
The most difficult position to scout
As I have said many times in the past, many people think that scouting is an easy job. Forget that thought, because it can be one of the most difficult careers a person can have.
Scouts live a lonely life…they can be away from home for 180-200 nights a year. On top of that, you better be right about the majority of prospects you scout. If not, you can soon be on the outside looking in. With that being said, some scouts find it easier to scout some positions more than others.
For instance, I was a running back and so it was easy for me to scout running backs because I knew so much about the position. On the other hand, the position that took me the longest to feel comfortable about my reports was offensive linemen.
O-Line is a difficult position to scout because there is so much that goes into understanding the position. Not only are you looking for the general traits such as size, strength and power, but a scout also has to know exactly what his club's offensive coordinator and line coach are looking for at center, guard and tackle. What fits one team may not fit another.
Offensive linemen are a different breed. Unlike any other position group, they are a group that has to function as one; they are a sum of the parts. Not only does the player have to have the right physical traits but he also has to fit the criteria the team wants as far as personality and intelligence. In the offensive line group, if a player doesn't fit in with the other guys, chances are he won't play that well or may not play at all. In the meeting room, there is a cast system and the young player has to earn the respect of the veterans. If he is a loner or an outcast it can be difficult for him to be accepted by the older players.
The one common denominator that most teams look for in offensive linemen is intelligence. As a whole, offensive linemen are probably the smartest guys on a team. While they may be "nasty" on the field they still have to be level headed and be able to think on their feet. They have to be able to pick up line calls and switches in protection in an instant. If they fail to hear a call or bust an assignment the called play is dead.
The offensive lineman also has to have a high degree of football character. He needs to be a self-starter who is reliable. The lazy player just isn't going to make it. He may survive for a little while because of his natural talent but sooner or later it will catch up to him and he will be cut because his teammates can't trust him.
What to look for in tackles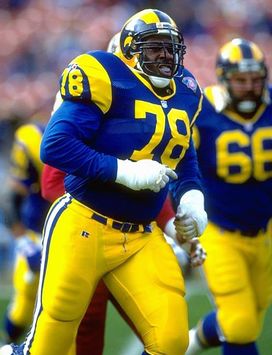 Jackie Slater was an NFL Hall of Fame offensive tackle.
Speaking in general terms, the ideal tackles would be in 6-4 to 6-7 range and weigh 310–320 pounds. There has been a tendency over the last 10 years or so because of the popularity of zone blocking schemes to draft taller players (6-7 to 6-8) but many of these players don't have the natural athleticism of a shorter guy. Tackles who run sub 5.0 40's are rare, so scouts typically look for players that run between 5.0 and 5.3. That's not to say that a 5.5 guy can't play…he can, I'm just talking from an ideal point of view. The left tackle is usually more athletic than a right tackle because he has to protect the quarterback's blind side. He may have quicker feet, can recover more quickly and have more range. No matter what side he plays, you want a tackle to have long arms. 33" arms would be the minimum arm length but many teams prefer a player with 34 or 35 inch arms. Long arms give a player a leverage advantage, while the shorter armed player can have a hard time keeping an opponent off his body.
All offensive linemen have to have good bend. Straight legged players have a tendency to bend at the waist and fall off blocks. A good knee bender will keep his back straight and have a good base and balance. Balance is very important, a lineman can't play the game on the ground.
Another common trait regardless of offensive line position is hand use. You want a guy with quick hands and a strong punch. You want the player to strike quickly with his hands and be able to recoil and strike again. Players who "wind up" are giving their opponent an advantage. You always want to see a player keep his hands inside.
Lower body strength is also a trait you look for in all linemen. Players who have "snap" in their hips to explode into their opponent and drive them off the ball.
Guards
Guards will generally have a little stockier build than a tackle. Ideal size would be from 6-3 to 6-5 with the player weighing between 305 and 320. While a tackle has to be a pass blocker first, gurads have to be strong run blockers. Many defensive schemes in the league have huge interior defensive linemen and because of this, guards have to have to be powerful men who can get off the ball and explode into his opponent.
Obviously they have to have a very good degree of balance so they can sustain blocks and get movement.
While guards have to be strong run blockers, they still have to possess good pass blocking skills. The difference is they don't have to be as rangy as a tackle. Tackles have help on the inside from guards but a guard has help on both sides. Still he has to have a good base with quick feet and a strong ability to anchor. If a guard or center can't anchor the quarterback, he is in trouble because defensive linemen will be able to sink the pocket.
Depending on the offense, guards also need to be able to pull. He has to have the skill to get out of his stance quickly, turn, run and adjust on the move to a moving target. This requires good body control and a good degree of athleticism. In some of the zone schemes that don't pull as often you can get by with a little lesser athlete.
Centers
Centers can be much like guards, in fact many can play both positions. The center in many cases is the leader of the line and makes the line calls, so he has to be intelligent and instinctive in order to make the right calls. In pass protection he has to have a high degree of awareness because he is often asked to help the guards with stunts and blitzes.
The ideal size would be from 6-2 to 6-5 and like the guards, weigh between 305 and 320. Because he often has to block the biggest player on the defense (the nose tackle) he also has to be very powerful…he has to find a way to move that player.