October 28, 2014 -
Greg Gabriel
The NFC at the halfway point
Through Monday night's Washington-Dallas matchup, just about every team has completed half their season. Obviously, the teams that have already had a bye have played only seven games, but we still have a fairly good idea of where each division is going. Like every season, some teams have disappointed and some have surprised, but it's safe to say that this has been an exciting season to date.
NFC East
Going into the season, my feeling was that Philadelphia would walk away with the division mainly because the other three teams were weak. Philly is sitting at 5-2, but they are currently a half game behind the 6-2 Dallas Cowboys.
Early in the season, the Eagles were hit by an overwhelming amount of injuries, especially to their offensive line, but they have been able to survive. The Eagles are as healthy now as at any point during the season and I still feel they will be the division winners.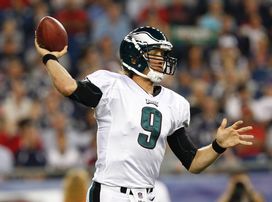 US PRESSWIREFoles and the Eagles should finish the season atop the NFC East.
Quarterback Nick Foles isn't playing the mistake-free football he did last year, but he's still having an outstanding season. The player to watch during the second half of the season is rookie receiver Jordan Matthews. He seems to play better every week and Foles is throwing to him more often.
Dallas has to be one of the surprise teams of the season, as Tony Romo is having his best campaign in years. One of the keys has been the play of the Dallas offensive line. Right now, this group may be as good as any line in the NFL.
The line play has helped DeMarco Murray run for over 1,000 yards through the first eight games. His only problem has been fumbling.
The defense doesn't have a lot of stars, but they are playing consistent football and are doing a good job forcing turnovers. While I don't feel Dallas can win the division, they will be in the mix for a wild card.
Washington is at 3-5, but may have played their best game Monday night with an overtime road win at Dallas. What's remarkable about the Redskins is that they won the game with Colt McCoy under center, who was their third team quarterback.
The Redskins should get RGIII back next week and while I feel that Washington is out of the playoff picture, they can prove to be a spoiler.
The Giants just aren't a good team right now. They have been hurt by the very average play of Eli Manning and injuries. With top receiver Victor Cruz out, someone has to step up and it may be first-round pick Odell Beckham. Odell has only played in three games to date because of a hamstring injury, but looks better every week.
NFC North
Going into Week 1, I felt the Chicago Bears were going to give a serious challenge for the division title. The Bears spent a large amount of money trying to upgrade the defense and, to date, it hasn't worked.
Many including myself felt that Jay Cutler would put up some big numbers with this being his second year in Marc Trestman's system. It hasn't happened. If anything, the offense has regressed as club's have figured out how to defend the Bears.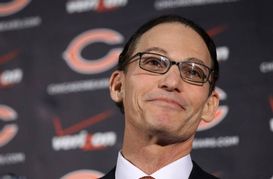 Trestman and the Bears need this bye week in a bad way.
There is a disconnect right now between the players and the coaching staff. With the Bears on a bye week, everyone has to figure out how to get back on the same page. If that doesn't happen starting with the Green Bay game following the bye, this season will be lost.
Green Bay may not have the best talent in the division, but they have Aaron Rodgers and they are as well coached as any team in the league.
The problem is the fact that injuries are starting to take their toll on the Packers and what we saw Sunday in the New Orleans blowout may be a sign of things to come.
Detroit is sitting in first place at 6-2 right now but that is a lucky 6-2. The Lions are a delay of game penalty away from being 5-3. While the Lions certainly have talent, this group has been very undisciplined in the past and, in my opinion, still are.
Like Chicago, the Lions are on a bye this week. But when they come back they have three very difficult games against Miami, Arizona and New England.
Minnesota at 3-5 is actually playing better than I thought they would. They have survived the Adrian Peterson ordeal and are starting to play consistent football.
Rookie quarterback Teddy Bridgewater is playing like a rookie, but he is getting better each week and this bodes well for Minnesota's future.
NFC South
Going into the season, I felt that this division was going to be one of the toughest in the league. I was way off on that assessment. At this point in the season, not one team in the division has a winning record.
I felt New Orleans and Carolina would be the class of the division with a strong challenge from Tampa Bay. New Orleans may be the class of the division, but at 3-4 it's not by much. With Sunday's blowout win over Green Bay, perhaps the Saints have turned the corner. With Drew Brees at quarterback, they will always be dangerous.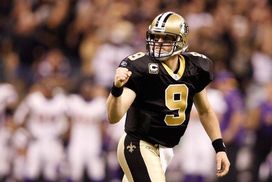 Brees and the Saints lead a mediocre NFC South.
Carolina is very well coached, but they just don't have enough good players. Injuries have hurt as their depth has been depleted because of salary cap decisions that had to be made during the offseason.
With New Orleans and Philly up next, things don't look good. Carolina needs to win both of these games to get back on track.
Atlanta has to be one of the big disappointments this year. They have lost five in a row and by blowing a 21-0 lead against Detroit on Sunday, things aren't looking any better. Word has it that there could be a number of changes in Atlanta come January.
Tampa Bay sits with Atlanta as one of the big disappointments of the season. They had a chance to get a win Sunday, but a dropped interception led to a Vikings tying field goal and then on the first play of overtime, a Tampa Bay fumble was returned for a touchdown. This has been the way the entire season has gone for the Bucs.
During free agency, Tampa Bay went out and signed a number of players to upgrade the team. To date, none of these new players has made an impact. I can't see the Bucs winning more than three games this year.
NFC West
Along with the NFC South, the NFC West was supposed to be the class of the conference. That hasn't been the case. The defending Super Bowl champion Seattle Seahawks have lost two of their last three contests and were lucky to get a win against Carolina on Sunday.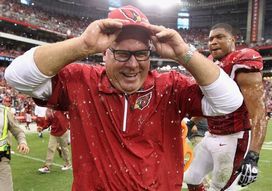 Bruce Arians is your coach of the year at the midway point.
There have been reports of discontent and turmoil in the Seahawks locker room and if that is true, we can cease all of that "back-to-back Super Bowls" talk.
This is still a quality football team, but they need to get their act together for the second half of the season.
Just like in Seattle, there have been reports of discontent in the San Francisco locker room. The 49ers' problem isn't between the players, it's between the players and the coach. Who knows what the tr uth is, but this San Francisco team is not playing up to their level of talent.
San Francisco is coming off the bye and their next four games are very winnable. If that happens, the Niners will still be able to challenge for the division title.
To date, the class of the division has been the Arizona Cardinals and head coach Brice Arians just may be the coach of the year. The Cardinals don't have the best overall talent, but they play smart football and play with confidence. Defensive coordinator Todd Bowles should be a head coach next season as he has done an outstanding job.
I feel the Rams are much better than their 2-5 record indicates. They have been hurt by injuries all season and it didn't get any better Sunday when St. Louis lost left tackle Jake Long to an ACL tear. A bright spot has been the play of quarterback Austin Davis. He has shown that he has an NFL future, but his lack of experience hurts right now. With Sam Bradford's contract set to expire, this might end up preparing the Rams for the future.
Follow Greg on Twitter: @greggabe