July 29, 2010 -
Greg Gabriel
The NFL training camp
With training camps opening around the league this week, I thought I would write about what really goes on during preparations for the new season.
The fans see a two-hour practice and that's about it. That is just a small part of a typical day.
Years ago, two-a-day practices were commonplace in the NFL. You don't see double sessions quite as much now. Why? There are several reasons.
Tradition always seems to have a place in the NFL. Thirty years ago, players were not making anywhere near the money they are today. Some even had offseason jobs. Offseason conditioning programs were just starting out and there was no such thing as OTA's.
When players arrived at camp, it was to get into shape, learn the playbook and prepare for the upcoming season. In today's NFL, that has changed.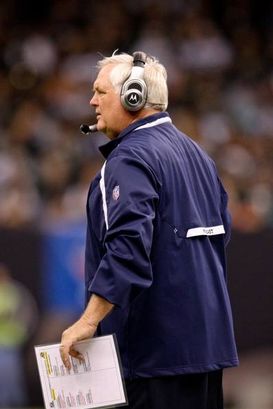 ICONCoaches like Wade Phillips are hard at work in training camp.
Today's game is just about year-round for the players, coaches and staff. Players usually have a couple of months off after the season to give their bodies a rest. Then the offseason programs begin. Players put in a good five hours a day during these conditioning programs. There are weight lifting periods, classroom work and on-the-field work. This usually happens four days a week.
Sometime after the draft, OTA's (organized team activities) begin. This gives a team 14 practices to go along with a mini-camp weekend comprised of another three or four practices. So heading into training camp, the team has already had 17 or 18 full practices plus numerous other days of work. Training camp is now spent more on fine tuning than getting guys into shape and ready to play.
The typical training camp day may differ from team to team but they are pretty similar. In the morning there may be two to three hours of team and positional meetings followed by an hour of weight lifting. After lunch, players may get an hour of rest before heading off to the training room to get ready for practice. Practices usually run about two hours.
After practice, players get treatment for bumps and bruises and some may get in some extra conditioning. There is usually about a 90-minute dinner period then another three hours of meetings. A typical meeting may include a review of that day's practice and then the installation of new plays or schemes for the next day's practice. So as you can see, it's a long day.
When coaches aren't meeting with the players, they are usually meeting among themselves. Once practice schedules are set then personnel is discussed. Often the player personnel department is involved in this part of the meetings. Individual players are talked about on a daily basis. Are they improving or regressing? Can a young rookie help the team? Who are the special team standouts?
More often than not, the coaching staff has a fairly good idea of who is going to make the 53-man squad going into camp. There may only be five or six jobs "open." Practice and preseason games become very important for the players fighting it out for the few openings. Of course, every year there are a few surprises and someone "jumps out" to the staff and he finds a spot on the team. The same can be said about a veteran player who you thought was still going to be productive and he ends up disappointing.
The hard part about evaluating veterans is knowing if they have lost ability. Because of their experience they can get through camp and look as if they will help. They have a way of "fooling" the coaches. The problem here is that you find out five or six games into the season that the player just doesn't have it anymore. I have always thought that it is better to get rid of a player a year early than a year to late. Holding onto a player too long can end up costing you games and also losing the chance to develop a young player. To be a successful franchise you have to have an ongoing system of replacing older players with young, developing players. You can't afford to let your team get too old.
Ready for fantasy football? Click here to purchase the 2010 Total Access Pass/Draft Guide from the NFP.