July 22, 2010 -
Greg Gabriel
The NFL's forgotten men
A few days after this year's draft I was told that my contract with the Bears was not going to be renewed. It marked the first time in my adult life that I was unemployed.
I had worked in the NFL in some capacity since 1981. But when this opportunity with the National Football Post arose, I was back in the game.
I was lucky. I may not be in the "league" per se, but I get to write about it and offer strong opinions.
There are many well-qualified player personnel people who have spent years in the NFL that are out of work for various reasons. Some have found new jobs but they are not doing what they want or love to do. I thought it was time to talk about some of these guys, mainly because no one else does. Some of these people are friends and some are guys that I have a great deal of respect for because of the work they did.
In the NFL, you don't always lose your job because you aren't good at it. It's usually because of circumstances totally out of your control. Circumstances such as the club you are working for hires a new GM and he wants his own people or your team isn't winning and someone has to take the blame. But does that mean you shouldn't be able to find a new job in the league? Unfortunately that is too often the case.
Why? I really don't know. Sometimes you're overqualified for a position, but many times the people in position of hiring may be a little scared to pull the trigger and hire you because they don't want to be put in the position of hiring someone with more skills or experience than themselves. People are very sensitive to their own job security and they can feel that if they hire a guy with a strong resume they may be hiring their replacement. It's a sad thought, but it's often true.
I always thought that you hire the best people you can find. The more talent you have in the front office, the better off the organization becomes.
Let's talk about some of these guys:
Bill Kuharich – Bill started off in the USFL and was part of a very successful Philadelphia franchise. While in the NFL, he was GM of the New Orleans Saints and director of player personnel for the Kansas City Chiefs. Bill is a very intelligent guy and a knowledgeable personnel guy. He shouldn't be out of work.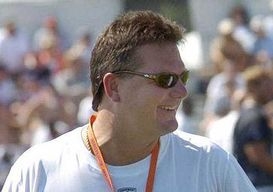 Former Bears director of pro personnel Bobby DePaul.
Bobby DePaul – Bobby spent the last nine years as director of pro personnel in Chicago. If there is a better pro guy in the league, I would like to know who he is. He is a top evaluator and very knowledgeable.
Phil Savage – Phil had a tough time as GM in Cleveland, but when he was in Baltimore he was considered one of the top personnel people in the league. Did he all of a sudden lose his evaluation skills? I don't think so.
Ted Sundquist – Ted was the GM in Denver under Mike Shanahan. He did a very good job and he is a very good administrator. After looking for work for almost two years he is now working for a UFL club. He belongs in the NFL.
Vinny Cerrato – Vinny was the top player personnel person with the Redskins for years. He gets blamed for a lot of what went wrong. I wonder, was that really the case?
This is just a sampling of who is out there. If I didn't mention others that are as deserving of recognition, I apologize.
For those men, I wish you the best!
Ready for fantasy football? Click here to purchase the Total Access Pass/Draft Guide from the NFP.