November 27, 2014 -
Greg Gabriel
The NFP's Thanksgiving preview
Going back to when I was a kid, Thanksgiving has always been about three things: Family, football and food. In saying that, before I even begin writing about football, I want to wish all of our readers a very Happy Thanksgiving. Without you, we wouldn't have this great website.
The NFL's Thanksgiving schedule features three games that all have serious playoff implications. The day begins in the NFC North with Chicago traveling to Detroit followed by a huge NFC East matchup with Philadelphia playing in Dallas. The nightcap has big playoff implications as well as the Seattle Seahawks travel to San Francisco.
For our college football fans, TCU is at Texas and LSU travels to Texas A&M. Thanksgiving used to be the day that Texas played Texas A&M. While those schools no longer square off in that matchup, it's nice to see that both programs are keeping with the tradition of playing on Thanksgiving. When I was a young scout with the New York Giants, I attended the Texas-Texas A&M game three years in a row and the atmosphere was always electric.
Chicago at Detroit
During training camp, it looked as if this game would be important in regards to the race for the NFC North title. However, only Detroit needs to win to keep pace with Green Bay, as the Bears have fallen completely off the grid.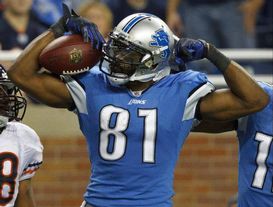 Johnson and the Lions look to get back on track against the Bears.
The Lions started the season strong but have been in a slump in recent weeks. Detroit has lost two in a row to Arizona and New England, two of the better teams in the NFL this season.
The problem with Detroit has been the offense, as the Lions haven't scored a touchdown in either of their last two games. Part of the problem has been wide receiver Calvin Johnson not playing at 100 percent, while Reggie Bush is also banged up. With those two plying hurt, teams have been able to curtail what can be a high-powered offense. It also hasn't helped that quarterback Matthew Stafford is having just an average season. His completion percentage is only 58 percent and he has thrown just 13 touchdown passes.
Chicago has bounced back a bit after blowout losses to New England and Green Bay, with home wins against Minnesota and Tampa Bay. While wins are always good, neither of those two teams are top NFL clubs.
While Chicago played a very strong game both offensively and defensively against the Vikings, the Bears came out flat last week against Tampa Bay. They were down 10-0 at the half before putting together perhaps their best quarter of the season in the third quarter. The Bears scored 21 points and forced three Tampa Bay turnovers in that third period.
If the Bears are going to have any chance in Detroit, they have to play strong from the opening kickoff and Jay Cutler has to be on top of his game. If the Bears start off like last week, this game could get ugly in a hurry.
Philadelphia at Dallas
With both teams at 8-3, the winner of this game takes the outright lead in the NFC East. Looking at recent matchups, the Cowboys had lost two in a row before coming back with a 14-point win over Jacksonville in London. Following that game, the Cowboys got their much-needed bye to rest and get healthy. Coming off the bye, the Giants gave Dallas a bit more trouble than what was expected. The Cowboys scored with a minute remaining in the game to walk away with a 31-28 win. New York had a 10-minute time of possession advantage in that matchup, so Dallas needs to be much more effective on offense if they are to beat the Eagles.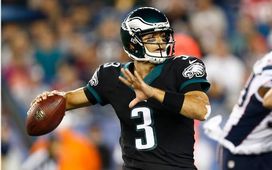 Sanchez needs to cut down the turnovers for Philly to escape Dallas with a win.
The Eagles have won three of their last four in blowout fashion over Tennessee, Carolina and Houston. Their loss was also a blowout, losing 53-20 at Green Bay.
This will be Mark Sanchez's fourth-straight start after coming in for Nick Foles following a collarbone injury. While Sanchez has had his moments, he also has been inconsistent. The former New York Jet has completed 62 percent of his passes for 1,187 yards, but he has also thrown six interceptions. Sanchez can't turn the ball over like that in Dallas and expect to win.
Philly needs to run the ball and control the clock in this game if they expect to win. This year's Dallas offense is the best we've seen in years. Tony Romo has completed 68 percent of his passes for over 2,500 yards and 22 touchdowns, with only six interceptions.
The best running back in the NFL has been DeMarco Murray with 1,354 yards and a 5.1 yards per carry average. He also has 38 pass receptions. Dez Bryant is a big, physical receiver who already has 10 scores this year.
I think Philly will do enough to win the game, but it will be close and like the Cowboys' game against the Giants last week, it could come down to the final possession.
Seattle at San Francisco
The original thinking was that this game would be for first place in the NFC West. That is no longer the case as Arizona, with a 9-2 record, has a two-game lead on both Seattle and San Francisco.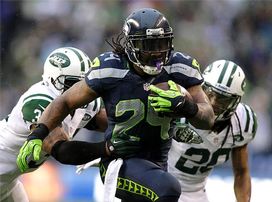 Lynch will be the key to success for the Seahawks on Thursday.
These two rivals have not played each other yet this season, so if one of the teams can engineer a sweep, it will go a longs way toward securing a wild card berth.
Playing in their new stadium in Santa Clara, San Francisco has not had a huge home field advantage. The 49ers have already lost twice in that stadium and all of their wins have been close.
This season, Seattle has not played well on the road, losing three of their five away contests. In saying that, they still have won three of their last four games. While the Seahawks were very inconsistent early in the year, they are playing much better football right now. Last week they easily beat Arizona 19-3 in one of their better games of the season.
The key to this showdown will be the running game. The 49ers need to control the ball if they want to win. Seattle needs Marshawn Lynch to play strong and Russell Wilson to be mistake-free. With Aldon Smith back, the 49ers pass rush is much better and that just may be the edge San Francisco needs. I'll go with the 49ers in a close game.
Follow Greg on Twitter: @greggabe