November 18, 2014 -
Greg Gabriel
The playoff picture
The clubs that get hot, stay the healthiest or do the best job overcoming injuries are the teams that you have to fear come playoff time. That said, with most teams still having six games to play, here are my thoughts on the eight NFL divisional races
NFC East
Right now, Philadelphia and Dallas are tied for first with matching 7-3 records. When tie breakers come into play, Philly has a slight edge because they have the better record within the division. Both clubs still have four division games left on their schedule including two matchups with each other.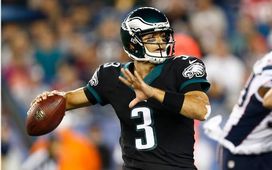 Sanchez and the Eagles have two big games with Dallas on the horizon.
Three days ago, I would have given the Eagles a slight edge, but then they got blown out in Green Bay on Sunday. Quarterback Mark Sanchez played well in his first start, but looked very average in Week 11.
Dallas is coming off their bye and should be well rested. Quarterback Tony Romo is playing his best football in years and while the defense doesn't look great on paper, they are playing well. This division will come down to the head-to-head matchups and if either team can sweep those games, they will claim the NFC East. Right now, the race is too close to call.
NFC North
Like the NFC East, we have two teams tied for first with 7-3 records. Looking at it more closely, the hot team is Green Bay. They have scored 50+ points in each of their last two games and the defense, which looked shaky early in the season, is playing much better.
Detroit has to play at New England this week and close the season at Green Bay on December 28. In between, the Lions play Chicago twice and have home games with Tampa Bay and Minnesota, all of which are winnable.
Green Bay also has to play New England (at home) as well as Atlanta, at Buffalo and at Tampa Bay before facing Detroit in the finale.
This division will most likely come down to the final game with the winner taking the title. With that game being played in Green Bay, I have to go with the Packers. Right now, Green Bay is playing as well as any team in football and is getting strong when it is most important.
NFC South
When you look at the records of the clubs in the NFC South, the thought of "who cares who wins the division" comes into play.
Atlanta and New Orleans are tied for first with matching 4-6 records. Carolina is a half game back at 3-6-1. We could very well see this division winner finishing the season with a losing record. One thing is certain, there won't be a wild card team coming from the South.
NFC West
After 10 games, Arizona has the best record in football at 9-1. Three games back are San Francisco and Seattle at 6-4. Going into the season, everyone thought the West would feature a race between Seattle and San Francisco. The way it stands now, those two teams will battle for a possible Wild Card berth.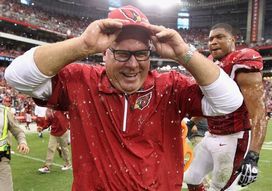 Will Arians and the Cardinals hold on for the top seed in the NFC?
fWhile Arizona's three-game lead gives the franchise some breathing room, they have to play four of their final six games on the road, including games at division rivals San Francisco, Seattle and St. Louis. They also have home games with Seattle and Kansas City. While just splitting these reaming games should result in a divisional crown, this schedule is tough and there are no guarantees.
Seattle's schedule isn't any easier, as the Seahawks play Arizona twice and have to travel to Philly and San Francisco for tough games. San Francisco actually has the easiest schedule with games against Washington, Oakland and San Diego as well as their home-and-home with Seattle. They close out in Santa Clara against Arizona. To win the division, the 49ers have to basically win out and that won't be easy.
AFC East
As usual, New England is in the driver's seat with an 8-2 record and a two-game lead over 6-4 Miami. The Pats have tough games the next two weeks against Detroit and Green Bay before closing out the season with games at San Diego, home against Miami, at the Jets and home against Buffalo. New England could very well clinch the division on December 14 with their home game against Miami.
While I'm not counting Miami out just yet, they have to travel to Denver this week, play a tough Baltimore team on December 7 and then New England the following week. Being that they are two games behind the Patriots right now, it looks as if the Dolphins are too far behind to catch up.
AFC North
While this division may not have the best teams in the NFL, they have the closest race and with six games to go, any of the four teams could still win the crown. Cincinnati is on top with a 6-3-1 record, but that tie could end up hurting the Bengals in the end. The other three clubs in the division all have four losses. Pittsburgh has a half game lead on the others with a 7-4 record only because they haven't had their bye yet.
No team has an easy schedule, but Baltimore probably has the easiest with road games at New Orleans, Miami and Houston and home games against San Diego, Jacksonville and Cleveland.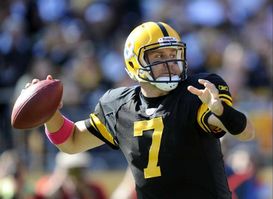 Big Ben and the Steelers are 7-4 entering a much-deserved bye week.
Cleveland will have a tough time because four of their final six matchups are on the road. Add to that the fact that this team hasn't been in a playoff race in years and their path may be the most difficult.
Right now, I feel the race will come down to Baltimore and Pittsburgh. The Steelers get to rest this week before playing New Orleans, Atlanta, Kansas City and a home-and-home against Cincinnati. Obviously, we can't count Cincinnati out, but they have been so inconsistent all year that it's tough to get a real handle on them.
The Bengals are on the road the next two weeks but both of those games are winnable. They travel to Houston and Tampa Bay and if they win both, they will be in great shape. If the Ravens split those showdowns, it could spell trouble as they have to play the Steelers twice and Denver in three out of their last four.
AFC South
What we know for sure is that Tennessee and Jacksonville are out of the race. Indianapolis has a one-game lead over Houston with a 6-4 record. They also have a favorable schedule with home games against Jacksonville and Washington coming the next two weeks. After that, the Colts travel to Cleveland and then are home against Houston. That game on December 14 could very well be for the division title. Being that Indy already beat the Texans earlier in the year, a sweep may be too hard to overcome for Houston.
The Texans have home games against Cincinnati and Tennessee the next two weeks before road games at Jacksonville and Indianapolis. So you can see that the game against Indy will make all the difference.
AFC West
Early in the year, it looked as if Denver was going to run away with the division, but that is no longer the case. The Broncos and Chiefs are now tied for the lead with matching 7-3 records. One game back at 6-4 is San Diego.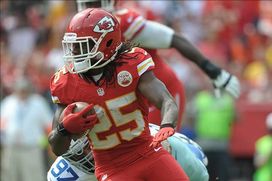 Charles and the Chiefs are on fire at the moment.
The hot team of late has been Kansas City. They have won five in a row and seven out of their last eight. What helps the Chiefs is that they play the Raiders twice and are home for their game with the Broncos. They also have to play at Arizona and Pittsburgh and finish the season with a home game against Dan Diego. I think the worst-case scenario is a 10 -6 record. The home game with Denver will be the most important of the lot.
Denver is in a bit of a slump, having lost two of their last three. The 22-7 loss at St. Louis was a surprise. This week they are home against Miami before a big game at Kansas City on November 30.
After that, the Broncos are home against Buffalo, at San Diego and Cincinnati before closing out the season at home against Oakland.
San Diego is a game behind Kansas City and Denver and has by far the toughest remaining schedule. This week the Chargers host an improving St. Louis team, then travel across the country to Baltimore. That's followed by matchups against two of the best teams in the NFL at home with games against New England and Denver. The Chargers close out the season with road games at San Francisco and Kansas City. With that schedule, I find it very hard to believe San Diego will be in the playoffs.
Follow Greg on Twitter: @greggabe