May 27, 2011 -
Greg Gabriel
The prize of next year's Draft
The obvious big prize presented to the team with the worst record in the 2011 NFL season (if there is one) is quarterback Andrew Luck from Stanford. He has all the tools to be not just a good but a great quarterback in the NFL. If there ever was a franchise player, Luck is it.
Since I have been scouting I have had the opportunity to scout or film grade some of the top quarterbacks of all time. In the early 1980's when I worked part-time for the Buffalo Bills I was able to write reports on Jim Kelly, John Elway and Dan Marino, who were all in the 1983 draft and are now Hall of Famers. As a scout, I have looked at players such as Brett Favre, Drew Brees, Peyton and Eli Manning, Tom Brady, Steve McNair, Aaron Rodgers and Ben Roethlisberger. There are not many quarterbacks who have played in the league in the last 25 years that I haven't written up. While saying that, I will say right now that Andrew Luck belongs with the best of those players coming out of college. As a college quarterback, Peyton Manning may not have had the best physical tools of the above group but he was the best prepared. Few if any have the passion for the game and work ethic that Manning has and that's what separates him from the rest. Luck may be in the same class.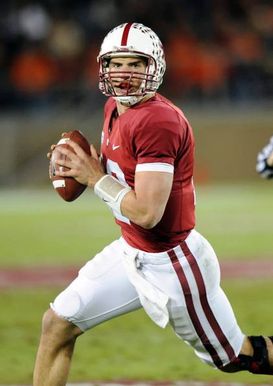 ICONAndrew Luck threw 32 touchdowns against just 8 interceptions in 2010.
Watching him at Stanford the last two years, there are things that stand out that have nothing to do with how he plays on the field. First off, he has strong personal character. He is a very intelligent young man and has his priorities straight. Yes, he is at Stanford to play football but he is also there for an education. He was an honor student in high school and is an Architectural Design major at Stanford and does very well in the classroom. By all accounts, he is an extremely hard worker both on and off the field. He is well liked by both his coaches and his teammates. He is an exceptional leader and leads both vocally and by example and has a strong passion for the game. He comes from a very good family background — his dad (Oliver) was a former NFL quarterback and is now the athletic director at West Virginia.
On the field he quarterbacks one of the most complex offenses in college football. It is a pro-style offense and he plays from both under center and in the shotgun. He has very good size at about 6-4 and 230 pounds and looks to be able to run in the 4.65 range. He has outstanding foot quickness and body control. In passing situations he can set smoothly and quickly in 3, 5 and 7-step drops. The Stanford offense is not a half-field read offense — he has to see the whole field and does an excellent job going through a progression and finding the open man. When his receivers are covered he shows patience, is able to step up in the pocket and make plays with his feet. He has a compact throwing motion with a very quick delivery and is able to consistently throw with accuracy from both the pocket and on the run.
In 2010 he completed 263 of 372 passes for 3,338 yards, 32 touchdowns and only 8 interceptions. While he doesn't have a "cannon" for an arm, his arm is more than good enough and he can make all the throws needed in the NFL. He consistently throws a tight catchable ball and his ball placement is excellent. The thing that stands out the most is his poise and composure. He never gets flustered on the field and is always in charge. He consistently makes plays and is very productive. Stanford has good but not great talent. There are many programs that have more talented players but Luck is one of the few players who can make everyone around him better. It is obvious his teammates believe in his abilities.
There is no doubt that if Luck remains healthy he could be the first pick in next year's draft (if there is one). I say "could" because he will be a fourth-year junior this season and still has another year of college eligibility, so early in 2012 he and his family will have to make that decision. If he decides to play pro football I truly believe that he is a legitimate "franchise" quarterback. He is the best college quarterback I have seen since Peyton Manning and may be a better college player than Manning was. He certainly is a better athlete!