September 13, 2014 -
Greg Gabriel
The rise of the Irish
Entering Saturday night's game in Indianapolis against Purdue, the Notre Dame Fighting Irish are 2-0 and ranked 11th in the polls. In their opener, Brian Kelly's crew beat Rice 48-17 and then thrashed rival Michigan last weekend 31-0. In both games, the Irish stared slowly on offense and needed about two series to get in sync before they got rolling. But once this offense gets moving, they have been very difficult to stop.
One of the reasons the offense is playing so well has to do with the return of quarterback Everett Golson. As a redshirt freshman, Golson led Notre Dame to a 12-0 regular season mark before getting beat badly in the National Championship game against Alabama.
Golson missed the entire 2013 season because of an academic suspension, but has come back this season to play outstanding football. Through two games, Golson has completed 37 of 56 passes for 521 yards and five touchdowns. Golson gives the Irish the athleticism and passing skills that they never had with Tommy Rees at the helm last year.
In the Kelly era, Notre Dame has done an excellent job recruiting and it shows with the team speed on both offense and defense. This season's team may be the quickest and fastest Notre Dame has fielded in years.
On offense, besides Golson, Notre Dame has three running backs each of whom is capable of carrying the load. Kelly does an excellent job working the three in a rotation and calls plays that fit each runner's skill set.
Senior Cam McDaniel is a complete back and while he lacks the speed of the other two, he is a very consistent all-around player. McDaniel is a tough inside runner who is more than capable as a pass blocker and receiver. If Notre Dame needs the tough yards, McDaniel gets the call. The other two, Greg Bryant and Tarean Folston, have a combination of speed, power and elusiveness. Each of the two is capable of going the distance on any given run.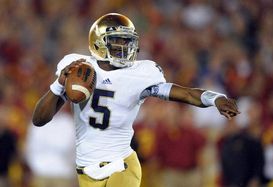 Golson has a QB rating of 173.7 through the first two games of the season.
The offense has been playing without its leading receiver in DeVaris Daniels who, along with four other players, is being held out of competition due to an academic situation. Saturday will be the third straight game these players miss.
To pick up the slack, sophomore William Fuller and junior Amir Carlisle have stepped up their games. Fuller is a tall, lean speedster from Philadelphia who has caught 13 passes for 174 yards. He has the speed and run skills to consistently make big plays, but will have an occasional concentration drop.
Carlisle is a transfer from USC where he was a running back. Kelly moved him to the slot receiver position and he has been outstanding. In the first two games Carlisle has notched nine receptions and two touchdowns.
The depth at the receiver position is excellent, with all the players being size/speed type prospects. Through two games, seven players have caught passes with three of them scoring.
The Notre Dame offensive line is excellent and more than capable of giving the offense the time they need to score in a variety of ways.
The big change at Notre Dame this year is the defense. After defensive coordinator Bob Diaco left to become the head coach at UConn, Kelly brought in Brian Van Gorder to run the defense. Van Gorder has NFL and SEC experience and has drastically changed the defensive philosophy.
Under Diaco, the Irish ran a bend-but-don't-break 3-4. Van Gorder runs an attacking 4-3 and if the Michigan game is an indicator, the Irish start blitzing as soon as they come off the bus.
In the Michigan game, Notre Dame used a variety of sophisticated NFL-type zone blitzes that worked to perfection.
Van Gorder is playing a number of young players, but most share a common trait…speed. While he may be using slightly smaller players and the end and linebacker positions, all of them can run and create pressure. I have been scouting Notre Dame football since 1984 and this is the most aggressive defensive scheme I have ever seen them run. They are fun to watch.
The leader on the defensive line is junior Sheldon Day, who is a quick, explosive type similar to former Chicago Bear great Tommie Harris. The defensive line is young as a group. They don't have a senior in the two-deep which bodes well for the future.
The starting ends are a sophomore and a true freshman, with another true freshman coming in on pass rush situations. The starters are sophomore Isaac Rochell and freshman Andrew Trumbetti, who are both high motor guys with athleticism. When the Irish go to their sub package, Rochell often moves inside and freshman Kolin Hill comes in. Hill may only be 6'1 – 235, but he runs about 4.55 and is explosive with quick hands. He reminds me of a younger Dee Ford, Auburn's great pass rusher from last year.
The linebacker unit is led by sophomore Jaylon Smith, who will be a certain first round pick the day he decides to enter the draft. He lines up at the Will linebacker spot and is ideal for that position. Smith has exceptional instincts to go along with 4.5 speed.
The secondary is also young, but again loaded with speed. The leader is Cody Riggs, a transfer from Florida. He has suddenness that I haven't seen in a while form a Notre Dame corner. Notre Dame's best defensive back, Keivarie Russell, is one of the aforementioned suspended players. If he is cleared to return, the secondary will be that much better.
Looking at the schedule, the Irish could very well be 6-0 before they travel to Tallahassee to meet defending National Champion Florida State on October 18. While this is the best Notre Dame team I have seen in years, it is that date when we will find out just how good they truly are.
Follow Greg on Twitter: @greggabe