February 08, 2011 -
Greg Gabriel
The Super Bowl Rookie Report
Maurkice Pouncey, a rookie Pro Bowl center for Pittsburgh, did not get to play in Sunday's Super Bowl because of an ankle injury but there were still numerous other rookies who played and had an impact on the game.
Frank Zombo – Green Bay
Zombo started at right outside linebacker in Green Bay's 3-4 defense. He missed the last three regular season games and the first three playoff games because of a knee injury but came up big in the Super Bowl. He finished the game with 5 tackles including a sack and 2 tackles for loss.
Zombo was an undersized defensive end in college and then made the conversion to OLB at Green Bay. He has good athleticism and playing speed. He's a natural knee bender who is quick and fluid in his pass drops. He shows awareness in coverage and has good ability to close. When playing the run he shows strength at the POA, uses his hands well and can shed quickly. He is an instinctive player who finds the ball and is an excellent pursuit player. He grades a solid A- for the Super Bowl.
Bryan Bulaga – Green Bay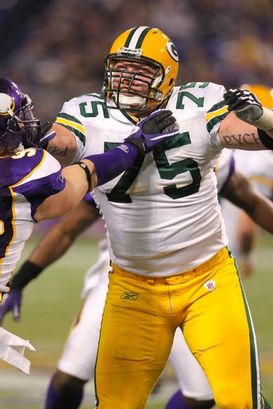 ICONPackers RT Bryan Bulaga
Bulaga starts at right tackle and just as he has done most of the season, he played a very steady game. When you play Pittsburgh you have to be prepared for a number of different defensive looks and blitzes and Bulaga was well prepared. He did a good job recognizing different blitzes and stunts. He got beat a few times but it wasn't because he didn't see what was coming. He gave up a couple of pressures early to Lamar Woodley and his man got .5 sack that was more of a coverage sack in the fourth quarter. His overall pass blocking was good. He shows good ability to get position and anchor and has a good punch. He does a good job keeping his hands inside. When run blocking, he takes good angles, has good snap on contact and is able to either sustain or get some movement. His overall grade for the game is a B+.
James Starks – Green Bay
As he has done all during the playoffs, Starks played a very consistent game. Running the ball was not a big part of the Green Bay game plan so he carried the ball only 11 times for 52 yards. As I have said before, he is a very physical runner who consistently gets yards after contact. He is always attacking his tacklers yet still has the body control and quick feet to make a defender miss. The part of his game that was impressive on Sunday was his pass blocking. Except for one play when he took a bad angle after play action, he was excellent. He's a face up pass blocker with pop and anchor and also has good hands. Overall, the more Starks plays the more complete he is becoming and next season he will be one of the better backs in the NFC. He gets a B+.
Sam Shields – Green Bay
Shields is the 3rd corner in Green Bay's scheme. He plays outside and Charles Woodson goes to the slot when they are in their nickel package. Shields started the game well, playing aggressively showing good cover skills and tackling skills. Late in the 2nd quarter Shields hurt his arm making a tackle. He missed the rest of the half and part of the 3rd quarter. When he came back in he was not quite as aggressive with his play. He gave up a 25-yard touchdown pass to Mike Wallace and missed a couple of tackles. His overall play was not what it had been the last half of the season and I'm sure the injury had something to do with it. Still, there is a lot of upside for this player in the future. He gets a C+.
Emmanuel Sanders – Pittsburgh
Sanders started out the game as if he was going to have an impact on the outcome. He caught two passes early for a total of 17 yards. On one of the catches he showed his burst and quickness with his run after the catch skills. On the second pass he caught, he injured his knee and was unable to finish the game. He gets no grade because of the injury.
Aaron Brown – Pittsburgh
Most of Brown's play was as a returner. He did get a few snaps as a receiver and caught 1 pass for 1 yard. He was targeted 3 times.
His opening kickoff return was impressive, as he showed good speed and run instincts for a 37-yard return. The next return was even more impressive and went for a total of 44 yards but was called back for an illegal block. Even with the penalty he ended up with 4 kickoff returns for 88 yards. He also returned 4 punts for a total of 5 yards. In fairness to Brown, Green Bay's punt coverage was excellent, but Brown also does a very good job tracking the ball and catching it.
As I have said before, I doubt Brown will ever be a one of Pittsburgh's top 2 receivers, but he will be a very good returner and role player in their offense. He is fast, with good hands and good run after the catch skills. He gets a well-earned B for the game.
Want to work in the NFL? Click here to sign up for the NFP's "Chalk Talk at the Combine" Seminar February 25 in Indianapolis.