October 11, 2014 -
Greg Gabriel
The unlikely rookie star
The players we expect to make an impact as rookies are usually high draft choices who were stars at the major college level. So when an undrafted free agent like San Diego Chargers running back Branden Oliver becomes a vital part of his team's offense as a rookie, people take notice.
Through five games. Oliver is San Diego's leading rusher with 31 carries for 148 yards and a touchdown. He also has eight receptions for 101 yards and another touchdown and has returned one kickoff for 22 yards.
Oliver did not begin the season as the starter, as he was listed as the fourth running back behind Ryan Mathews, Danny Woodhead and Donald Brown. Injuries to all three players landed Oliver in the lineup and with his play, he has earned a spot in the rotation going forward.
It's not as if Oliver came out of nowhere once the regular season began because the rookie played well for the Chargers during the preseason. He carried the ball 31 times for 161 yards, so he earned his spot on the roster.
Who is Branden Oliver?
Oliver wasn't exactly an unknown free agent running back. He was a three-year starter at the University of Buffalo and the school's all-time leading rusher with 4,039 yards, which includes 1,535 yards as a senior in 2013.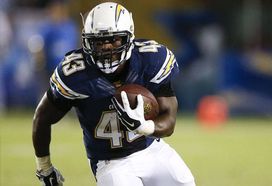 Oliver smoked the Jets last Sunday for 182 total yards and two scores on 23 touches.
With Buffalo having a top prospect in linebacker Khalil Mack, scouts from every team in the league saw Oliver play and plenty of reports were written. He had big games against UMass and Ohio University running for over 200 yards in each of those contests. He also caught 25 passes as a senior. Oliver became a starter in 2011 as a sophomore and picked up over 1,300 yards that season.
Why wasn't Oliver drafted?
In Oliver's 2012 junior year, he started the season strong running for 526 yards and three touchdowns over his first three games. However, the running back suffered a knee injury in that third game and missed the next four contests, as well as another game near the end of the season. It was obvious that the injury affected his play as he rushed for only 95 yards in his final two games of the season.
The effects of the knee injury carried over to the early part of the 2013 season as Oliver did not show the explosive quickness he had the previous year. In the first four games of 2013, Oliver rushed for only 195 yards and his average carry was about 3.0. He played in Buffalo's first two games and missed the third game. In the fourth game he came back and started to look like his old self.
It wasn't until game five against Eastern Michigan that he began to look like the pre-injury Branden Oliver. In that game he carried the ball 25 times for 150 yards. From that point on he put up astonishing numbers.
The other thing that worked against Oliver was/is his size. At 5064 – 208 he is not your prototypical NFL running back. While he is very quick and plays fast, he ran the 40-yard dash in 4.59.
When you look at his profile of missing six games over two years and being shorter than 5-7, you aren't seeing the profile of an NFL draft choice. As productive as Oliver was at Buffalo, his chances to play in the NFL were limited.
The problem is that no one told Oliver that he was small and slow. I have seen Branden Oliver play four times while he was at Buffalo and while he measures small, he plays big. He is what we in scouting call "The consummate overachiever."
Oliver is strong, has an explosive burst and plays much bigger than his actual size. He has great instincts, can create, gets yards after contact and best of all, he wants to be a great player.
No one knows how long Branden Oliver will play in the NFL, but he has already defeated the odds. However, based on his play to date in 2014, I can assume he will have a much longer career than many players who were drafted last May.
Follow Greg on Twitter: @greggabe