November 04, 2011 -
Barry Dorey
There's more than Luck in the 2012 draft
While much has been written about Andrew Luck and how he is (barring catastrophic injury) a lock to be the top pick in the 2012 draft, there are other quarterbacks in this class that many NFL clubs would love to have. Between now and the draft I will periodically break down many of these players at not only the quarterback position but other positions as well. Today I will discuss USC's Matt Barkley and Oklahoma's Landry Jones
As is the case in many drafts, many of the top players are underclassmen who choose to leave school early. That would have to be the situation if Luck, Barkley and Jones are to be in April's draft.
Landry Jones – Oklahoma
Like Andrew Luck, Jones is a 4th year junior and a three-year starter. Coming out of high school, Jones was rated as a 4-star recruit by both Rivals and Scout and was recruited by many of the top programs in the country. He redshirted as a freshman and has been a starter since his redshirt freshman year. In that season (2009) he became the starter in the 4th game after Sam Bradford got injured and has started every game since. As he has gained more experience, his stats have improved every year. In 2009 he completed 58 percent of his passes for 3,198 yards, 26 touchdowns and 14 interceptions. In 2010 he completed 65.5 percent of his passes for 4,718 yards, 38 touchdowns and 12 interceptions. In eight games this year he has competed 66.5 percent of his passes for 3,094 yards, 19 touchdowns and 6 interceptions.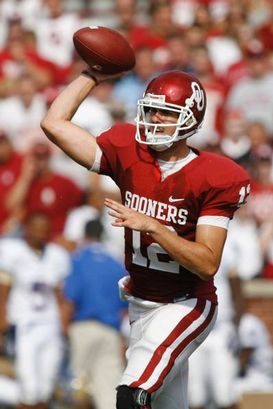 ICONLandry Jones has improved every year since being pressed into action as a redshirt freshman.
Jones is a tall athlete with good but not great overall athleticism. Unlike players like Luck and Barkley he is not going to make a lot of plays with his feet. He plays in a multiple offense and takes snaps from both under center and in the spread. Oklahoma's offense is not a half-field offense and in many cases you see Jones go through a progression and throw to his 2nd or 3rd receiver. He has good instincts and vision and sees the field. He is poised and a good decision maker and you don't see him forcing a lot of passes.
As a passer, he has good feet and quickness, can set up quickly and stays in balance. He has a quick overhand delivery and throws a tight ball. I have heard that some feel he doesn't have a great arm and I would agree there are many passes where he doesn't drive the ball but when he needs to fit the ball into a tight spot, he can zip it. He has a very catchable ball and his ball placement is excellent allowing his receivers to get yardage after the catch. I would say he is more of a touch passer and will need to drive the ball more when he gets to the next level. He easily can throw the ball 50-plus yards in the air.
The one thing I like about him is his demeanor on the field. He is in charge! He knows and understands the offense and he reads coverages well and is a leader. He can be a bit of a streak passer and can get out of rhythm at times. You saw this in both the Texas Tech and Kansas State games, but he was able to recover. While he is not a mobile running quarterback he has a good feel for pass rushers, has quick feet and is able to keep plays alive.
Overall, the easiest guy to compare him to is Sam Bradford. They are about the same size, have similar skills and played in the same offense. If you wanted to compare him to some quarterbacks in last year's draft, I would say that while he isn't the athlete and doesn't have the arm strength of Blaine Gabber and Jake Locker, he is a much better player than both. He's more instinctive, has far better accuracy and reads the field better. Gabbert and Locker were top 10 picks and that very well could be where Jones goes.
Matt Barkley – USC
Unlike Jones, Barkley is a true junior and has been a starter since his freshman year. He was a 5-star recruit out of high school and rated as the top quarterback prospect in the nation. While many don't live up to their rating, Barkley has. As a freshman in 2009, Barkley completed 60 percent of his passes for over 2,700 yards, 15 touchdowns and 14 interceptions. In 2010 he completed 62.5 percent of his passes for 2,790 yards, 26 TDs and 12 interceptions. So far in 2011 he has completed 67.3 percent of his passes for 2,290 yards, 22 TDs and only 5 interceptions. He missed one game because of injury in both 2009 and 2010.
Barkley has excellent size at about 6-3 and 225 pounds. He is a very good athlete with speed, quick feet and body control. He has excellent arm strength and feels comfortable throwing both from the pocket and while on the run.
What gives Barkley an advantage over most college quarterbacks (except Luck) in the eyes of the NFL is that he plays in a sophisticated pro-style offense with most of the snaps coming from under center, so this will not be a point of concern to coaches and scouts. Barkley is a very bright player who can read defenses and make the correct audible at the line of scrimmage. He has a very quick set up, consistently stays in balance, has a quick delivery and throws a tight ball. He is very accurate and his ball placement is excellent. While many quarterbacks lose some accuracy when trying to throw on the run, Barkley doesn't. With his arm strength and velocity he can put the ball in tight spots and is consistent with his long ball accuracy. Because of his athleticism and his ability to throw on the run he is always capable of making a play on the move either by running or finding an open receiver and making an accurate throw. In the Notre Dame game he was excellent with rollouts and bootlegs and kept the Irish defense off balance.
Barkley is a poised and determined player. He is a leader on the field, is very competitive and a playmaker. Overall, if Luck wasn't in the same class, Barkley may be the top quarterback prospect in the draft. If a club doesn't get an opportunity to draft Luck it won't be too much of a disappointment because they will still have the chance to draft Barkley, who has the skill set and intangibles to be a top NFL quarterback. There haven't been two quarterback prospects like this in the same class in a while.