July 29, 2011 -
Barry Dorey
Thoughts on the first few days of 'July Madness'
Signings and trades in the NFL are surely going at a fast pace but not as fast as I thought they would. There had been rumors back at the Combine in February that many "deals" were silently put together. But after three days of open business it doesn't look that way because none of the rumored deals have taken place. Clubs and agents are going through the process very deliberately and the numbers we are seeing for the most part aren't "silly numbers." With that being said, let's take a look at some of the deals that have gone through so far this week.
Kevin Kolb to Arizona</p>
This has been the one rumor that has turned out to be true. With the Eagles getting a 2nd-round pick and Dominique Rodgers-Cromartie for Kolb it turned into a robbery. Yes, Kolb is a talented player but he is still unproven and for Arizona to give up a 2nd-round draft pick and a potential lockdown corner to get Kolb is almost foolish. Andy Reid and Howie Roseman have set themselves up to be front office "executives of the year!" Why? Kolb wasn't going to play in Philly and their biggest need was at corner. If the trade had been Kolb for Rodgers-Cromartie even straight up, people would have said it was a fair deal. Don't forget, Rodgers-Cromartie went to the Pro Bowl after the '09 season. Adding the 2nd-round pick is, like I said, robbery!
Greg Olsen to Carolina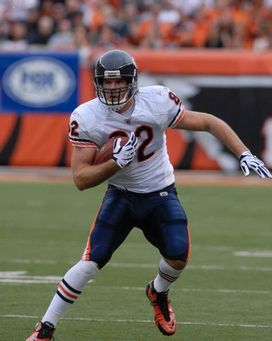 ICONTE Greg Olsen is now a Carolina Panther.
When the Bears drafted Greg Olsen in 2007, Ron Turner was the offensive coordinator and he felt that Olsen would be a big-play producer. In that offense, Olsen was an important part. Last year the Bears fired Turner and hired Mike Martz as their new OC. The tight end has never been a big piece of Martz' offense; he would rather have a tight end who is a strong blocker, which Olsen isn't. With the Bears signing Matt Speath, who is primarily a blocker, Olsen became expendable. Still, only getting a third-round pick for one of the better pass-catching tight ends in the league is disappointing. The Bears should have been a bit more patient and maybe could have gotten better value. This will be a great pickup for the Panthers.
Donovan McNabb to Minnesota
Last year at this time it looked like McNabb going to Washington was going to be a deal that helped both McNabb resurrect his career and the Redskins win games. It turned out to be a disaster. The Redskins offense was not a fit for McNabb's abilities and both suffered. I look for McNabb to come back strongly this year under the tutelage of Bill Musgrave, who will run an offense more suited to McNabb's skills. Adrian Peterson gives McNabb the best running back he has ever played with; though the Vikings still have to find a receiver to replace Sidney Rice, who signed with Seattle.
Ochocinco and Haynesworth to New England
At first sight you might say, "Why would Belichick do that?" Well, he has a history of taking on players that have been a problem elsewhere and getting the most out of them. Ochocinco is not the receiver he was three years ago, but he can still be a threat and with Tom Brady throwing the ball expect some big numbers. Also, you can just about be sure that you will no longer hear the wild outburst to the press during game week that Ochocinco did while in Cincinnati. That type of thing never goes on in New England.
Before Albert Haynesworth went to Washington he was one of the most feared defensive tackles in the league. With the Pats waiving Marcus Stroud, Haynesworth takes his place. I fully expect Haynesworth to perform like he did in Tennessee simply because that's what Belichick expects. If he doesn't he's gone. As Matt Bowen pointed out yesterday, they didn't pay a huge price for a chance to get a player who still has Pro Bowl potential.
Roy Williams to Chicago
When it was announced earlier in the week that Dallas was going to waive Williams I fully expected this move. The two best years of Williams' career were when he was in Detroit with Mike Martz as the offensive coordinator. At that time Williams was one of the most feared receivers in the league. Besides being able to work with Martz, Williams' new position coach will be a familiar face…Darryl Drake. Drake was the receivers coach at Texas while Williams was there and their relationship goes back to Williams' high school days. The two have a great amount of like and respect for each other. While you can say Williams was an underachiever in Dallas I fully expect him to play well in Chicago.
With the Bears adding another big former Dallas receiver earlier today in Sam Hurd, their receiving group gets some much-needed size. Hurd may not be in the top 3 or 4 receivers but with his excellent special teams play he will replace Rashied Davis, who signed with Detroit.