April 27, 2012 -
Greg Gabriel
Thoughts on the First Round
The first third of the first round went off at nearly record pace last night. I can't remember 12 picks coming off as quickly as they did. I remember the days when the first round went on for close to 5 hours. I didn't think there would be many trades but I was wrong. Except for Dallas moving up 8 slots from 14 to 6 most of the trades were small moves of 2-3 slots.
Here are some more thoughts:
• Minnesota couldn't go wrong with its pick. The Vikes wanted either Matt Kalil or Mo Claiborne and settled on Kalil, the big USC tackle who will solidify the left side of their offensive line.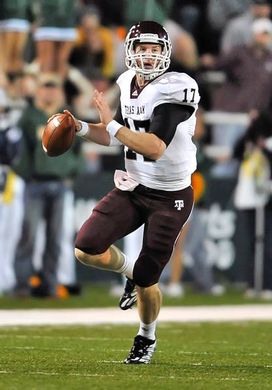 ICONWas Ryan Tannehill a "reach" for the Dolphins?
• As expected, Miami took quarterback Ryan Tannehill from Texas A&M. I felt the pick was a major reach. At least 4 clubs drafting behind Miami were happy because that dropped another good player to them. The criteria for drafting quarterbacks has changed dramatically in the last 2 years. Players who would have been 3rd round picks 5 years ago are now going in the first. Teams are picking a player more on "potential" than production.
• I thought Carolina would go for a defensive lineman because of the trouble they had stopping the run but in Luke Keuchly they got perhaps the best inside linebacker prospect in years. Look for them to grab a defensive tackle in round 2.
• I like the Eagles move to trade up and take defensive tackle Fletcher Cox from Mississippi St. Cox is the best defensive tackle in this draft and gives the Eagles size and athleticism inside.
• The Jets pick of Quintin Coples is questionable to me. I know he can play down when they go to a 4 man front in pass rush situations, but can he play on his feet as an OLB on base downs in their 3-4 defense?
• Cincinnati got a great corner prospect in Dre' Kirkpatrick from Alabama. Teams had some character concerns about him, otherwise he would have gone much higher.
• Chicago was looking to get a pass rusher and had its choice of 3 in Shea McClellin, Whitney Mercilus or Chandler Jones. They chose McClellin from Boise State, who is very athletic, can play both up and down and is a top character guy. He has top instincts to go along with an all-out motor.
• The "experts" all had the Steelers taking a linebacker but GM Kevin Colbert, who seldom if ever misses in the 1st round, took guard David DeCastro from Stanford. DeCastro has Pro Bowl potential.
• I can't agree with Cleveland's pick of quarterback Brandon Weeden. He will be 29 before the season's 4th game. He has never played from under center and lacks the mobility to extend plays. Colt McCoy shouldn't worry. A major reach in my mind and if he doesn't develop quickly he could be a one contract player.

• Detroit had to be happy Riley Reiff was still on the board when it was the Lions turn to pick. I thought Reiff was a top 15 player but some clubs felt with his 33" arms he wasn't long enough to play left tackle. I disagree; Iowa has a history of producing top NFL offensive linemen.
• Houston got its replacement for Mario WIlliams in Whitney Mercilus from Illinois. Mercilus is a natrual pass rusher with speed to burn. He had 16 sacks last season and had he stayed in school for his senior year he may well have been a top 8 pick next year. Great pick for the Texans.
• The Vikings needed to upgrade their secondary and by trading back into the first round and selecting Harrison Smith from Notre Dame they did just that. Smith was the second best safety available with good ball skills and to ability to support the run.
• Tampa Bay missed out on Trent Richardson but got an excellent running back in Boise State's Doug Martin. Martin can be very similar in style of play to Richardson and will make an immediate impact.

• The Giants lost big Brandon Jacobs in free agency. They found a more then able replacement in Virginia Tech's David Wilson. He gives the Giants more speed at the position then they have had in years.
Round Two
• With the second round beginning tonight there are still a number of good players on the board. Receiver Stephen Hill from Georgia Tech stands out. He is a freak athlete and in 2 years may be the best receiver to come out of this draft. There is some quality offensive linemen available also such as Cordy Glenn from Georgia. A few weeks ago Alabama's Courtney Upshaw looked like a lock first round pick but he gained 7 pounds going into his pro day and his workout numbers were average at best. Still this is a quality player for some team early in round two.