September 03, 2010 -
Greg Gabriel
Thursday night college and NFL notes
Last night was the opening of the 2010 college football season and the close of the NFL preseason schedule. Most of the college games were blowouts because, as usual, the big schools opened against outmanned smaller schools. There were a few interesting games though.
Utah vs. Pittsburgh
It's always tough for an East coast or Midwest team to travel into the Mountain time zone to play a game. Playing at high altitudes almost always has an effect on the visiting teams. With that being said, Pitt started slowly against Utah. They looked sluggish much of the first half. Pitt has good team speed, but they looked a step slow in this game. Still, they finished the game strong in what turned out to be the best game of the night. The ending was as bizarre as you will find.
At the end of the third quarter, Pitt trailed 17–10. They started the fourth quarter with a strong drive ending with a field goal to get within 17 -13. Utah came back with a quick scoring drive, climaxed by a 61-yard scoring pass from Jordan Wynn to DeVonte Christopher. 24–13 Utah. Pitt answered with a quick scoring drive of its own. In a drive that took just 48 seconds, Jon Baldwin caught a 44-yard pass from Tino Sunseri to get the Panthers within 3 points. Pitt got one last chance to win the game but settled for a field goal to tie. This was where it got bizarre.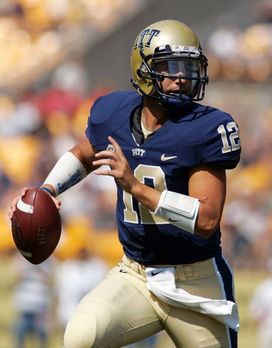 ICONTino Sunseri threw a key interception in OT that led to Utah's winning FG.
Pitt ended up attempting three field goals at the end. Just as Pitt was snapping the ball on the 30-yard kick, Utah called a timeout (the kick was good). Utah tried the same strategy again but it almost haunted them. Pitt kicker Dan Hutchins missed the try but the referees said Utah had called a second timeout. So on the third try, Pitt finally was successful in getting the kick off and forcing overtime.
Pitt won the coin flip to start overtime and get the ball first, but their drive was only one play. Sunseri underthrew an open receiver on an out route and had the ball intercepted. Utah just ran the ball down to the Pitt 3-yard line before kicking the winning field goal.
USC vs. Hawaii
An undermanned USC squad still won the game fairly easily with a 49-36 win at Hawaii. Sophomore quarterback Matt Barkley tied a USC record with 5 TD passes, finishing the game completing 18 of 23 passes for 257 yards. Junior running back Marc Tyler ran for 154 yards and senior wide receiver Ron Johnson caught 7 passes and had 3 touchdowns.
The surprise of the game was that the USC defense gave up 588 total yards, including 459 yards in the air. I'm sure future USC opponents will look at that tape closely.
Ohio State vs. Marshall
The final score was not a surprise. Ohio State won easily 45–7 over Marshall. To me, the best thing for Ohio State was the play of quarterback Terrelle Pryor. Pryor looked much more confident and poised in the game. He had one of his better passing days. He completed 17 of 25 passes for 247 yards and 3 touchdowns. The thing Ohio State has to be happy about is the way Pryor threw from the pocket. He found the open receivers and his accuracy was good. If he can continue this play, Ohio State will be a tough team to defend.
NFL Preseason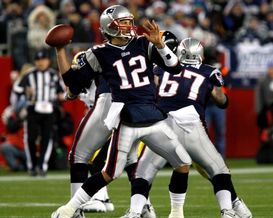 ICONWe've seen the last of Tom Brady until the regular season.
All 32 teams played last night. In most games, it was a battle of backups because teams generally hold out many of their key players to avoid injury. Still, some players like Tom Brady, Eli Manning and Carson Palmer got considerable playing time.
As we all know, we can tell very little about how good or bad a team will be from their preseason record. Still, there are teams that deserve some recognition. There was only one team that went undefeated in the preseason and that was the San Francisco 49ers. On the opposite end there were two teams that went winless. Those two teams would be the Indianapolis Colts and the Chicago Bears. With the regular season opening next week, it will be interesting to see if those three teams follow the same path.
Was the preseason a sign of things to come or was it just practice?