August 13, 2010 -
Greg Gabriel
Thursday night postgame thoughts
For the avid football fan, there is nothing worse than watching opening preseason football games. They are usually long and boring with many mistakes. The starters only play about two series before the backups and rookies try to make an impression.
For coaches, it's a great time to evaluate young players. Game conditions are a lot different than practice. The players move faster and the hitting is more intense. Though teams seldom game plan for a preseason opener, coaches still look to see how a young player reacts to the conditions. Is the game too big for the player? Can a young guy keep up with the speed of the pro game? Is he poised? Does he carry out his assignments? Is he aggressive?
I had a chance to look at two games last night: Carolina at Baltimore and New Orleans at New England. Here are some thoughts about some young players and some new additions.
New England
2009 second-round pick Patrick Chung started at strong safety. He showed good cover skills and excellent run support. Always a strong tackler, he had seven in the first half.
This year's first-round pick Devin McCourty started at corner and returned kickoffs. He did not look like a rookie at corner, showing good mirroring ability and a closing burst. He also had two excellent kickoff returns.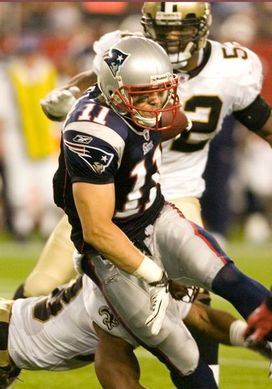 ICONJulian Edelman needs to be on the field even when Wes Welker returns.
The star of the game for New England was last year's seventh-round pick Julian Edelman. He was playing in place of Wes Welker and caught 7 passes for 90 yards and also had a 40-yard punt return. The Pats are going to have to find a way to get Edelman on the field even when Welker returns.
Second-round pick Brandon Spikes picked up where he left off at Florida. He made plays. He has excellent instincts and is very aggressive. He doesn't run a fast 40 but he has great quickness and anticipation.
Another second-round pick was Rob Gronkowski out of Arizona. He missed all of 2009 after having back surgery. He often played flexed out at Arizona and wasn't asked to block a lot but he showed strong blocking skills last night. He had key blocks on three New England touchdown runs.
Second-year player Sebastian Vollmer started at right tackle and played like a starter. He showed strong run and pass blocking skills. He is big and strong with excellent balance.
New Orleans
None of the Saints rookies started but a few played well in their first game. I liked the way second-round pick Charles Brown looked at left tackle. He has size and long arms. He was impressive as both a run and pass blocker. I liked the way he used his hands.
Fourth-round pick Al Woods, a big defensive tackle from LSU, played well inside. He uses his strength well and is stout versus the run.
Baltimore
The Ravens spent the offseason trying to shore up the offense. They acquired receivers Anquan Boldin and Donte' Stallworth, plus they drafted tight end Ed Dickson. Boldin, Stallworth and holdover Mark Clayton will give Baltimore a strong wide receiver group. There is both size and speed with this unit. In Dickson, they drafted a speedy tight end that will pair well with Todd Heap.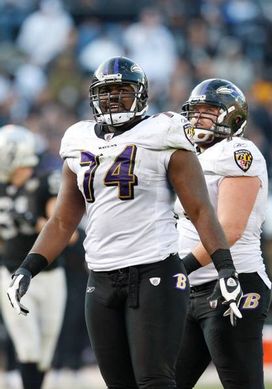 ICONMichael Oher has moved to left tackle.
Michael Oher was moved over to left tackle and he struggled a bit, giving up an early sack. He just needs time to reacquaint himself to playing on the left side.
I liked the way Tom Zbikowski played at free safety replacing Ed Reed. He tackled well and also showed good return skills.
Carolina
All eyes were on second-round pick quarterback Jimmy Clausen. He played well. He showed poise and accuracy. He completed 8 of 15 passes for 80 yards. He also threw an interception but the receiver fell on the play. Much of the game was played in the rain and it didn't make for good throwing conditions. I liked the way Clausen moved in the pocket to buy time.
Matt Moore started at quarterback for the Panthers but I felt he struggled. His accuracy was off and he didn't play with confidence. If Clausen continues to play well in the preseason, I feel he will be the starter by midseason.
Third-round pick Armanti Edwards struggled in his first pro game. Edwards was a quarterback at Appalachian State and is making the transition to wide receiver. It's not an easy transition and it showed. Edwards has excellent speed and athleticism but he had a number of drops in the game. The wet conditions didn't help. I have no doubt he will make the transition because he is a quality person, but it is going to take some time.
I will take a look at some of the other games over the weekend and report on them next week.
Click here to purchase the Total Access Pass / Fantasy Draft Guide from the NFP and receive a free Deuce Brand watch while supplies last.