August 31, 2014 -
Greg Gabriel
Tightening up the rosters
Looking back at some of the NFL roster moves made over the last two days, I can't say there were many surprises. Every year there are some cuts that make national headlines, but I think that if you looked back over the years, a very high percentage of the players cut deserved to be released.
Remember, the 32 NFL clubs are still not finished finalizing their respective rosters. Sunday at noon eastern is when clubs will find out if any of the players they waived were claimed by other organizations. Some of those players have practice squad eligibility, but the club will have to look elsewhere if another franchise snatches them up.
Also at noon, clubs will find out if they were awarded any of the players they may have claimed. When that happens, a player who yesterday thought he had made the 53-man roster ends up getting cut.
An interesting aspect with the waiver claiming process that rarely gets mentioned is that some clubs often put in claims on more than one player at a certain position. When doing that, teams are prioritizing which player they would want first, second or third. This usually happens when the club putting in a claim is somewhere in the middle or latter portion of the pack when it comes to claims.
Until a few games are played this season, waiver claims are based off of last year's won/loss records. The order is very similar to the selection order of last May's draft. Knowing this, a club that may sit in the 15th or 20th positions in the claiming order may put in a claim on, say, three different wide receivers. They prioritize which of the receivers they would want, first second or third. If the first receiver goes unclaimed by any clubs above them in the order, then that player is theirs and the other two players they had priority claims on are automatically dropped. This will happen multiple times Sunday around the league.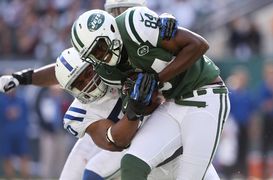 Wide receiver Stephen Hill was bounced by the Jets on Saturday after just two seasons.
On Tuesday, some players with injuries can be placed on "injured reserved designated for return." Once that happens, a player needs to be signed to replace the player going on injured reserve.
After next week's opening games, we will see many vested veterans signed by clubs because the signing club no longer has to guarantee that player's salary for the season. It becomes a game-by-game salary. You will see many veteran players who were cut on Saturday back on NFL rosters in another week. Some veterans may have already verbally agreed to do that with the teams who cut them. It's all part of the process.
The other thing we will see shortly is clubs bringing in players for workouts. This usually happens on Tuesdays with most clubs. What the clubs are doing is preparing their short list of players on the street who are available to sign in case of an injury to one of their current players. The clubs who do the best job preparing for injuries can survive if they start losing key players.
Stephen Hill's agent complains
Shortly after it was announced that the New York Jets were waiving third-year wide receiver Stephen Hill, it was reported that his agent, Alan Herman, claimed it was the Jets' fault that Hill didn't develop.
When I first read the report, I thought, "This is nonsense." Alan Herman is an excellent agent, but I feel he is off base on this one.
Back in June, when I wrote my Jets season preview, I stated that Hill was in trouble. It was news all over the league that the Jets were going to either try and trade Hill or release him. Basically, he didn't turn out to be the player they thought they were drafting back in 2012.
Yes, a coach's job is to try and develop each of his players, but it is also the player's job to work at part of that development. Some players are great athletes but they aren't great players. They are missing something when it comes to reaching their potential. It could be instincts or work ethic, hands, etc. I was never in the Jets camp, so I can't say for sure. I do know from watching tape that Hill is an average player at best. He doesn't run good routes, you can't trust his hands and he lacks a degree of toughness.
With Hill being a second-round pick, it is ludicrous to think the Jets didn't do everything possible to get him to play to his best. In his two seasons with the Jets he did play under two different coordinators and didn't develop under either. That's the Jets fault? I think not.
The only thing you can blame the Jets for is drafting Hill in the second round. If you look back at his college career, you will see that in his final two seasons at Georgia Tech he caught a total of 43 passes. Hill was a rare athlete but not a top player. Scouts were hoping he would develop like Demaryius Thomas who played at Georgia Tech right before Hill. While Hill and Thomas may have had similar athletic numbers, Thomas' production was far superior. Thomas caught more passes in his final year at Georgia Tech then Hill caught in two seasons.
In hindsight, Hill may have been a second-round athlete, but he was not a second-round player. Herman can't blame the Jets coaching staff for not developing Hill, but he can blame their personnel department for drafting the player too high. However, I don't think you will see him do that.
Follow Greg on Twitter: @greggabe