October 23, 2014 -
Greg Gabriel
Top five general manager candidates
When I began working in the NFL during the early 1980's, once a personnel guy ascended to the general manager position, he held on to that job for years. George Young was the General manager of the New York Giants for 19 seasons (1979-1997). Bobby Beathard held the GM position in Washington for 12 seasons and was followed by Charley Casserly, who was there for another 11 years.
Seldom do general managers today hold on for such a long period. The GM position has become much like the head coaching position where it's all about winning now. If an individual becomes a general manager now, he has to be considered lucky if he holds on to the position for even six or seven years.
For that reason there is a lot of attrition at the position and we now see as many as three or four new general managers every year. With that being said, who are the top candidates for the general manager jobs that will open up after this current NFL season?
Morocco Brown – Vice President, Player Personnel Cleveland Browns
This is Brown's first season as Vice President of Player Personnel in Cleveland. Prior to that, Brown spent six seasons as the Pro Personnel Director of the Washington Redskins.
Brown came into the league in 2001 as a pro scout for the Chicago Bears and was there for seven seasons. Morocco played his college football at North Carolina State where he was an outstanding linebacker.
Brown is highly regarded throughout the league, disciplined, well organized and a very good evaluator.
Nick Caserio – Director of Player Personnel, New England Patriots
This is Caserio's 14th season with the Patriots. He became the Director of Player Personnel in 2008. Since joining the Patriots in 2001, Caserio has been a personnel assistant, a pro scout and a coach (wide receivers) before his promotion to Director of Player Personnel.
With his NFL career having covered so many areas, Caserio has a vast understanding of both the coaching a scouting sides of the business.
In New England, Bill Belichick is for all intents and purposes the general manager. Caserio is Belichick's right hand man and already handles many of the day-to-day tasks required of most general managers. For that reason, Caserio is more than qualified to step in and run a club on his own.
If Belichick decides to retire anytime in the near future, I'm sure Caserio will be first in line to run the Patriots organization.
Chris Ballard – Director Player Personnel, Kansas City Chiefs
Ballard is both a fast riser and hot commodity in the NFL. He has a background in both coaching and scouting. He started working in the NFL in 2001 as an area scout for the Chicago Bears. Prior to that, Ballard was a successful defensive coordinator at Texas A&M Kingsville.
When Phil Emery became the general manager in Chicago in 2012, one of the first things he did was name Ballard the Director of Pro Personnel. He was in that position for a year before joining John Dorsey in Kansas City as Director of Player Personnel.
Ballard is bright and personable and knows how to work with coaches. On top of that, his strong background in both coaching and scouting makes him an ideal candidate. My bet is that he becomes a general manager within the next two years.
Eric DeCosta – Assistant General Manager, Baltimore Ravens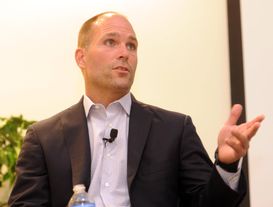 Many believe that DeCosta will take over in Baltimore after current GM Ozzie Newsome retires.
It's a surprise that DeCosta isn't a General Manager already, as he has been an important part of the Baltimore front office for years. He started his career with the Ravens in 1996 and rapidly rose through the ranks. He has been an area scout, director of college scouting and director of player personnel before becoming the Ravens assistant General Manager in 2012.
Word around the league is that Eric is essentially the Ravens' "general manager in waiting." When current GM Ozzie Newsome decides to retire, DeCosta will ascend into the top seat. If he decides that he doesn't want to wait any longer, there is not a doubt that DeCosta would jump to the top of any general manager search.
Lionel Vital – Director of Player Personnel, Atlanta Falcons
The former Nicholls State running back has a long resume with 24 years of experience in player personnel. He has been with the Falcons for seven seasons following stints in Baltimore, New England, Cleveland and the New York Jets.
During his time in scouting, Vital has served in various positions starting out as an area scout before being promoted up to his current position in Atlanta. During his career, Vital has had the benefit of working with people like Ozzie Newsome and Bill Belichick, two of the best in the history of the NFL. Like Ballard, Vital is a hot name in the player personnel world.
Follow Greg on Twitter: @greggabe