October 24, 2014 -
Greg Gabriel
Top head coaching candidates
Like clockwork, one thing is certain: Come January, there will be turnover in the head coaching ranks of the NFL. Who will lose their job? I have no idea, but history tells us there will be anywhere from four to six new head coaches by the time we get to the Combine.
It's a good bet that some or most of the following names will be among the group of candidates NFL owners looking for a coach will be targeting.
Jon Gruden
Whenever a head coaching gig opens up, the first name the media always throws out is Jon Gruden. Jon has already proven that he can win in the NFL.
Gruden has already stated on numerous occasions that he would like to coach again in the NFL. While he has had opportunities in the past, none have been the right fit for what he is looking for. Many have already tied his name to the Oakland Raiders job, as Gruden has history with the Davis family. If he goes anywhere, he will most likely demand full control, which means the general manager will be working for him. That may limit his opportunities.
Todd Bowles – Arizona Cardinals Defensive Coordinator
Bowles has an impressive resume, having been a defensive coordinator for three different clubs (Miami, Philadelphia and Arizona). He also did an outstanding job as Miami's interim head coach in 2011. Todd is well liked by his players and highly effective as a coordinator. He already has gone through the interview process on a number of occasions and it's just a matter of time before the right opportunity presents itself. My bet is that he will be a head coach next season.
Dave Toub – Kansas City Chiefs Special Teams Coordinator
Toub is recognized around the league as the top special teams coordinator in the business. He has worked his magic for nine years in Chicago and two years in Kansas City. Dave also has experience working with the defensive line.
Few are as organized and pay as close attention to detail as Toub. If there is a way to out-scheme an opponent, Dave finds it.
Like Bowles, Toub has been through the head coaching interview process in the past and there is history of special teams coordinators becoming successful head coaches in the league. Mark my word, Dave Toub will be an excellent head coach in the NFL.
Greg Roman – San Francisco 49ers Offensive Coordinator
Roman has coached in the NFL for 16 years, has been very successful and is very well respected by his peers. His San Francisco offense is always tough to defend and Roman has done an outstanding job developing quarterback Colin Kaepernick. He is a sure bet to be on a number of head coaching short lists.
Darrell Bevell – Seattle Seahawks Offensive Coordinator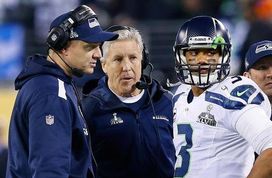 Bevell (far left) has played a big part in the development of Super Bowl-winning quarterback Russell Wilson.
Bevell has been an offensive coordinator in the NFL for 10 seasons. This is his fourth season running the Seattle offense. He is the man who should be given credit for the development of Russell Wilson as an NFL quarterback. I feel Bevell does as good a job as any using his players to their strengths. That is a key to good coaching.
Many thought Bevell would get a head coaching job a year ago, but for some reason it didn't happen. It will happen soon, perhaps this January.
Sean McDermott – Carolina Panthers Defensive Coordinator
Following the 2013 season, McDermott was named the Sporting News' "Coordinator of the Year," as his defense in Carolina last season was ranked second in the league. While the Panthers defense isn't doing as well this season due to injuries, McDermott is still doing an outstanding job.
McDermott has coached in the NFL for 16 years with this being his sixth season as a coordinator. Like the others, he is highly respected throughout the league. He is extremely smart and energetic and is an excellent leader. Give Sean the opportunity and he will become as good a head coach as he is a coordinator.
Pep Hamilton – Indianapolis Colts Offensive Coordinator
The man responsible for the development of Andrew Luck as a quarterback is Pep Hamilton. For most of Luck's college and NFL career, Hamilton has been his coach.
This is Hamilton's second season as the offensive coordinator in Indianapolis and he has done an excellent job. He is one of the bright young minds in the National Football League. Before going to Stanford as the quarterback coach and then offensive coordinator, Hamilton spent a number of years in the NFL as a quarterback coach. His NFL resume includes stints in San Francisco, Chicago and the New York Jets.
Having worked with Hamilton for a number of years, I know his intelligence, work ethic and attention to detail. He does an excellent job working with his players and is a very good motivator. He will one day be an excellent head coach in the NFL.
Follow Greg on Twitter: @greggabe