August 01, 2014 -
Greg Gabriel
Training camp notes
Preliminary bids for the Buffalo Bills go over $1 billion
Tuesday was supposed to be the deadline for parties interested in purchasing the Buffalo Bills to submit their preliminary bids. While it was originally thought that several groups would be involved in the process, according to various reports, only three bids were submitted.
Morgan Stanley, the investment banker who is handling the sale of the Bills, has not commented on any of the bids. But there have been various reports that Buffalo Sabres owner Terry Pegula submitted the highest bid at approximately $1.3 billion.
A Canadian group led by Maple Leaf Sports and Entertainment Chairman Larry Tannenbaum and rock star Jon Bon Jovi submitted a bid for a reported $1.2 billion. A Toronto Sun report disputed the amount of that group's bid and added that if Pegula did indeed bid $1.3 billion, the Bon Jovi group would be unable to match it. The third group is headed by Donald Trump and that bid was reported to be in the $1 billion range.
According to a report in the Buffalo news, Trump did not feel his chances of acquiring the Bills were very good because he felt the bidding would get "stupid." If, in fact, the Pegula bid is close to accurate, then the bidding process could be over soon and Terry Pegula will become the owner of both the Buffalo Bills and Buffalo Sabres. This is good news for Bills fans as it means the team would not be leaving the city of Buffalo.
A year ago, Forbes magazine had valued the Bills at $870 million. That figure put Buffalo in 30th place when compared to the other 31 teams in the National Football League. Only Jacksonville and Oakland were valued at a price lower than the Bills, according to Forbes estimates.
If the $1.3 billion bid by Mr. Pegula is accurate, the other 31 NFL owners have to be extremely happy. Pegula's bid is roughly a 50 percent premium over what Forbes had valued the team at. Of course, it has to be pointed out that Forbes' NFL values came out before Steve Ballmer bid $2 billion for the NBA's Los Angeles Clippers. Even though the Clippers are a basketball team, that bid still put a premium on any professional franchise.
There are only 32 NFL franchises and they rarely come up for sale, so if someone wants to buy a professional football team, they are going to pay a premium. Ralph Wilson's original investment in the Buffalo Bills was $25,000 when the American Football League was founded in late 1959. That should go down as one of the greatest investments of all time.
San Diego's Brandon Flowers says he is the best corner in the NFL
Over the last week there have been a number of cornerbacks who have boasted that they're the best corner in the NFL. Earlier in the week, New York Jets second-year corner Dee Milliner made the same boast.
I'm not taking anything away from Flowers, who is a very good player, but Kansas City just cut him recently. The reason for his release was that Flowers was not a top fit for what Kansas City does defensively. The Chiefs want to play aggressive press man coverage in their secondary and that is not Flowers' strong suit, He is better in off and zone coverages and his $5.25 million salary and $2 million camp bonus also figured in to his release.
In my opinion, the best corners in the league are the ones who can play tight press coverage.
Players like Darrelle Revis, Richard Sherman and Patrick Peterson rank among the best. If you polled most pro scouting directors, I doubt many would have Flowers among the top 15 corners in the league.
Bills lose linebacker Nigel Bradham for one game due to a league suspension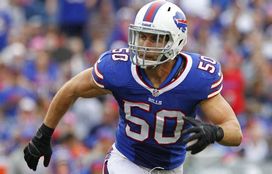 The loss of Alonso dealt the Buffalo defense a big blow.
Shortly before camp opened, the Bills lost starting Will linebacker Kiko Alonso for the season due to an ACL tear. Alonso had an outstanding rookie season and was looked at as one of the best young linebackers in the league. Now one week into camp, it was announced that Alonso's replacement, third-year man Nigel Bradham, will miss the first game due to a league suspension.
This will be tough on the Bills defense, as Buffalo could go into the season-opener without their best inside defensive lineman and having to play a third-string linebacker at Will. Defensive tackle Marcell Dareus has had two arrests in recent months, with one being for drug possession in Alabama and the other for a drag race outside of Buffalo. Depending on the results of those cases, Dareus could be facing a league suspension. It's just not certain if a suspension will happen before the start of the 2014 season.
Julius Peppers is having a strong camp in Green Bay
This doesn't surprise me as Peppers is an excellent athlete and does a great job taking care of his body. What will be interesting is to see how Peppers plays in a 3-4 scheme. Peppers has been used as a 4-3 defensive end his entire career, so this is the first time he will play in a 3-4.
Green Bay is reportedly going to use Peppers both on his feet and down in a traditional 3-point stance. Since his strength is as a pass rusher, I doubt we will see him drop into coverage very often. He will rush the passer at least 90 percent of the time on passing downs.
I have seen just about every game Peppers played with the Bears. In recent years he has started strong, but his play has dropped off after the midway point of the season. My feeling is that the same thing will happen in 2014.
Peppers will have some big games early in the season and many in the media will criticize the Bears for letting him go. The problem with that criticism is that the season isn't five or six games, it's 16. I have no doubt that the Julius Peppers we see in September will not be the Julius Peppers we see in mid-November and December. I am sure his play will drop off dramatically, just like it has over the last few years. When you are in your mid-30s and have played 13 years in the NFL, that's what happens.
Follow Greg on Twitter: @greggabe