August 03, 2014 -
Greg Gabriel
Training camp notes
Seattle's Michael Bowie injuries shoulder and is waived "injured"
Second-year offensive tackle and starter Michael Bowie injured his shoulder early in camp and, when it was discovered that he needed surgery, was waived with an injury designation. The injury designation means that if Bowie clears waivers, he will revert to Seattle's injured reserve roster. He could get claimed by another club, but with a shoulder that needs surgery, that is highly unlikely.
Some wondered why the Seahawks recently signed veteran tackle Eric Winston. Now we know the reason. Rookie tackle Justin Britt from Missouri also has had some shoulder problems and has missed some time, so Winston quickly becomes the favorite to start at right tackle once he gets up to speed with the Seattle playbook. Winston is a savvy veteran who will give the Seahawks solid play at the right tackle position.
Baltimore rookie defensive end Brent Urban tears ACL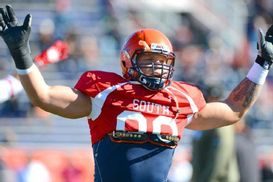 Urban was lost for the season with an ACL injury.
The Ravens' fourth-round draft choice tore the ACL in his right knee and will miss the 2014 season following surgery. Urban was having a strong camp and looked as if he could be part of the defensive line rotation as a rookie.
What is troublesome about this injury is that this is now the second time Urban has suffered an ACL injury. In 2010 he tore the ACL in his left knee and missed the season. Urban also had surgery in February after he re-injured his ankle during Senior Bowl practices.
With an obvious history of durability issues, the Ravens have to look hard at bringing Urban back in 2015.
Josh McCown is having a strong camp in Tampa Bay
This does not surprise me as McCown is a veteran who has spent 12 years in the league. He has been a starter at other stops and hasn't always been surrounded by a strong supporting cast. His time with Marc Trestman in Chicago last year helped his overall game tremendously.
McCown has an excellent work ethic and knows how to prepare. He has learned how to become a strong leader as well as how to set an example for younger players. I believe working with Jeff Tedford will be an excellent situation for him and he will put up solid numbers.
Last year, McCown learned to play within himself. He doesn't force things or try to do what he can't. The key to his game is that he doesn't make mistakes. Earlier in his career, McCown had a tendency to turn the ball over. That is no longer the case, as last year's one interception indicates. If McCown throws just ten interceptions in 2014, Tampa Bay will win a lot of games.
NFL scouts hit the road this week
Training camps for the major colleges open this week and with that, NFL scouts will start going out on the road. Training camp is an excellent time for scouts to get a good look at prospects, as these practices are some of the best sessions of the year. Once the season starts, there isn't as much contact and some colleges limit the amount of time scouts can spend at practice. Many scouts will visit 15-20 schools during the month of August just to get a strong look at the top players.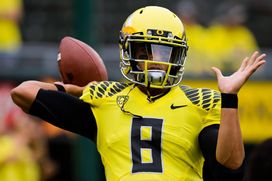 Will Oregon's Mariota be the first quarterback off the board next spring?
With the college season starting up on Labor Day weekend, the hype will commence on who will be the top pick in next year's draft. Don't buy into it this storyline, as the early season media hype is often wrong.
Last year after the first few games of the college season, most of the media had Louisville quarterback Teddy Bridgewater as a lock to be the first overall selection. As we found out in May, that wasn't the case. Bridgewater was the last pick in the first round and if Minnesota hadn't traded up to select him, he would not have heard his name called on Thursday night.
This year the media will hype Jameis Winston from Florida State, Marcus Mariota from Oregon and Brett Hundley from UCLA. While they are all excellent spread formation quarterbacks, that does not necessarily translate well to being excellent NFL prospects.
There was a reason why Hundley and Mariota stayed in school and didn't enter the 2014 draft. Neither player got a first-round grade from the NFL underclassmen advisory committee.
Both prospects are excellent athletes who can make plays with their feet, but both also have downfield accuracy problems and weren't ready to go through an NFL-type progression. Will they improve this year? They should, but it still remains to be seen.
Based on tape study, Winston is more advanced than either Hundley or Mariota and he still has a ways to go.
If you recall last year at this time, few had heard of Blake Bortles and he ended up being the first quarterback selected in May's draft. In other words, let the season play out before you believe the media hype. The media are not NFL evaluators and the real evaluators aren't about to tell you the truth regarding who they really like.
Follow Greg on Twitter: @greggabe