August 05, 2014 -
Greg Gabriel
Training camp notes
Andy Dalton signs six-year contract extension in Cincinnati
On Monday, Cincinnati's fourth-year quarterback signed a six-year contract extension that runs through the 2020 season. The deal is reportedly worth somewhere between $96 and $115 million depending on how you look at the numbers. The contract calls for an immediate signing bonus of $12 million and a roster bonus this season of $5 million. Dalton will also earn a $4 million roster bonus next spring.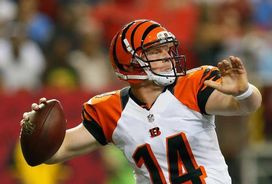 Dalton's new contract has been widely criticized.
A day after the reporting of the contract, there are people criticizing the Bengals for doing such a lengthy extension. Having been in the NFL for 30 years I know one thing: If Dalton and his representatives didn't think this was a good deal, they wouldn't have agreed to it. Who cares what other agents or media types think?
As for whether or not the Bengals should have extended Dalton, in my opinion, it was a no-brainer.
Dalton entered the league as a second-round draft choice in 2011 and immediately became a starter. He has helped lead the Bengals to the playoffs in each of the three years he has been in the NFL. He is a good leader, understands the offense and will keep getting better as he gains more experience.
There are people who are critical of Dalton who say he hasn't won a playoff game. While that is true, winning or losing a playoff game isn't all on the quarterback. The last time I looked, it was a team game.
If the Bengals did not extend Dalton, the TCU product could have left after this season as a free agent. There is no doubt that there are teams who don't have a quarterback who would have paid Dalton equal if not more money via free agency. In addition, if Cincinnati had chosen to let Dalton leave, they would have had to go back to the draft to find another quarterback, which would have been an extremely dumb move. The Bengals have a quarterback whom both the players and coaches respect and who has already gone through the learning process. Dalton has played winning football and, going forward, he will keep improving. In short, it was a smart move by the Cincinnati front office.
Montee Ball has appendix surgery
The Broncos have lost top running back Montee Ball for perhaps the remainder of the pre-season after surgery was required to remove his appendix. This surgery should not cause Ball to miss any regular season time, as there is still almost five weeks to go before we arrive at Week 1.
When I was with the Bears, starting center Olin Kreutz had an emergency appendectomy and missed only one game. That said, with five weeks before the start of the regular season and assuming there are no complications, Ball should be good to go.
The Bears lose receiver Marquess Wilson with a broken clavicle
Chicago second-year receiver Marquess Wilson was lost for an unspecified amount of time due to a broken right clavicle sustained during Monday's practice. Wilson was having a strong camp and looked as if he would win the job as the Bears' No. 3 wideout.
While the injury isn't season-ending, Wilson will miss significant time. So far it hasn't been determined if Wilson will require surgery. Generally speaking, this type of injury needs 8-10 weeks to heal properly. If that is the case with Wilson, he could miss the first 4-5 games of the season.
Who replaces Wilson remains to be seen. It could be one of two veterans in either Eric Weems or Josh Morgan, or first-year player Chris Williams. Williams has had a very good camp, but lacks the size the Bears like. Both Weems and Morgan have had starting experience in the past. How each of the three perform during the pre-season games that start Friday will be the determining factor.
Cleveland likes their rookie class
While Johnny Manziel grabs all the headlines, the rest of the Browns' 2014 rookie class is quietly going about their business and gaining the confidence of the coaching staff.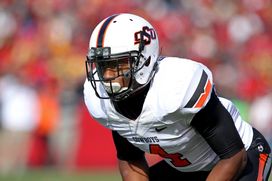 CB Justin Gilbert will make a nice coverage complement to Joe Haden.
On Monday, Manziel got some reps with the first unit in an expected move. While Manziel may not be the starter come Week 1, there is no doubt that he will be the starter sometime during the season.
After trades, the Browns had only six draft choices in May and four of those players will be starters this year. Cleveland's other first-round pick, corner Justin Gilbert, will either be the starter of the third corner on the defense. If he is the third corner, he will still play about 75 percent of the defensive downs.
Third-round pick Christian Kirksey will be the starter opposite Karlos Dansby at inside linebacker. Kirksey is very instinctive and has been flying to the ball during practice. Second-round pick Joel Bitonio, who can play guard or tackle, will be the starting left guard this year. Bitonio is a strong, physical player with very good athleticism.
Cleveland's other third-round pick, running back Terrence West from Towson, will not start, but will get playing time as Ben Tate's primary backup. West is a good fit in offensive coordinator Kyle Shanahan's offense.
The Browns' fourth-round pick, corner Pierre Desir, has done a good job picking up the defense and has improved with every practice. While he may not be more than the fourth corner in 2014, he looks to have the skills to be an eventual starter. Coming from a small school background, Desir is raw, but he has plenty of upside.
Follow Greg on Twitter: @greggabe