August 09, 2010 -
Greg Gabriel
Training camp quick hits
*After watching Green Bay in practice last Monday, it's no wonder the team extended Donald Driver's contract. He may be 35 years old, but you would never know it. He is in great shape and can still run like he was six or seven years younger.
As tight end Jermichael Finley keeps improving, defenses are going to run into matchup problems. Finley is more like a big WR than a TE. He has great speed and body control. Along with their top three wide receivers (Driver, Greg Jennings and Jordy Nelson), this group will put consistent pressure on opposing defenses.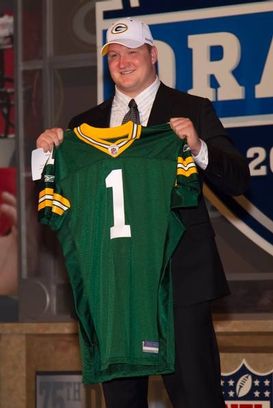 ICONBryan Bulaga will be relied upon to develop quickly in Green Bay.
The key, though, will be how the offensive line plays. There is a lot of age at the tackle position with Chad Clifton and Mark Tauscher. The Packers have to hope that first-round pick Bryan Bulaga develops quickly.
There is great size, strength and power on the defensive line with B. J. Raji, Ryan Pickett and Cullen Jenkins. They will rival the Williams wall in Minnesota as far as a defensive line that is hard to run against.
*After last season, the two biggest needs in Buffalo on offense were left tackle and quarterback. Those needs were not addressed during the offseason and after a week of training camp it looks as if it could still be a problem. In Trent Edwards, Ryan Fitzpatrick and Brian Brohm, the Bills do not have a legitimate NFL starting QB. The same can be said for Demetrius Bell at left tackle. The QB group and Bell will all be looked at very closely during the preseason. If they don't show drastic improvement, the Bills will go into next offseason with the same two glaring needs.
*I'm glad to see Kyle Orton breaking away from the pack in Denver. For some reason coaches always want to replace Orton but he finds a way to battle back and keep his job. While he was in Chicago he showed us that he was a winner and a class act. He is well-liked and respected by teammates and becomes a stronger leader every year. His work ethic is unquestioned.
*All offseason, the knock on the Bears was that they were going to be weak at the wide receiver position. They may be inexperienced but they do not lack talent. There is an abundance of speed in the group of Devin Hester, Johnny Knox and Devin Aromashodu. All ran the 40 in under 4.40 coming out of college. There is also size with Aromashodu and Earl Bennett. Throw Greg Olsen into the mix and the Bears receivers may equal Green Bay's.
As good as those groups are, however, they may not be as strong as Minnesota's with Bernard Berrian, Sidney Rice and Percy Harvin. Of course, Brett Favre needs to play for that bunch to hit their ceiling.
*Cincinnati had some good young players on the field last night in their game with Dallas. Second-year DE Michael Johnson showed top natural pass rush ability. He played hard and his instincts in the run game were excellent. Coming out, there was a knock on Johnson's toughness. I saw no sign of that last night. He can be one of the most athletic DE's in the league.
By all reports, third-round pick Jordan Shipley has had a strong camp. He backed that up with a good showing in the game. He has the look of a solid slot receiver. He is more quick than fast with excellent hands and route quickness.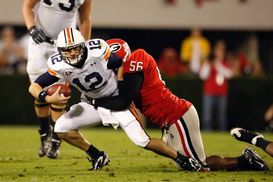 ICONDT Geno Atkins looks to be a real find for the Bengals.
*In the fourth round of April's draft, there was discussion in the Bears draft room about two players. The two were Corey Wootton, a DE from Northwestern, and Geno Atkins, a DT from Georgia. Wootton had a huge junior year and looked like he had a chance to be a first-round pick but then he blew out a knee in Northwestern's bowl game. He had surgery in January 2009 and was back on the field in the fall. He did not have the season in '09 like he had in '08. But after coming back from ACL surgery in eight months that was to be expected.
Atkins had a strong senior year at Georgia followed up by a very good Senior Bowl week and excellent workouts. Bears general manager Jerry Angelo made the decision to take Wootton because we all felt that he would revert back to his '08 form. He has thus far had a good camp.
A few slots later in the fourth round, Cincinnati selected Atkins. In the second quarter of last night's game, Atkins had a sack, two pressures and a tackle. He showed great quickness off the ball and outstanding strength and power. I have no doubts that Wootton will be a contributor for the Bears this season, but Atkins looks like he will be a starter in Cincinnati before long.
Ready for fantasy football? Click here to purchase the 2010 Total Access Pass/Draft Guide from the NFP.