May 31, 2011 -
Greg Gabriel
Tuesday news and notes
Jim Tressel and Ohio State
The first thing I do every morning after I get up is get on my computer to find out the latest sports news. When I saw Jim Tressel resigned from Ohio State as head football coach on Monday, I got an ugly feeling in my stomach.
Tressel is one of the best coaches and finest men I have ever had the pleasure to meet in my days as a scout with the Giants and Bears. Tressel became head coach at Youngstown State in 1986 and because I was the Midwest scout for the Giants I called on Youngstown at least once a year. Tressel ran a great program, turning that team into one of the better I-AA programs annually. The one thing you learned about Tressel when you made those visits was that he cared about the school he worked for, the coaches he hired and the kids who played for him. He was extremely loyal to all of them. Because of that loyalty those same kids played hard for him.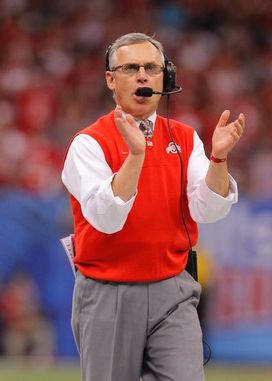 ICONJim Tressel went 9-1 against Michigan as Ohio State's head coach.
When Tressel took the Ohio State job, he didn't change a bit. He still had tremendous loyalty to the school, his coaches and his players. He also did a great job returning Ohio State into one of the great programs in the country. Most scouts would agree that after he took over at Ohio State, the school became one of the better schools to visit each year. Tressel and his staff took excellent care of NFL scouts and you knew when you left Ohio State you got honest information. That's not always the case in the world of scouting.
As a coach or player for Ohio State, the biggest game of the year is the last game versus Michigan. When Tressel took the Ohio State job in January 2001, the Buckeyes had a 2-10-1 record in the previous 11 games against Michigan — something that was simply not acceptable in Columbus, Ohio. Tressel vowed to return Ohio State to its past glory and in his 10 games as coach against Michigan, the Buckeyes won nine of them. How did he do that? He became a great recruiter and not only did he outrecruit Michigan, he outrecruited most of college football!
It's his ability as a recruiter, however, that also did him in as a head coach.
To win in college football you have to have great players and Tressel was able to get many of the top high school players to come to Ohio State. One of the things Tressel pledged to recruits was his loyalty. It's too bad the players weren't as loyal to him! Great players don't always have great character and Tressel failed to see that in some of the players he recruited to OSU. Players like Terrelle Pryor are very selfish people and they care more about themselves than they do about the people around them. The selfishness those players showed got Tressel in trouble, because in the end, Tressel's loyalty to his players was there but those same players had no loyalty to Tressel or Ohio State.
One last thing that many people don't know about Jim Tressel is that while serving Ohio State as head coach he became one of the best fundraisers the school had. He was in the same class as Joe Paterno and Bobby Bowden in being able to raise money for the school.
It will be a long time before Ohio State finds a person who compares to Jim Tressel. Ohio State will find out it misses Tressel much more than he misses Ohio State.
Paycuts in the NFL
Many websites have had articles criticizing NFL owners for cutting the pay of coaches and other employees. I don't like to see anyone lose money, but to be fair to the owners, no coach or employee who has had to take a pay cut did so without knowing it was coming months and sometimes years in advance. Most of the contracts coaches, scouts and other contractual employees signed in the last few years had clauses in the contracts stipulating that if there was a strike, lockout or any other type of work stoppage the club could in fact reduce the employees pay by a certain percentage. There are some coaches and scouts that signed contracts as long as two years ago knew this might be the case. When you know that far in advance, you can't bitch.
Owners get criticized as greedy rich men who want to hold on to their money. Not true! These men own a business and like most people who own a business they want and expect to make a profit. When they buy the franchise they assume a huge risk. An NFL franchise doesn't come cheap. If you were to try and buy one now it would cost you in the area of a billion dollars and in some cases much more. The owners owe it to themselves to have a fair labor agreement with the players.
Let's make one thing clear — players come and go but the franchise remains. Many if not all of these owners lost millions and millions of dollars over the last five years because of the poor economy. Do you think the players cared? No! They want their money regardless. From my viewpoint I wish the leaders of the NFLPA would stop the legal BS and sit down and negotiate….because in the end that's the only way they will get a deal!