November 29, 2011 -
Barry Dorey
Two future NFL draft picks pace Baylor's offense
Obviously one of the most publicized players in college football this year is Robert Griffin III, the celebrated Baylor quarterback. Griffin (alias RGIII) has had an excellent year, making a number of big plays every week. There have been many times over the years where a highly publicized player who many in the media thought would be a high draft pick turned out to be a lower-round guy because he just didn't have top NFL talent. That is not the case with Mr. Griffin. He is a legitimate NFL quarterback prospect.
Griffin is a 4th-year junior who because he missed most of the 2009 season due to injury is eligible to play one more year of college football. Sources tell me that won't be the case and he will be in next April's NFL Draft. He graduated from Baylor in December 2010 and is now working on a post-graduate degree. RGIII may be one of the better athletes to ever play the position. As a freshman in the spring of 2008 he earned All-American status for track. He has posted world-class times in the 110 meter and 400 meter hurdles. He has good size at about 6-2 and 220 pounds and I would estimate his 40 speed to be in the 4.35-4.40 area. He has long arms allowing him to play taller than he measures and has a good arm. To say that he is unconventional would be an understatement, but at the same time he is very productive.
Looking at his mechanics, they aren't perfect. He can have a tendency to be a bit flat-footed on some of the quicker throws, but he does have a quick overhand release and good accuracy. His career completion percentage is over 70 percent, but he has a number of his completions are of the short variety. His deep ball accuracy is as good as you can find; it's when he throws the medium range passes that his ball placement could use some improvement. He throws a tight catchable ball and can really zip when he has to. The one thing he does better than many is throw with accuracy while on the run.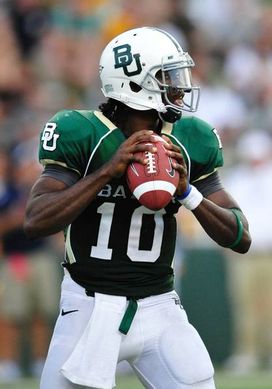 ICONRobert Griffin III has had a Heisman-worthy season this fall.
Griffin doesn't play in what I would call a complex offense, but he does show that he has to read more than half the field. He can easily go from his primary to a secondary receiver. He has a good feel for pass rushers and with his speed and quickness he can extend plays. The one thing I noticed on tape is that his offensive line is awful. There are many times when pass rushers are on him untouched and he has to use his rare athleticism to make a play or just stay alive!
Overall, I feel that the success that Cam Newton has had this year helps Griffin. Like Griffin, Newton was an unconventional athletic quarterback in a spread offense. Though the schemes are different there is enough similarity to compare. Griffin has excellent intelligence and should have no problem learning a pro system. Griffin has played a lot more football than Newton against equal competition so I have no problem in saying that he will be a very high pick. Still, in saying that, depending on what junior quarterbacks come out, he still may be only the 3rd quarterback drafted. Without question, I would take Andrew Luck and Matt Barkley before I would take Griffin. Still he probably goes in the top 5-7 picks of the draft. The quarterbacks who go in the first round of this draft are far better players than the quarterbacks last year and could have more impact as rookies.
Kendall Wright
Wright is Griffin's go-to receiver. To date he has 95 catches for over 1,400 yards and 12 touchdowns. Wright is not a big guy at about 5-10 and 190 pounds, and he doesn't have a verified time in the 40, but as of now he plays like a 4.48-4.50 type. He is not a burner but he is plenty quick with very good body control. In the Baylor offense he is not asked to run a lot of sophisticated routes but he has the burst and body control to get out of cuts quickly to gain separation. He has good hands and almost always catches the ball away from his body. His best trait may be his run after the catch skills. With his burst and run instincts he consistently gets yards after the catch and can turn a short reception into long gain. He has toughness and concentration and will compete for the ball in traffic. I was unable to grade his blocking.
Overall, because of his size and quickness he may be best as a slot receiver but he has the talent to play outside. Because of the way he is used at Baylor, he will need to refine his route running skills but shouldn't be that difficult for him. I don't see him as a premium pick (1st or 2nd round) but I can easily see him going in the next tier if he runs well at the Combine. A great time can also move him up to the first tier of receivers.