December 27, 2011 -
Barry Dorey
Two NFL prospects pace the Michigan State offense
In next week's Outback Bowl, Michigan State has two prospects that we will see for the last time as college players in their game versus Georgia. Both wide receiver B.J. Cunningham and quarterback Kirk Cousins had excellent college careers and will now be looking forward to careers in the NFL.
Just how do they stack up as prospects? Let's take a look.
B.J. Cunningham
I was able to watch four tapes of Cunningham in action this year. The games viewed were Notre Dame, Wisconsin, Minnesota and Nebraska. Nebraska was able to shut down the Michigan State offense and Cunningham didn't have a catch in that game but was very productive in the other three games with a total of 21 catches for 364 yards and a touchdown. For the season, Cunningham had 72 catches for 1,240 yards and 12 touchdowns.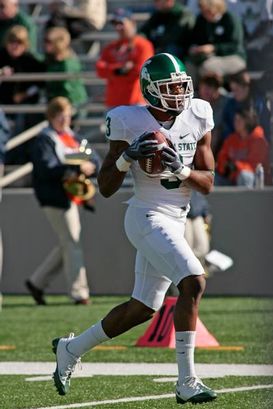 ICONB.J. Cunningham had 72 catches for 1,240 yards and 12 touchdowns this fall.
Cunningham is a tall, well-built player with good play speed. He is listed at 6-2 and 215 but looks and plays taller because his arms are so long. It will be interesting to see what his hand size is because his hands seem to engulf the ball when he catches a pass. While he is not a "burner" he is plenty fast enough. I would estimate his speed at 4.55. He is a very smooth athlete with excellent body control and flexibility. He shows good initial quickness and is able to defeat a jam with either his strength or quick moves. He is a consistent route runner who shows the ability to uncover versus both man and zone coverage. He is very alert and does an excellent job finding the open seams and adjusting versus zone. When playing versus man, he shows he can break down and separate quickly when getting out of cuts. He doesn't have the flat-out speed to consistently separate deep but because of his length he still makes great catches when covered.
Cunningham has excellent hands. He always catches the ball away from his body and just snatches the ball. He tracks the ball extremely well and consistently makes acrobatic catches. He is a good runner after the catch, showing a burst and some elusiveness. He also utilizes an explosive stiff arm to keep defenders away. With Michigan State being a strong running team, Cunningham has become a good blocker downfield.
Overall, I feel Cunningham is one of the better receivers in this draft. He doesn't have the explosive speed that teams look for, so because of that he may not be drafted where his talent suggests. His draft position will be dictated by how he runs. If he runs a sub 4.5 or even in the low 4.5's he could go in the first, otherwise he probably goes in the second. Either way, this is an outstanding receiver who will play early in his career and could eventually be a No. 1 receiver for a club. There is much to like about this player.
Kirk Cousins
While Cousins has been an excellent college quarterback, he is an average NFL prospect. He reminds me some of Ricky Stanzi but he lacks the arm strength and athleticism that Stanzi had. Stanzi has a bit more upside then Cousins. What helps Cousins is he has been a three-year starter for a top program in an excellent conference. Over the last three seasons he has a 26-12 record as the starter. He plays in a conservative pro-style offense and has a career passing percentage of 64.5 percent. He has thrown for 8,861 yards, 65 touchdowns and only 27 interceptions. This year he threw for 24 touchdowns and only 7 interceptions.
I like the way he manages a game. He is a leader on the field and is clearly "in charge." He doesn't make many mistakes, takes what is given and doesn't force things. He has good vision and instincts and does a good job going through a progression. What he lacks is top arm strength and top athleticism. I would say that he runs in the 4.9 area and is not real quick footed. He doesn't show the ability to extend plays with his feet and lacks the mobility to elude pass rushers with any consistency. While he is a very accurate passer with fairly good ball placement, he seldom drives the ball and he seems to "float' deeper throws.
Overall, Cousins will get drafted. I see him as a late round type of player. I doubt he will ever be an NFL starter but I can see him being a good backup type. In an NFL weight program he will increase his arm strength, allowing him to drive the ball better but I doubt he can do much about his average athleticism.