August 29, 2011 -
Greg Gabriel
Understanding the NFL practice squad
With the new CBA in effect, the training camp numbers are different this year. The last few years teams have had a camp number of 80 players; this year it's 90. After the third preseason game is the first cut. Clubs have to get down to 80 players by tomorrow afternoon. In previous years the squad has been a cut to 65 players. The NFL is letting clubs have a larger number this year so they can still evaluate and have good practices this week. The final cut-down to 53 players is this Saturday.
The one thing that was fairly obvious to me the first three preseason games was the younger players (free agents and some draft choices) didn't get the opportunity they have gotten in other years because of the circumstances surrounding the CBA. Because of that there will be players cut this week that in other years may have made clubs. That will follow into next week when practice squads are formed.
In previous years, at the 65-player cut, clubs would often try to sneak by some players through waivers they wanted on the practice squad, hoping the other clubs would think they are not good players if they were cut now. I don't see that happening this week. On Saturday there could be as many as 864 players cut with about 256 players re-signed a day later to practice squads around the league.
Who makes the practice squads?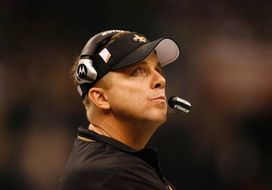 ICONA lot of NFL head coaches like to have at least two offensive linemen on their practice squad.
That is a good question because there are many different philosophies that the different clubs have. Some teams will try to re-sign the best eight players they cut. Other clubs will look at the numbers they need to have good practices. For example, most clubs have 7–8 offensive linemen on the active 53 but they need at least 10 offensive linemen for practice so they will re-sign at least two offensive linemen. The players that have the most versatility are often the ones signed first. By that I mean offensive linemen who can play more than one position (center/guard or guard/tackle). The one thing coaches always want in practice squad players are players who are smart. They want kids who can learn their assignments and get through a practice with a minimal amount of mistakes. Because of that you can have players with more "talent" left off the squad because he can't learn the playbook!
Clubs always need a good number of receivers so the quarterbacks can get enough throws in practice while at the same time trying to keep the regular receivers fresh, so often there are two receivers kept on the practice squad.
The trend the last few years has been to keep two quarterbacks on the active roster and have the third QB on the practice squad. This often means that the clubs is risking losing a player by exposing him to waivers. Last year, for example, the Bears were hoping they could get quarterback Dan LeFevour through waivers and place him on their practice squad, but it didn't work and LeFevour was claimed by Cincinnati. This is a risk and you have to have a plan if the risk fails.
Because there was no offseason program and with the new limited practice schedules in effect the one thing I can see clubs doing at least through the early part of the season is "rotating" players through the practice squad. A club may "promise" five or six players that they will keep them for the entire season as practice squad players and then use the other two or three spots as "audition" spots. This way, you can keep a player on your practice squad for a week or two and try and get a feeling for his talent. It may be a player you had in camp that you liked but because of the circumstances the coaches just didn't have enough time to properly evaluate and want to spend more time with him. If you like what you see, you have the option of keeping him around for a longer period of time. Some teams have been doing this for years. It could become more common this season.