March 30, 2012 -
Greg Gabriel
Want a big receiver? This may be the year to get one
Over the last few years, big receivers have become in vogue in the NFL. With players like Detroit's Calvin Johnson and Arizona's Larry Fitzgerald having as much success as they have had, other clubs are looking for the same. Last year, Atlanta traded up into the top 10 of the first round to draft Julio Jones, who is big and fast (6026 and 220, 4.40), and Cincinnati grabbed A.J. Green, who is equally as big and fast (6035 and 210, 4.50) with the 4th pick. This year's draft offers an inordinate amount of big receivers, guys who have size, speed and ability.
Let's take a look at some.
Justin Blackmon – Oklahoma State
At 6007 and 207 with 4.48 speed, Blackmon offers a combination of size, speed, hands and route running ability.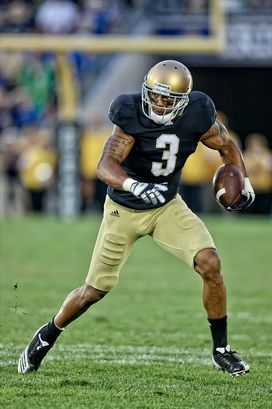 ICONMichael Floyd may be the most physical receiver in this draft.
Michael Floyd – Notre Dame
Floyd measures 6025 and 220 and runs 4.44. He not only has size and speed but he may be the most physical receiver in this draft. He is an outstanding blocker.
Stephen Hill – Georgia Tech
At 6040 and 215, Hill, who ran a 4.33, has off the chart numbers for the agility and explosion drills. He is still raw but has an almost unlimited upside.
Brian Quick – Appalachian State
Like Hill, Quick is raw and a year away from being a top contributor, but with his size, speed and athleticism (6034 and 220, 4.55) he shows an uncanny ability to adjust to the ball. At the Senior Bowl, Quick looked very smooth running routes.
B. J. Cunningham – Michigan State
Cunningham measures 6013 and 211 and runs 4.55. While not a burner, he is an excellent route runner with sure hands and shows good run skills after the catch.
Alshon Jeffery – South Carolina
No doubt, Jeffery is talented, but he played way overweight in 2011 at about 235 pounds. He got down to 216 for the Combine and his pro day and ran well (4.51). The question on Jeffery will be if he can stay at his new weight. If he can, the team that drafts him will have a talented big receiver.
Marvin Jones – California
Jones comes in at 6017 and 199 and runs 4.47. He had a strong week at the Senior Bowl to go along with strong production the last two years at Cal (112 receptions).
Rueben Randle – LSU
Randle is another raw but talented receiver. He has shown some inconsistency but with his measurables (6027 and 210, 4.45) and overall athletic talent the arrow is going up.
Marvin McNutt – Iowa
The former high school quarterback has a very good size/speed ratio (6026 and 216, 4.50) to go along with outstanding production. While he doesn't play to his timed speed, he is a good route runner with excellent hands.
Derek Moye – Penn State
Moye had a good Combine, running the 40 at an average of 4.50. He is a tough sure-handed guy who at last word has been climbing the charts. At 6042 he is one of the taller receivers in this draft.
Mohamed Sanu – Rutgers
Sanu disappointed scouts at the Combine when he ran in the 4.7 range. He showed great improvement at his pro day running about 4.55, which is more indicative of his play speed. Sanu is another big (6014 and 211) physical receiver who creates matchup problems.
This is just a sampling of 11 players. There are many more in this draft. Players like Tommy Streeter of Miami, Nick Toon of Wisconsin and DaVier Posey of Ohio State. I can't remember when there were this many talent big receivers in one draft. When you add all the "normal sized" receivers to this group, it's fair to say that with the overall depth at the position a club can draft a good receiver into the 5th round.