September 14, 2010 -
Greg Gabriel
Week 1 rookie report card
Starting with today's post and continuing every Tuesday during the NFL season, we are going to pick a few rookies and grade their play from the previous week's game. Today, we will look at Sam Bradford and Rodger Saffold of the Rams and Ndamukong Suh and Jahvid Best of the Lions.
Sam Bradford
At first glance, you might say that Bradford had a pretty good game for the Rams. He completed 32 of 55 passes for 253 yards and a TD. Not bad for a first game in the NFL. But on the downside, he also threw three interceptions. And two of those came in the last two minutes of the game when the Rams had a chance to win the game.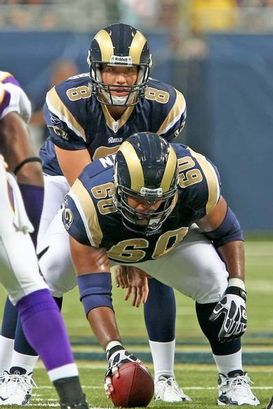 ICONSam Bradford completed 32 of 55 passes for 253 yards and a TD, but he also tossed 3 INTs.
I liked many of the things Bradford did. He showed poise and confidence throughout the game. He did not seem to get rattled when things went wrong. He can set up quickly, find an open receiver and get the ball out of his hand quickly. He throws a tight spiral and his accuracy was adequate. At the end of the first half, he threw a nice deep ball to Mark Clayton to set up a score. He also showed good ability to move around in the pocket and throws the ball well on the run.
On the downside, he did force some balls by throwing into coverage. He also had two opportunities in the last four minutes of the game to lead the Rams to victory and didn't get it done. Both drives ended in interceptions, one of which was in the red zone where he did not read the safety.
I have no doubt that Bradford will be a very good quarterback in the league. He will be able to build on Sunday's experience, but the bottom line is he had two chances to win the game and he didn't do it. He gets a solid C+ for Sunday.
Rodger Saffold
Saffold was the Rams second-round pick. He starts at left tackle and except for a few plays he played a strong game. Saffold has ideal size for a left tackle at 6-4