November 18, 2010 -
Greg Gabriel
Week 10 rookie report card, part 2
It's been four years since a visiting team came into Pittsburgh and won by more than 7 points. New England was able to follow up its worst game of the season with perhaps its best with a 39–26 victory over the Steelers. This was a different Patriots team than the one that lost to Cleveland the week before. They controlled both sides of the ball and really won easily. Rookies played a big part in this game for the Pats.
Rob Gronkowski
Gronkowski did not play well in Cleveland but he had perhaps his best game in his young pro career against the Steelers. He finished the game with 5 catches for 73 yards and three touchdowns. He had 2 other catches called back on penalties, one of which was an offensive pass interference call on him.
Gronkowski showed speed, power and body control in this game. His first TD came on a seam route where he separated nicely and made a great catch just inside the goal line. He is a very good route runner and can get in and out of cuts quickly. He has soft hands and you never see him double catch balls.
Many rookie tight ends are not top blockers but Gronkowski is excellent. He does a good job both from an in-line position and on the move. He is good at dropping his weight before contact and exploding into opponents. He is a consistent finisher. He gets a well-earned A+ for the game.
On a side note, there are three Gronkowski brothers playing in the NFL. Rob with the Patriots, Chris with Dallas and Dan with Denver. All played on winning teams this week.
Aaron Hernandez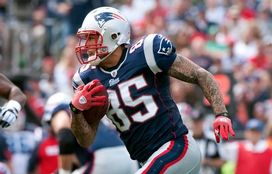 ICONPats TE Aaron Hernandez
To date, Hernandez has played extremely well while being used as a move tight end and a wide receiver. In this game he did not get much playing time. He was thrown to twice but had no catches. He gets no grade for this game.
Devin McCourty
This isn't the first time we have written up McCourty, he has been a starter all year. The nice thing about McCourty is he keeps improving with experience. He played a very consistent game on Sunday. His run support was excellent. He was credited with 11 tackles in this game and he had to have at least 4 in run support. While not a real big guy, he attacks the run and does an excellent job getting rid of blocks. He is an explosive tackler who wraps up very well. He also plays on cover teams and does a great job. He plays with a special teamer's mentality.
In coverage, he has all the tools, is quick and fast. He has excellent hips and moves in transition very well. He is a very good press cover guy and is almost as good in zone. I can see this player being a Pro Bowl-type corner in the not too distant future. He earns an A.
Brandon Spikes
Spikes has been a consistent starter since the beginning of the season. They usually play him just on run downs so you don't see him in obvious passing situations. Spikes is very aggressive and a strong run defender. He has very good instincts and finds the ball quickly. He does a very good job of taking on and shedding blocks and fills very well. He is a very strong tackler. Because of his natural physical skills he is ideally suited to play in this defense. He plays faster than he times, but because he lacks great speed if he were in a 4–3 his lack of top range would show. When he is in the game against passing plays he has a good drop and good receiver awareness. He shows a good feel in zone and is very aware. He may never become an All Pro-type player but he is definitely a player the Patriots can win with. He gets a solid B in this game.
Jermaine Cunningham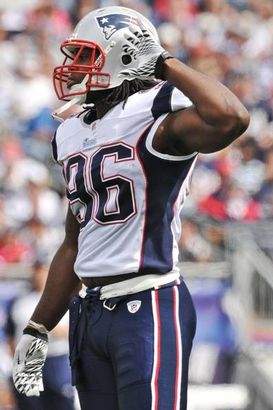 ICONPats DL Jermaine Cunningham
Like Hernandez on the offensive side, Cunningham did not get the playing time he has gotten in previous games in this game. He does play in some passing situations and shows good pass rush skills. He stays low when he is rushing the passer and redirects well. He has good hand use. He did not get any tackles in this game but I did count two pressures. Overall, I really didn't see enough to grade him fairly.
Pittsburgh
The Steelers do not have a lot of rookies getting playing time. Center Maurice Pouncey plays the most and he has developed into a very consistent player. Because I have talked about him twice previously this season I didn't pay close attention to him. He was going against one of the best nose tackles in the game in Vince Wilfork and he more than held his own, but it would be unfair of me to try and put a grade on his play. When you are studying a player you have to watch every play in order to give a good evaluation.
Emmanuel Sanders
The other rookie who played a lot for Pittsburgh in the game was Emmanuel Sanders, the Steelers' 3rd-round pick out of SMU. Sanders got a lot of playing time because of an injury suffered by Hines Ward. He played both wide receiver and returned kicks. Sanders is a legitimate NFL kick returner. He has speed and run instincts and hits the seam quickly. He also shows patience and does a good job reading his blocks. He had 6 kickoff returns for a 26-yard average and 2 punt returns for 22 yards.
As a receiver he started slowly but came on as he felt more comfortable. He ended up with 5 catches for 41 yards and a touchdown. In the first half there was a play where he was the primary receiver in the end zone. On the play he ran a sloppy route, looked late for the ball and it sailed right by him. He followed that up with some nice routes showing both speed and quickness and a nice ability to adjust to the ball. His route and catch of a lob pass in the end zone was pretty.
Overall, Sanders is still a raw talent. He came out of college early and still has a lot to learn but he has the physical traits to become a very good receiver in the league. I would think that his best position might be in the slot where he can utilize his speed and quicks very effectively.