November 16, 2010 -
Greg Gabriel
Week 10 rookie report card
The first game we'll look at is the improving Cleveland Browns against the New York Jets. This game went into overtime before the Jets pulled it out 26–20. A big reason the Browns are so improved has been the play of rookie quarterback Colt McCoy. We will look at McCoy, along with safety T.J. Ward and corner Joe Haden.
Colt McCoy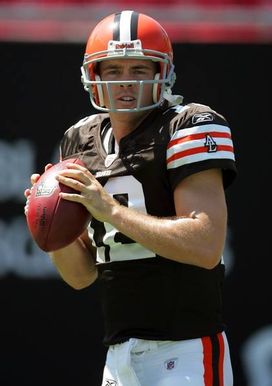 ICONQB Colt McCoy has played very well as the new starter in Cleveland.
McCoy did not play until the sixth game of the season and has played extremely well since he has been under center. The original plan was to have McCoy sit and learn his rookie year but because of injuries he has had to play.
He is very poised for a rookie. They don't ask him to do too much, but everything he does he does well. While in college, McCoy was a top character guy and leader and those traits are carrying over to his NFL play. You can visibly see that he is in charge.
Cleveland plays conservatively on offense. The Browns have a strong running game and they try to control the ball and keep the game close. In the final 2 minutes of regulation, Cleveland needed a touchdown to tie. McCoy very calmly completed 5 of 9 passes for 58 yards, including a 3-yarder to Mohammed Massaquoi for the tying TD. In overtime he hit a 3rd down pass for 14 yards to put the Browns in position to win but the receiver fumbled away the ball.
What I like about McCoy is how fast he gets the ball out of his hands. He has a compact delivery and when he makes the decision to throw, the ball is out of his hand very quickly. He throws a tight ball and has accuracy and ball placement. He has good field vision and instincts and is a good decision maker. You don't see him trying to force too many balls. Because of his athleticism he is able to keep plays alive with his feet and he does a good job throwing on the run. Overall, this kid is a player. Because he played in big games in college, the pro game is not too big for him. He will get better with experience and as Cleveland adds more players, Pittsburgh and Baltimore better look out. He earns a B+.
T.J. Ward
When I did my midseason all-rookie team last week I had some readers point out that I left out Ward. I didn't leave him out. He has played well but his forte is run support and tackling. He can have his problems in coverage but he is getting better. Early in the second quarter he was out of position in deep coverage leaving Jerricho Cotchery all alone for a 25-yard TD reception. Later in the game he had good coverage on Tomlinson in the end zone and also has a PBU in the red zone on a ball intended for Dustin Keller. His tackling and run support are outstanding. He attacks the run, gets rid of blocks quickly and is an explosive tackler. He should become an ideal strong safety. He gets a B for the game only because he gave up the early TD.
Joe Haden
Haden has been playing a good part of the season as Cleveland's third corner but because of an injury to starter Sheldon Brown early in the game Haden had to play right corner for most of the game. When Josh Cribbs went down he also was asked to return kickoffs. He did a very good job on his two kickoff returns getting a total of 51 yards. Both returns looked similar where he started up the middle and then broke to the right sideline showing an excellent burst and good power.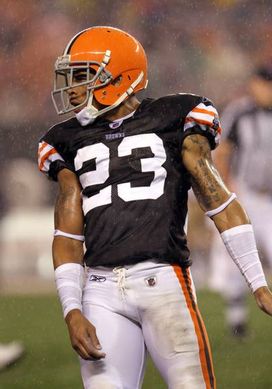 ICONJoe Haden played right CB after Sheldon Brown was hurt this past weekend.
From a stat point of view this was Haden's best game. He had 7 tackles and an interception. His play equaled his stats. Early on I thought that he wasn't playing aggressive enough. He was a little slow getting off blocks and was waiting for the run but he got better and seemed to attack the run better. There was one play where he did a good job eluding a blocker and then took an explosive step to make the tackle.
He showed good man cover ability on Braylon Edwards versus fly routes and kept getting good position to prevent the catch. His interception came in overtime when he broke on a pass in the deep middle to get the pick at the 3-yard line. He also stopped a receiver short of a first down on a 3rd and 9 play, closing quickly and making a strong tackle.
Overall, Haden has shown improvement from his play earlier in the year. He seems much more confident. He earns a B+ for this game.
Washington vs. Philadelphia
Trent Williams
With the Redskins getting clobbered by the Eagles last night you would think that Trent Williams, the big rookie left tackle for Washington, played poorly. That wasn't the case. I thought he played fairly well. He looks a lot bigger than the 315-pound listed weight. I scouted him last year and that was about what he weighed. He's bigger now. I would say in the 325–330 range.
Still, he moves well. He has good bend and good feet with good lateral agility. He plays from both a 2- and 3-point stance and gets off the ball quickly. He is a strong guy who shows some "pop" on contact. He was able to get movement with his run blocks and did a nice job getting to the second level. They used him to pull a few times and usually looked good doing it but I did see a couple plays where he did not show enough speed to get to his block in time for the back to cut off it.
In pass protection his opponent would try some outside–in moves and come back across his face to get pressure and Williams did a good job recovering and sliding back inside. He has a strong upper body with a strong punch and was able to use his right arm to get leverage. There were a few 3-step drop plays where he tried to cut his opponent so McNabb could get the pass off quickly but he was not good with that move and gave up pressures. Because of his bend and girth he does a good job against bull rushes. Overall, this is a good player. I wish he was a little slimmer but that may be the size they ask him to be. He has the athletic tools to be a good left tackle in the league. He earns a B+.