November 25, 2010 -
Greg Gabriel
Week 11 rookie report card, part 2
Before we get started on the rookie report, I would like to wish all of you a very Happy Thanksgiving.
On Sunday, the Tampa Bay Bucs and the San Francisco 49ers played in San Francisco. Eleven weeks into the season these clubs are just the opposite of what most thought they would be. Tampa is 7–3 and tied for second in the NFC South. San Francisco, the team most thought would win the West, is in last place and struggling with a 3-7 record.
The Bucs are not a spectacular team; they are more workmanlike and do enough to win. The good thing is they keep improving. Led by offensive coordinator Greg Olson, the Bucs have a ball control offense that is full of good, young talent. We will take a look at some of that talent.
LeGarrette Blount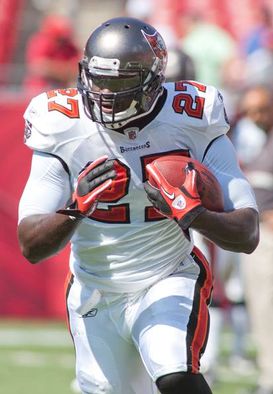 ICONRB LeGarrette Blount has been a real find for the Bucs.
Blount, who the Bucs acquired on waivers from Tennessee at the final cut, barely played in the first five games and now is the focal point of the Tampa Bay offense. He is quickly becoming the best back in the 2010 rookie class.
He always had the talent, but because of some character issues he was not drafted. I'm sure there are many teams in the league that now wish they took a chance on him.
Blount is a big, powerful back who wears a defense down. He is extremely physical. The defense may stop him early but by the nature of the way he runs, he can be very productive in the second half of games. He runs low, attacking his tacklers and is consistently able to get yards after contact. He is more of an inside runner than outside but does show a burst to get the corner turned. He has good run instincts and does an excellent job setting up and following blockers. He is not used much in the passing game. In fact, he wasn't thrown to in this game but he shows good pass-blocking skills.
Overall, Blount has turned into a great acquisition for the Bucs; he is the big, powerful back that almost every team wants. He gets an A- for this game.
Mike Williams
Williams is another player whose draft stock was hurt by character issues. Up until last week, he had been a model citizen for Tampa but then he got charged with a DUI in the middle of last week. It was because of his poor decision-making in college that he got drafted as late as he did. Regardless, he is very talented and ten games into the season he is the Bucs' leading receiver. He finished Sunday's game with 3 catches for 54 yards and a touchdown. He has become so reliable in their passing game that he is now starting to draw double coverage on a consistent basis.
One of the best parts of his game is the way he comes back to the ball. He consistently finishes his routes and on top of that he has great hands. He has made some very acrobatic catches this year. After the catch he does a good job getting up field and gaining yards. He has a burst and good run instincts. He also earns an A- for his play on Sunday.
Gerald McCoy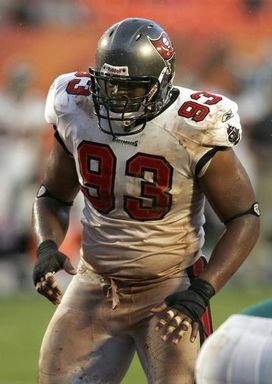 ICONDT Gerald McCoy will continue to improve.
McCoy, the Bucs' first-round pick, starts at defensive tackle. He is not putting up great numbers as far as stats go, but he is playing well. He has the physical tools needed: size, strength and athleticism. He gets off the ball quickly and consistently gets penetration to disrupt plays. Early in the season he was not always getting off blocks quickly, but Sunday he did a good job taking on and shedding blocks. He has a strong upper body and uses his hands well to get separation from blockers. He plays with a good motor and goes hard every play, showing very good pursuit skills.
As a pass rusher, his numbers have not been that good up until this game. He would get pressures and some hits but no sacks. This week, he had 1.5 sacks and was very consistent with his pass rush. Overall, just as the Tampa Bay team is improving, so is McCoy. Because they are so young they could be a team to reckon with for years to come. He gets a B+ for his effort Sunday.
San Francisco
The 49ers have two rookie offensive linemen starting. Mike Iupati starts at left guard and Anthony Davis starts at right tackle. Both players played well on Sunday and neither was the reason the 49ers lost.
Mike Iupati
A first-round pick, Iupati has been a starter all season long and has been a consistently good performer. For a big guy, he moves extremely well and does an excellent job in space when blocking for screens or when pulling. He can break down in the open and adjust on the move to make a productive block. As a run blocker, he has excellent snap reaction and stays low out of his snap. He is a strong run blocker who can get movement and he is good at getting to the second level.
His play is similar in pass protection, as he can set quickly, has a strong punch and good mirror skills. Because of his lower body girth and power he has very good anchor ability. With his consistent play, he earns a B+.
Anthony Davis
Davis also was a first-round pick and has also been a starter since game one. He is playing a little better than he was earlier in the year. When I looked at him before I thought he was slow getting off the ball, but he has improved his snap reaction and initial quickness. He still can be a very powerful run blocker but where I feel he needs improvement is he will stop his feet at times on contact and then restart. What he needs to do is consistently run his feet then he won't give his opponent an opportunity to regain momentum. Where his inconsistency with initial quickness really shows is in pass protection. When he is late off the ball, he gives his opponent a chance to beat him with speed to the outside giving up the edge. This happened a few times Sunday and when it does he will give up a pressure or hit on his quarterback. He handles inside and bull rushes well. With his natural strength, once he gets his hands on you it's all over. He also does a good job sinking his hips and anchoring.
Overall, he is getting better but not quite "there' yet. He earns a B for the game.