November 23, 2010 -
Greg Gabriel
Week 11 rookie report card
Cleveland and Jacksonville have both been playing fairly good football the last few weeks so we decided to look at that game and talk about some of the rookies who played a lot in that contest.
We have not reported on Jacksonville yet this season so it was a good game to watch.
Tyson Alualu
Many "experts" thought Alualu was drafted too high when Jacksonville took him with the 10th pick of the first round in last April's draft. The fact is this: They liked the player, he fits the scheme the Jags run and he was very productive at Cal. Having been involved in the draft for over 25 years, I will never criticize what another team does. The bottom line is if he plays well for them and helps them win, it was a good pick. People on the outside can criticize all they want but they really don't know the work that is involved when making a selection.
Alualu starts at defensive tackle, and he plays in a rotation but gets probably more snaps than any other Jacksonville lineman. On any given Sunday, the Jags will play 7 or 8 defensive linemen. He has good size and is strong and powerful. He is very quick off the ball and consistently gets penetration. He may not make a lot of tackles but he can be disruptive. Alualu has good hand use, stays low and can shed quickly. He is a quick reactor who finds the ball. Right now I would say he plays the run better than rush the passer, but in saying that I will say that it takes longer to become a good pass rusher in this league. Rookies are seldom dominant pass rushers; it takes time to learn the nuances of becoming a top pass rusher. But he did get a sack with a nice inside power move. He gets a solid B+ for the game,
Austen Lane
Lane starts at left defensive end, but plays in a rotation with two other players and his total playing time is roughly 1/3 of the game. Lane played college football at FCS Murray State and is still developing. He did not play in the Jags first four games. He is tall with long arms and has a bit of a narrow frame but is still filling out. He probably will still put on another 10–15 pounds before he maxes out. I like his motor, and he plays hard every play. He can get a little tall and will at times get glued to blocks but because of his competitiveness and toughness he will make some plays. Right now he is best as a run defender but he has some of the natural physical traits to eventually become a good pass rusher. He has good snap reaction with a quick first step. Though he still needs work on hand usage he still has quick hands and a strong punch. He shows speed when in pursuit and takes goods angles. He finished the game with 2 tackles and earns a C+. There is a lot of upside to this player.
Larry Hart
Hart was the Jags 5th round choice from Central Arkansas. From a height/weight viewpoint he looks more like a linebacker at 6-0, 250 pounds. But he has long arms and is very explosive. He doesn't start but plays as part of their nickel package as a designated pass rusher. He is an instinctive player. Early on he diagnosed a screen play, showing excellent change of direction and a burst to make the stop. He also showed his speed running down Colt McCoy. Like Lane, he has a very good motor and never quits on a play. He gets off the ball very quickly with an explosive first step. In this game he showed a strong outside speed rush. He can dip his shoulder and burst to the QB as well as anyone. He still needs to learn how to put moves together consistently but he has the tools to be successful. Overall, he is not ready to be a full-time player but he is good at what they ask him to do and that is provide some outside speed rush skills. He earns a solid C+.
Cleveland
Colt McCoy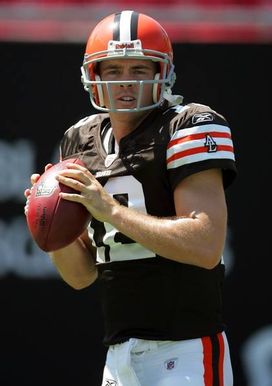 ICONBrowns QB Colt McCoy is improving every week.
I have seen three of Colt McCoy's starts so far and needless to say I am impressed. This was not his best outing but you can see how he is improving in all areas. I feel the Browns are being a little too conservative with their play calling but I understand the reasoning. McCoy is a very bright young man and played a lot of football while at Texas. He can handle the challenge.
Even though he lacks ideal height, he is productive. With his athleticism and movement skills he is able to keep plays alive.
The one thing I really like is his ability to get the ball out of his hand quickly. He has a very quick release. He finds his target and fires it, showing accuracy and ball placement. There is no indecisiveness in his play. He earns a B.
T.J. Ward
Ward has been a consistent performer all season. I stated in earlier reports that he was best as a run support player but his coverage skills were improving. Those improving skills came to fruition on Sunday with Ward getting his first two interceptions of the season. Both came on deflected balls but still he was in the right place, had good position and made the plays. His run support and tackling in this game were again very good. He earns an A-.