December 09, 2010 -
Greg Gabriel
Week 13 rookie report card, part 2
On Sunday, St. Louis traveled to Arizona for a game between two teams going in opposite directions. Arizona was the two-time defending NFC West champ but lost players like Kurt Warner, Karlos Dansby and Anquan Boldin. You can't expect to win many games when you lose core players like that. On the other hand, not many thought that St. Louis would be challenging for a division crown and a playoff spot. Yet, after 12 games, the Rams are tied for first in the NFC West. One of the reasons is the strong drafting the Rams have done the last two years. In 2009 they picked up tackle Jason Smith, linebacker James Laurinaitis and corner Bradley Fletcher — all now solid starters. This year, with the first pick in the draft, they drafted Sam Bradford, who has had an outstanding rookie season, and tackle Rodger Saffold, who as done a stellar job at left tackle. Today, we will look at some of the young players in that game.
Sam Bradford
Watching the telecast of the Rams-Cardinals game, analyst Kurt Warner talked about Bradford's play. He showed a graphic of what players like John Elway, Troy Aikman and Peyton Manning had done in their first 12 games. Bradford's stats for his first 12 games are far superior to Elway, Manning and Aikman. One stat that I have always felt was very telling was the touchdown to interception ratio. After 12 games, Elway threw 6 touchdowns and 14 interceptions, Manning was 19 touchdowns to 23 interceptions and Aikman was 9 touchdowns to 18 interceptions. Going into Sunday's game, Bradford's numbers were the opposite. He has thrown 17 touchdowns to 9 interceptions. He also has done a lot better than the others in the most important stat: Wins.
I'm not saying that Bradford is going to be a better or equal player to the other three, but I am saying he is off to an outstanding start and will keep getting better. Barring injury, he will be the "franchise" very shortly.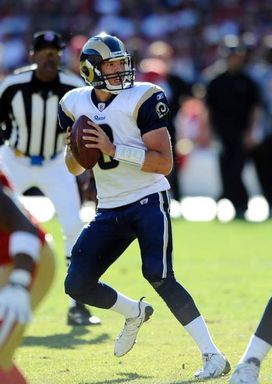 ICONSam Bradford is winning games as a rookie QB.
The one thing that really stands out about Bradford is his poise. He doesn't get rattled. He is a good decision-maker and he doesn't force things to happen. He is a lot more athletic than people gave him credit for coming out. He has a knack for keeping plays alive with his feet and is an excellent passer while on the run. To go along with his poise, he can really see the field; he can go through a progression and find the open man. He has a strong arm, throws a tight ball and has excellent accuracy and ball placement.
From a stat point of view, Sunday was far from his best game. He completed 18 of 29 passes for 187 yards with no touchdowns and one interception. What he was able to do is control the game while on the road, keep drives alive and make plays when he had to. The Rams held a 7:30 time of possession advantage and that is huge. He gets a well- earned A.
Rodger Saffold
There are many in the scouting community that felt that Saffold would not be able to play left tackle in the NFL. I guarantee you they would love to have their reports back. Why did they feel that way? Saffold does not have the frame of "traditional" big time left tackles. At a little over 6-4, he is a tad shorter than the "ideal" left tackle. He also has a thick stocky frame with just above average arm length (33.5). So when you gave him the "eye ball" test you said guard or right tackle. They may have forgotten to watch the tape because there was nothing on tape from 2009 that said he couldn't play left tackle. He has very good balance, quick feet, agility, recovery and hand use. All traits needed to play left tackle. He also showed very good bend and flexibility. Tackles have to anchor, and he can.
To me, his play this year has been an extension of his senior year at Indiana. He has excellent initial quickness for both the pass and run. In the run game he is explosive coming off the ball and does an excellent job running his feet on contact. He consistently gets movement with his run blocks. He has the body control to get out into space, adjust on the move and hit a moving target. In pass protection he is very quick laterally and does a good job stopping wide speed and can also recover and come back inside to stoop counter moves. He is strong in both the upper and lower body and has a very good punch. With his bend, he doesn't give ground to a bull rush.
Saffold earns an A for his play Sunday and I don't think it will be long before he is one of the elite left tackles in the game.
Arizona
There are a couple young players on the Arizona squad that I was looking forward to watching but neither played. They are second-round linebacker Daryl Washington and third-round receiver Andre Roberts. Two young quarterbacks did play, Max Hall and John Skelton. Hall was hurt during his first series (in the third quarter) and so he didn't play enough to grade. Skelton came in and tried to play catch up and looked like a rookie who has had very little playing time. He threw a couple of nice passes but overall he rushed things and was very tentative. He is listed as the third quarterback on the Arizona roster so he does not get very many reps during the week. Under those conditions it's really unfair to try and grade him.