December 07, 2010 -
Greg Gabriel
Week 13 rookie report card
The New York Giants have had a bit of a rollercoaster season. They started slow but then put it all together against the Bears and many thought by midseason they were the best team in the NFL. They then lost two in a row to Dallas and Philadelphia but have once again come back strong with impressive wins over Jacksonville and Washington. The one thing I like about the Giants is that they are so resilient. They overcome adversity time and time again and that is a tribute to their coaching staff and organization as a whole. From owner John Mara to general manager Jerry Reese to head coach Tom Coughlin, everything is top shelf. They are great people, they know what they are doing and they know how to win. They don't panic or overreact. There is a plan in place, they stick to the plan and on top of that they are extremely loyal people.
In Sunday's game they had four offensive starters out with injuries and also played the game in a strong wind. So instead of throwing they ran for almost 200 yards and dominated time of possession. The defense, led by defensive coordinator Perry Fewell's aggressive schemes, caused six Redskins turnovers (2 interceptions and 4 fumbles). In the last few weeks, first-round pick Jason Pierre-Paul has really come on.
Jason Pierre-Paul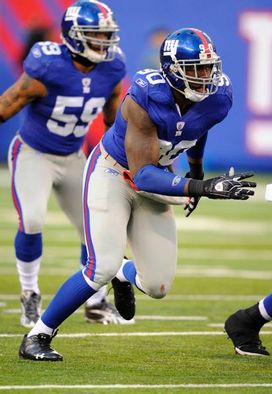 ICONGiants rookie pass rusher Jason Pierre-Paul.
I made a school visit and also saw Pierre-Paul play in a game last year at South Florida. He only played one year of major college football because he was a non-qualifier out of high school and had to play at a junior college. What you saw at South Florida was a very raw player and also a player who had excellent pass rush talent and instincts. You can coach players and make them better, but they also have to have natural traits to become great pass rushers. Pierre-Paul is a tall, long-limbed guy with natural speed and power but still a guy who was undeveloped from a physical standpoint. He had never been in a good weight program. He had bounced around a couple of junior colleges and didn't arrive on the South Florida campus until a few weeks before their first game in 2009.
What you saw on tape or in person was all natural talent. The South Florida coaches did a great job with him but still they only had a few weeks of preseason practice to really work with him. Once the season starts, the practice routine is geared more to game planning than development. With that being said, when I turned on the tape I saw one of the most natural and instinctive pass rushers I had seen in years. Almost everything he did was on pure instincts and raw talent. The conclusion you came to was "how good can this guy become?" You get him in a strong weight program and with the top coaching he would get in the NFL, you had to say that the sky was the limit as far as his ceiling and he could become a future Pro Bowler.
Giants GM Jerry Reese and southeast scout Joe Collins saw this and they are now starting to see just how good this player can be. In the last two games against Jacksonville and Washington he has 11 tackles, 4 sacks and a fumble recovery. And he's not playing full time.
Pierre-Paul has great natural power and very quick hands. He is also blessed with very good flexibility. He can bend and get under opponents, stay in balance and burst to the QB. With his long arms he has a natural leverage advantage. He gets off the ball very quickly and stays low, he seldom exposes his body and uses his hands well.
When playing the run, he shows good ability to react. He is able to shed quickly on the run and takes good angles to the ball. He has the strength and power to hold the POA. If he was a fulltime player I would give him an A but because he is only playing about 40 percent of the defensive downs he earns a B+.
Chris Ivory – New Orleans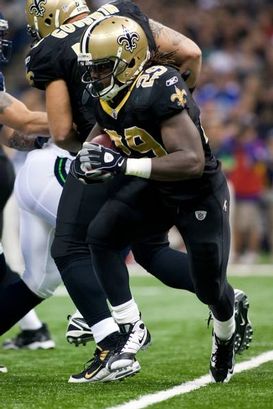 ICONSaints rookie running back Chris Ivory.
Who is Chris Ivory? That's what many NFL fans have asked the last few weeks. Ivory is the Saints leading rusher with 636 yards on 123 carries. When a relatively obscure player makes it in the league there is always a story and in this case there is a good story.
Coming out of high school, Ivory was not a highly recruited player. He was a 2-star athlete with offers from places like SMU, Stephen F Austin, Sam Houston State and Washington State. He chose Washington State and got some playing time as a true freshman in 2006 with 3 carries for 85 yards. But 2007 was his best year with 313 yards on 60 carries and 13 catches for 50 yards. He showed flashes of his talent in two late games against Stanford and Washington when he ran for over 100 yards in each game. Hoping to have a big year in 2008, his season ended after 5 games with a hamstring injury. In 2009 he was dismissed from the Washington State team at the start of fall practice and enrolled at Tiffin University because its head coach Dave Walkosky was a former Washington State assistant and knew Ivory well. He only got to play in 4 full games with Tiffin before a knee injury ended his season. While at Tiffin he ran for 223 yards on 39 carries.
The reason Ivory was dismissed from Washington State was because a felony assault charge was filed against him for a fight with another student. With Washington State having a relatively new coaching staff they decided to use Ivory as an example setter and they got rid of a potential problem. As far as I know, the assault case has still not been resolved.
So how does a player like this get an NFL shot? Well, he has size and speed and that always helps. He is just under 6 feet tall, plays at about 220 pounds and has legitimate 4.50 speed. While at Washington State he showed flashes of big play ability but couldn't stay healthy long enough to sustain it, but his career rushing stats are over 5 yards per carry and he also averaged 22.5 yards on 23 kickoff returns. In short, he has ability he just never got the opportunity to showcase it because of injuries and off field issues.
This season he has shown big-play ability. He has 5 runs of over 20 yards. He hits the hole quickly and has good run instincts. He has good balance, shows the agility to make people miss in tight and runs with authority. With his size and power he can and does get yards after contact. The interesting thing to watch for is if he can stay healthy, especially with the long NFL season. Overall, this is a great find for the Saints. As of now, he looks like the NFL power back that every team wants.