December 16, 2010 -
Greg Gabriel
Week 14 rookie report card, part 2
Because of the heavy snowstorm in Minneapolis last weekend and the roof deflating at the Metrodome, the Giants picked up extra frequent flyer miles traveling from New Jersey to Kansas City to Detroit in order to play their game with the Vikings. Because of all the travel problems no one would have faulted the Giants if they were flat, but they came out strong and won easily 21-3. The Giants defense, led by defensive coordinator Perry Fewell, has gotten better every week and is one of the best pass rushing defenses in the league. Fewell did an outstanding job as interim coach in Buffalo last year and has to be a strong candidate for any head coaching jobs that open this year.
There were four rookies who got significant playing time in this game and we will look at all of them.
Jason Pierre-Paul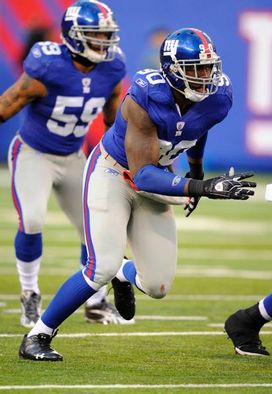 ICONJason Pierre-Paul played both DE and DT against the Vikings.
Since midseason, Pierre-Paul has gotten more and more playing time. In the last few games he was playing mostly at defensive end in passing situations. In this game he played both defensive end and defensive tackle. Pierre-Paul, with his speed, athleticism and long arms, is a natural pass rusher. He has great snap reaction and initial quickness. He can get tall at times, but when he stays low he shows great natural leverage to get by blockers. While he didn't have any sacks in this game, he did put consistent pressure on the quarterback from both the inside and outside. He plays hard on every play and is an excellent pursuit player with speed. He is strong and powerful and improves every game. Give this player a strong offseason in the weight room and the sky is the limit as to how good he can be. He earns a solid B+ in this game.
Chris DeGeare
Because of an injury to Steve Hutchinson, DeGeare had to start at left guard for the Vikings. He was the Vikings 5th round draft choice out of Wake Forest. DeGeare played tackle his senior year at Wake, but at 6-3, 330 pounds is more suited to play guard. He has good athleticism and very good natural strength and power.
Most of the game he played well. As a run blocker he gets off the ball quickly and shows some explosion on contact. He runs his feet well and with his natural power he showed the ability to get some movement. He did a good job getting out to linebackers and on the few plays that he pulled he showed that he could adjust on the move to hit a moving target. His problems came in pass protection. He held his own in one on one situations showing a good punch and better than average mirror skills. He has the flexibility to bend his knees and anchor and does a good job keeping his hands inside. When the Giants stunted he struggled. Twice he was late picking up twist stunts and gave up sacks both times. The second time he lost his balance and was just not quick enough to recover and get in position to make a block.
Overall, DeGeare has talent and will get better with experience. He is a top character guy and has the physical traits to be a good player. The bottom line, though, is an offensive lineman has to protect the quarterback and his lapses in pass protection caused two sacks. Because of this he earns a C+. But in saying that, I like his upside and feel he will be a winning player for the Vikings in the future.
Toby Gerhart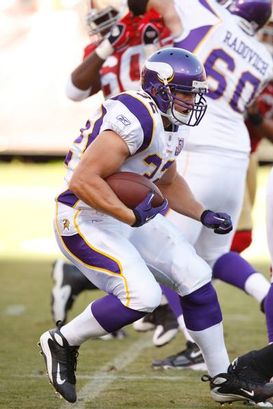 ICONToby Gerhart was the Vikings second-round pick in 2010.
Gerhart was the Viking 2nd round pick. He had a great season at Stanford in 2009 and I thought that he was an excellent selection for the Vikings. In the two games preceding the Giants game he had 34 carries for 130 yards. The Vikings struggled running the ball Monday against the Giants and Gerhart only had 3 carries for 11 yards and 1 catch for 1 yard. Gerhart has excellent size and good speed and quickness. He gets to the hole quickly and runs with very good lean. He has good balance to go along with excellent power and is consistently able to get yards after contact. Rookie running backs can sometimes struggle with blocking but Gerhart is better than average. With so few touches it's tough to give a grade for this game, but when he was in he performed. He earns a B.
Joe Webb
Webb was a multi-purpose quarterback at Alabama-Birmingham in college. He is a remarkable athlete with great size and speed. The Vikings drafted him to be a receiver but when he threw the ball well in rookie camp they decided to let him play his college position. This was supposed to be a learning year for Webb at the quarterback position but because of his rare athletic ability they were hoping to have some packages where he could be used as a receiver or "wildcat" quarterback. With Brett Favre unable to play and Tarvaris Jackson getting banged up, Webb had to play some quarterback in this game. He did not play enough to fairly grade but I will say that his athleticism stood out. He has very quick feet and excellent speed. He threw only 5 passes completing 2 for 8 yards. He showed a very strong arm and gets the ball out of his hand quickly. Because of his inexperience he seems to lock in on his primary and that can cause problems. He has excellent run skills and showed those skills with a 16-yard run.
Overall, he is a long way away from being ready to play quarterback in the NFL but he has talent. He gets an incomplete grade for this game but if he has to play a lot against the Bears this week we will report on it next week