December 14, 2010 -
Greg Gabriel
Week 14 rookie report card
For Part I of the Rookie Report Card, I was going to review two games: Oakland at Jacksonville and New England at Chicago.
I attended the New England-Chicago game and it was played in the worst conditions I have ever seen a game played in (and it wasn't fun sitting in those conditions). One of the players I wanted to get a close look at was linebacker Brandon Spikes. But on Saturday he was suspended for the rest of the regular season for violating the league's policy on performance-enhancing drugs. The other two Patriot rookies I looked at were corner Devin McCourty and tight end Rob Gronkowski. McCourty was injured in the second quarter and did not return. Before he got hurt he was in on 3 tackles, had a PBU and caused a fumble that was returned for a Patriots touchdown. He has very quickly become the cornerstone of the Patriots secondary. At this time we don't know the seriousness of the injury. Hopefully he will be back soon.
Gronkowski has really come on strong the last month. Sunday he caught 5 passes for 43 yards and the Pats first touchdown. He is the best blocking tight end on the New England roster and did an excellent job again on Sunday. He earns an A for the game.
One last note on this game: New England is in the playoffs every year because they are the best-coached team in football. They came into Chicago and totally dominated a Bears team that had won five in a row. The Patriots were more ready to play in the poor conditions than Chicago was. The jury is still out on this Bears team. I really don't know how good they are. They may have a 9-4 record and are in first place but they have also been extremely lucky.
In their five-game win streak, two of the wins came against teams having to play their third-string quarterback. They have lost three games at home and were totally dominated by the best team in the AFC. With three very tough games remaining on the schedule (at Minnesota, home to the Jets and at Green Bay) we will find out how good a team they really are. If they win two of the three they should win the division and deservingly so.
Oakland at Jacksonville
I was able to watch this game on Monday and it was a great football game. Both teams have young players that are playing prominent roles. We will take a look at some of those players.
Jacoby Ford - Oakland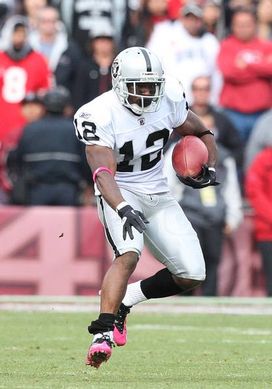 ICONRaiders WR Jacoby Ford
Ford has played very well of late but had an inconsistent game on Sunday. His stats looked good with 2 catches for 43 yards and 5 kickoff returns for 86 yards but it's not always the stats — it's what you see that isn't on the stat sheet. He had a dropped pass early and couldn't get out of bounds after a catch late in the game and the clock ran out. He also fumbled on a kick return that led to a Jacksonville touchdown. In my mind there is no excuse for fumbling. Bill Parcells once told me fumbling is a mind set. If you concentrate on securing the football you won't fumble. Ford earns a C+.
Lamarr Houston - Oakland
Every time I look at Houston he seems to get better. He starts at left end but only plays on "run" downs. He had 4 tackles but also had 3 quarterback pressures and 3 hits on the quarterback. His pass rush has really improved since the beginning of the season. He has an explosive first step and stays low. He is a powerful man and shows the ability to push back the offensive lineman when he tries to bull rush. His hand use when pass rushing is also better and he is starting to develop counter moves. He has a very good motor and is a nonstop player when he is in the game. He earns an A-.
Jared Veldheer - Oakland
I have been singing Veldheer's praises most of this year but I have to admit he struggled some on Sunday. His run blocking is good. He stays low, keeps his hands inside and gets a push. His struggles came in pass protection. He was having a hard time with wide speed. He just wasn't quick enough with his set to cut off speed rush. While I didn't see him give up any sacks, he did give up pressures and hits. Have to give him a B- for this game.
Tyson Alualu – Jacksonville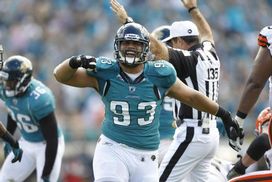 Jaguars DT Tyson Alualu
The Jags first pick, Alualu is a starter at defensive tackle in a 4 front. The official stats credited him with only 1 tackle. I had him for 1 tackle and 1 assist and 2 quarterback pressures. While his stats aren't great he plays a very consistent game. He is quick off the ball and is very strong at the point. He has the power to hold his ground and occupy blockers. With his hand use he can shed quickly and get to the ball. At this time he is more of a bull rusher than a finesse rusher but he does have good hand use and he never gives up. He goes all out until the whistle blows. Alualu is going to be a good player for years to come. He earns a B+.
Austen Lane – Jacksonville
Lane starts at left end and usually plays only in run down situations. He is tall and long, has a bit of a narrow frame and still has to get a little stronger. He plays hard, you see consistent determination when he is in the game. He will get tall when coming off the ball at times and when this happens he gets neutralized, but when he stays low he can get penetration. With his long arms he shows he can play with leverage and has fairly good hand use. The best thing he does is pursue the ball. There was one play when he ran across the field to catch Darren McFadden.
He doesn't get a lot of opportunities to rush the passer but when he does he gets off the ball quickly and shows some edge speed. He needs to improve his hand use when pass rushing but because of his play speed, height and length he can still be somewhat effective.
Lane shows good toughness, as he injured his leg in the third quarter but returned 2 series later. Overall, this is a raw player with a lot of upside, he earns a B-.