December 23, 2010 -
Greg Gabriel
Week 15 rookie report card, part 2
The battle for the Governor's Cup was more than just an intrastate battle between Kansas City and St. Louis. Both teams were trying to hold onto first place in their respective divisions and earn a spot in the playoffs. Besides being from the same state, there are other similarities.
In the last few years both teams have drafted very well and are building a solid nucleus of young players. It won't be long before both of these teams are two of the better teams in the National Football League.
I have written about the rookies on both these teams this year but with them playing against each other I was looking to see which young players would stand out.
Sam Bradford – St. Louis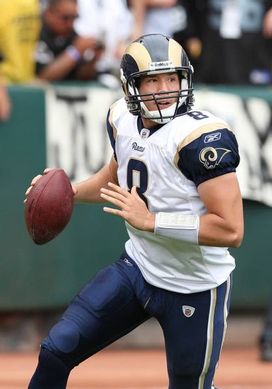 ICONCould Sam Bradford and the Rams be on their way to the postseason?
Bradford started strong completing 7 of his first 9 passes in leading the Rams to field goals their first two possessions. Things slowed down after that. The Chiefs defense tightened up and Bradford showed some rookie inconsistency. He wasn't able to come up with the big play when he needed to. He finished the game 21 of 43 for 181 yards and also threw 2 interceptions. This is all part of the learning process of young quarterbacks but for Bradford these games are extremely important. He has two more games to come up big and if they win out against San Francisco and Seattle then the Rams will be in the playoffs. It can be said he will have had a very successful rookie season. For the season, Bradford easily rates a B+ but for this game he gets a C.
Rodger Saffold – St. Louis
I have watched Saffold play a number of times this season and every time I am more impressed. How this player lasted until the second round amazes me. He has all the tools with size, bulk, quick feet, body control and balance. What I saw Sunday that I didn't see before was how nasty he can be. He is a very physical run blocker who consistently looks to finish. He has great snap on contact and more than once put his opponent on the ground. Like all rookies he had a few bad plays. He got beat with an outside in move once and had a couple illegal procedure calls but his overall game was impressive. Going into the draft, people said he couldn't play left tackle — he's a natural left tackle and has outstanding lateral quickness. I can see this player being one of the top left tackles in the league for years to come. He earns an A.
Eric Berry – Kansas City
Like Earl Thomas of Seattle who I reported on Tuesday, Eric Berry is an outstanding young safety. Berry has a bit more size than Thomas (5-11 to 5-10) and has the same corner type athleticism. You could easily put either of these players at corner and have a top player. What I like about Berry is how he attacks things. He's full go on every play. He is a very aggressive run support player with explosive hitting ability. When he tackles, he runs right through his opponent. In coverage his instincts and anticipation are excellent. He is very quick and fluid in transition and has very good range. He literally can make plays all over the field. The bonus the Chiefs get with Berry is because of his athleticism and man coverage skills they can always put him in a man coverage situation and not worry. He had a play Sunday where he was in man coverage on a wideout running a crossing route and showed great mirror skills and ball reactions to get the PBU. He was a great pick for the Chiefs and easily earns an A.
Kendrick Lewis – Kansas City
As a senior at Mississippi last year I saw Lewis play twice. I felt he was one of the most instinctive safeties in the draft. He lasted until the fifth round because of one thing — he ran slow, both at the Combine and his pro day. In scouting we use a term "plays faster than he times" and that term fits Lewis to a T. Because of his great instincts and quickness he is always where he is supposed to be. He has very good ball reactions and good hands. He is not the run support player that Eric Berry is but few are. He can be aggressive and is a good tackler. The best thing about him is his instincts in coverage and that showed Sunday with 2 PBU's. He also had a hit on the quarterback on a safety blitz. With Berry and Lewis, the Chiefs have two rookie safeties that will be excellent for many years. He earns a B+.
Tony Moeaki – Kansas City
I have written about Moeaki a number of times this fall so I don't have much to add. Week in and week out he plays a very steady, consistent game. In the last few years we have seen pass-catching tight ends and blocking tight ends come into the league and be productive, but there aren't many that can do both. Moeaki can and does. Moeaki and Rob Gronkowski of New England are two of the best all-around tight ends to come into the league in years. In watching Moeaki this year I have seen few bad plays. Sunday there was one when he ran a poor route that caused an interception but he came back and had some big plays after that including a great catch in traffic. As usual he showed very good blocking ability. Moeaki earns a B+ for his play Sunday.