December 21, 2010 -
Greg Gabriel
Week 15 rookie report card
Before I get started with the rookie report, I would like to congratulate the staffs of Pittsburgh, New England and Atlanta for qualifying for the playoffs and Chicago for being the first team to clinch its division.
I have known Kevin Colbert of the Steelers, Thomas Dimitroff of the Falcons and Bill Belichick of the Patriots for years so I know the outstanding jobs they do. They are tireless workers and great leaders and that is why their teams do so well year after year.
Lovie Smith had the proverbial gun to his head going into the season and did a remarkable job. The defense has played as well as it did in 2006. Lastly, I would like to congratulate the scouting staff I had in Chicago (Chris Ballard, Ted Monago, Jeff Shiver, Mark Sadowski, Rex Hogan and Marty Barrett). You would be hard pressed to find a better scouting staff in the league and without them the Bears wouldn't be where they are. Scouts as a whole never get the credit they deserve. They spend week after week on the road trying to find players but when success comes they almost always have to take a back seat. Good luck to all of you in the playoffs.
On Sunday, Atlanta traveled to Seattle in a game that had importance to both clubs. Atlanta was trying to hold onto the first seed in the NFC and Seattle was trying to hold onto first place in the weak NFC West. In the end, Atlanta won and took another step toward guaranteeing the first seed. The way things are in the West, the division winner may have a losing record and host a playoff game. For some reason, that doesn't seem right.
Corey Peters - Atlanta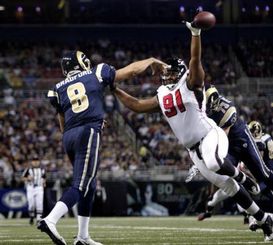 Falcons DT Corey Peters.
Atlanta only has one rookie getting a large amount of playing time and that is Corey Peters, a defensive tackle from Kentucky. Peters is not a pass rusher, he is a big run-stuffing DT who will often come out in obvious passing situations. He has excellent size with very good strength, power and arm length. With his size and power he does an excellent job holding the point and occupying blockers. He has good reactions and does a good job finding the ball. A very competitive player, he plays hard every down. He has good hand use and can shed quickly. When rushing the passer, he lacks moves. He is mostly a bull rusher who shows only average ability to redirect. He does not have any sacks on the season. Overall, he is a good run-down player with limited pass rush skills and earns a B for his play.
Russell Okung – Seattle
Okung starts at left tackle and most of the season he has played extremely well. Most of Sunday's game he looked good but did struggle on a few plays.
Okung has great size with long arms. He can bend his knees and move his feet. He usually sets quickly in pass protection and shows a strong punch. There were a few plays where he was beat with speed to the outside, giving up a pressure and a sack. John Abraham beat him cleanly to the outside with a combination of speed and hand use to get the sack. When run blocking he gets to his blocking quickly and consistently was able to get movement. He does a good job getting to the second level and on the few plays that he pulled he did a good job adjusting to make a productive block. Overall, it was an average game for Okung and he gets a B.
Earl Thomas – Seattle
This year has seen a number of rookie defensive backs play extremely well. I don't know if I can remember when there have been as many who have been so productive. It seems like almost every team has one. One of the best of a great group is Earl Thomas. He starts at free safety and is fourth on the team in tackles with 71 and leads in interceptions with 5.
Not a big guy at 5-10, 202 pounds, but he has the speed, quickness and overall athleticism of a corner. I love the way he runs to the ball and he is an explosive hitter and tackler. With his quick feet and hips he has corner cover skills when in man coverage, showing excellent mirror ability. In zone he shows awareness and has outstanding range to the sideline. His ball skills and anticipation are excellent. As a rookie he is already one of the better run-support safeties in the league.
In this game, he did not make any big plays in coverage but did not give up any either. His overall play in the game was very good and he earns an A.