December 30, 2010 -
Greg Gabriel
Week 16 rookie report card, part 2
In last Thursday's game between Pittsburgh and Carolina, the Steelers needed a win to keep pace with Baltimore in their battle for first in the AFC North. While Maurkice Pouncey has been a solid starter all year, Emmanuel Sanders and Andre Brown have really come on the last half of the season.
Emmanuel Sanders – Pittsburgh
Sanders was the Steelers 3rd-round pick out of SMU. He was a very productive player while at SMU, catching 165 passes in his final two seasons. At 5-11, 186 pounds, he is not the biggest guy but he has great speed, averaging 4.44 at the Combine.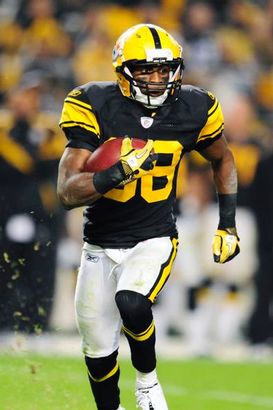 ICONSteelers WR Emmanuel Sanders
In the last 7 games he has caught 23 passes for a 13.0 yards per catch average. Many of the catches have come when a play was needed. Thursday he had 4 grabs for 54 yards with most of the catches being first-down plays. He has also been a very good return man this year but did not get any opportunities in this game. Along with having very good speed, Sanders has great quickness and body control. He gets in and out of cuts very quickly and he shows a very good ability to adjust to the ball. Because of his speed and quickness he is very good after the catch. A bonus feature is he is a good special teams player. He shows aggressiveness and tackling ability on the kickoff team. He earns a B+.
Antonio Brown – Pittsburgh
Brown was the Steelers 6th-round choice out of Central Michigan. He has about the same size as Sanders — just not quite as much straight-line speed. He is another young player that has come on as of late. In the last 4 games he has 10 catches in a backup role. He also is a better than average kickoff return man with a 24.0-yard average. Brown is a little more of a straight-line player than Sanders, he doesn't quite have the body control and separation quickness but he still can make quick cuts and accelerate.. He has good hands and will compete for the ball in traffic. With his speed and burst he is dangerous after the catch. Overall, this is a player that has shown steady improvement all season and with Mike Wallace and Sanders they give the Steelers three young receivers with a lot of speed. He earns a B- for his play on Thursday.
Maurkice Pouncey – Pittsburgh
I have already written about Pouncey a few times this season. He is a very impressive player and as a rookie was invited to the Pro Bowl earlier this week. That is not an easy thing to do for a rookie offensive lineman. He has gotten better all season and it won't be long before he becomes THE dominant center in the league. He has great size, strength and athleticism. For a young player he is already a very accomplished run and pass blocker with excellent hand use. There is not much more to say that hasn't already been written. He gets an A+
Jimmy Clausen – Carolina
Clausen has played in 12 games this year and I thought that he would have progressed more than he has. Granted, the Panthers don't give Clausen a great supporting cast but with the amount of playing time Clausen has gotten he should be playing better. During his sophomore year at Notre Dame I questioned his instincts and didn't think that he was a good decision maker. That area of his play improved dramatically in 2009 so I thought that it was just inexperience. I may have been wrong. His play this year shows he is not a quick decision maker and not instinctive. He holds onto the ball too long and forces throws. With as much playing time as he has gotten this season he shouldn't be doing that this late into the year. He has the physical tools and will make some very good throws, you just don't see consistency. He earns a C at best.
Andre Neblett – Carolina
Neblett was an undrafted free agent defensive tackle from Temple University. At 6-foot, 295 pounds, you can understand why he wasn't a draft pick. Every year we find guys like this — tough overachievers who will themselves to become good football players. He appreciates his opportunity and gives everything he has on the field.
Neblett didn't play early in the season and has really gotten his chance to play the last few weeks. He plays in a rotation at defensive tackle, often lining up on the nose. This player doesn't have a lot of height but he has long arms and is very strong. He is quick off the ball and can be disruptive in the run game because he gets penetration. He goes all out every down and is a tough competitor. He is not much of a pass rusher; he lacks moves but he is able to get a push. I like the way he stays low and drives his feet.
Overall, Neblett doesn't have a strong physical trait, he's just a hard-nosed football player and earns a B-.
Joe Webb – Minnesota
With the game Webb played Tuesday night we have to write about him. Given the situation in which Philadelphia had to win to keep their chances of a first-round bye in the playoffs, Webb's play was remarkable. Though a quarterback in college he has gotten very few reps at quarterback in practice until the last few weeks. Many times in situations like this when you have a rookie quarterback you tone the offense down and ask him "not to lose the game." Hell, he won it. He took control and outplayed Mike Vick. He completed 17 of 26 for 195 yards and NO interceptions. He also rushed for 31 yards and a touchdown. It was the way he kept plays alive with his feet that was fun to watch. He is a remarkable athlete with great speed and body control. The Vikings may have found themselves a quarterback by accident. He earns an A.