December 28, 2010 -
Greg Gabriel
Week 16 rookie report card
The last time I wrote anything about the Buffalo Bills was during the preseason after they beat the Indianapolis Colts in Toronto. The Bills are still a ways away from being a playoff team, but what they are is a very competitive blue-collar team that has no quit in them. Sunday they played probably their worst game of the season, losing to New England 34-3. Turning the ball over 7 times to a team like the Patriots is no formula for winning, but you also saw a team that has many talented young players who play hard for the entire game. Give the Bills a solid draft and a few good free-agent acquisitions and they could make a run for the playoffs.
The problem they have with challenging for a division title is they are in the same division as the Patriots, which has the best organization in football. Still, today it is not that difficult to go from third or fourth place in a division to playoff contender in one season. Just ask Tampa Bay, Kansas City and Chicago.
At this stage of the season, the Bills have a number of first-year players getting playing time. We will talk about some of them today.
C.J. Spiller
Spiller was the Bills first pick and the 9th overall in the first round. He has not had the kind of season that you would expect from a player taken in the top 10. He has rushed for only 278 yards and a 3.9 yards per carry average. He also has caught 24 passes, returned 40 kickoffs for a 23.3-yard average and 10 punts for a 13-yard average. He has had some problems with injuries, missing 2 games and parts of others. I never saw Spiller as being an every-down back in the league. He is more of a specialist who has great open field run skills and big play ability. Ideally you would want to get him 18-20 touches a game between rushes, receptions and returns. With that kind of a load he can make things happen.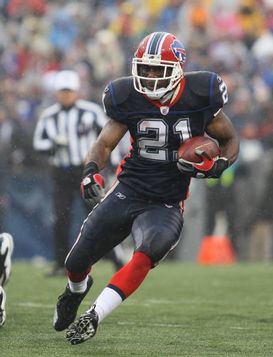 ICONBills RB C.J. Spiller hasn't had the most spectacular of rookie seasons.
Sunday was a tough day for Spiller. He had 6 carries for 30 yards and 2 catches for 54 yards, including a great catch on a go route for 41 yards. He also returned kicks for a total of 84 yards. The bad news is he fumbled twice — once on a rushing attempt and once when he muffed a punt. Good backs don't fumble. It is not a physical thing; it is strictly a mental thing. While you saw some of his big-play ability, the turnovers were costly. He gets a C+ for the game.
Donald Jones
Jones was an undrafted free agent from Youngstown State. He had the talent to be drafted but I know some clubs had questions about his medical so he became part of the post- draft free agent pool. He has excellent size at 6-foot, 214 pounds with 4.50 speed. He didn't get a chance to play until the 9th game but has played well since with 18 catches in the last 8 games. He is a very sure-handed receiver with good run-after skills because of his size and strength. He is also extremely tough. On Sunday when going up for a deep sideline pass he took a vicious hit and was knocked woozy for a while. He only missed one play and made some nice catches after.
Jones may never develop into a starter but he can be an excellent third or fourth receiver in the league. He gets a B+ for his efforts this week.
Arthur Moats
Moats was a 6th-round pick from FCS school James Madison. He played defensive end in college and was a dominant pass rusher at the FCS level. At 6-foot and 246 pounds, he wasn't about to be a defensive end in the NFL and so he has had to make the transition to linebacker. Going from playing with your hand on the ground to playing on your feet is not an easy conversion but Moats has done a good job. He has been a starter since midseason and has come up with some big plays.
At this point he does not have top reactions as a linebacker but that is to be expected. He is a good run defender who shows some stoutness at the point of attack and has the quick hands to shed blocks. I like his competitive nature and his desire to be physical. He does, however, struggle in coverage. He can be a bit late reacting and hasn't shown top mirror skills in man coverage.
He has also been used as a pass rusher, sometimes lining up in a 3-point stance. For a guy only 6 feet tall he has long arms and a burst off the edge. He comes hard and shows some ability to redirect but he still needs to develop his hand use and counter moves. In time he will be an effective blitzer but he is still a work in progress at this stage. He gets a C+
Naaman Roosevelt
Like Donald Jones, Roosevelt was an undrafted free agent. Roosevelt had a very productive career at the University of Buffalo. He finished his college career as the Bulls all-time leading receiver with 268 catches and 28 touchdowns. The reason he wasn't drafted was because he lacks the most important trait a receiver needs…TIMED SPEED! Naaman is not and never will be a sub-4.5 guy; he is more like a 4.6-type but what he has is very long arms, huge hands and an uncanny ability to find the open area.
He was a practice squad player much of the season before being activated for the Bills 11th game. He didn't get much of a chance to play until last week in Miami when he had 2 catches but Sunday he came up with some big plays and 4 catches for 74 yards, including two very difficult catches where he had to make nice adjustments. He also returned 2 kickoffs. Like Jones I doubt Roosevelt will ever be a starter but he can be a valuable reserve for a winning team. He earns a solid B+ for his play Sunday.