January 04, 2011 -
Greg Gabriel
Week 17 rookie report card
Sunday night's game between Seattle and St. Louis was in essence a play-in playoff game. The winner of the game won the NFC West and "earned" the 6th and final spot in the NFC playoffs. Both teams have young rosters with rookies playing in key positions. Here is a look at some of those players.
Sam Bradford – St. Louis
As the first pick in the draft you are expected to lead your team to the playoffs. Not necessarily in your rookie year but very early in your career. Bradford had that opportunity on Sunday but unfortunately for him and the Rams he played poorly.
Bradford had grown steadily during the year, gradually improving from week to week but in this game he looked like a rookie with no playoff experience. He was timid and did not look or play as poised as he had been during the season. He hurried throws and for some reason his release point seemed lower. He had a number of passes tipped at the line of scrimmage.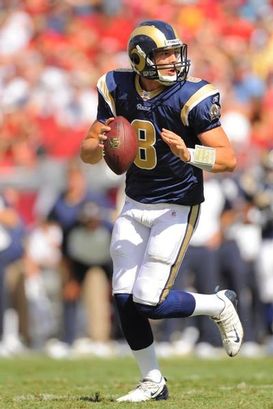 ICONSam Bradford and the Rams just didn't have enough to get to the playoffs.
While watching Bradford during most of the season one of the things that stood out was his accuracy and ball placement. In this game both were off. He completed only 19 of 36 for 155 yards with no touchdowns and one interception. He seldom placed the ball where the receiver had a chance to run after the catch. There were a few plays when he threw long — the receiver was open, he just couldn't get the ball there. His interception came on a key play in the fourth quarter when it was a 7-point game. He stared down the receiver who was double covered and the linebacker made an easy interception. In Bradford's defense, the game plan was very conservative. At one point in the fourth quarter he threw only 4 of 30 passes over 10 yards. Everything was underneath.
I had watched Bradford a couple of weeks ago against Kansas City and he had a rough go in that game also, so just maybe after 16 regular-season games and 4 preseason games he hit the proverbial rookie wall. No matter what the reason his play the last quarter of the season was not nearly as good as it was the first three quarters. He gets a C- for this game.
Rodger Saffold – St. Louis
Anyone who has read this column this season knows how I feel about Saffold. He may be the best rookie offensive tackle in the league. He continued his strong play on Sunday with consistent pass blocking and run blocking. I did see two bad plays, and they were back to back in the final 2 minutes of the first half. The first mistake was on a 2nd and 5 from the St. Louis 42, Saffold had an illegal procedure penalty. On the next play he gave up a sack to an inside spin move. Those two plays basically took away any chance of the Rams getting a field goal in the drive. A player can't make mental mistakes like that in key situations of a big game.
Take away those two plays and his play was solid. He is big, strong, athletic and physical. He consistently looks to finish blocks and often looks for a second block. It's fair to say that Saffold will become the cornerstone of the Rams offensive line. He gets a B for the game.
Russell Okung – Seattle
Okung has played a good part of his rookie season injured. He has not played in 6 games because of injuries to both of his ankles. Sunday he was not close to 100 percent and even missed some time at the end of the 2nd quarter because of his left ankle. You have to be impressed with Okung's toughness. Despite playing on two bad ankles and going against a very formidable opponent in James Hall he played fairly well. He did give up a sack to a spin move early in the game but recovered. Where his injuries affected him was when he was trying to keep a solid base versus bull rushes. You could see that his balance was off. While he is usually a very good knee bender he did look to be playing taller than usual. Still, he shows upper strength and power and usually keeps his hands inside. He can be a physical run blocker and like Saffold he consistently looks to finish. Because of all the injury problems that Okung has had this year we have not seen him at his best. He will really benefit from a strong offseason of weight lifting and conditioning. He earns a B for the game.
Earl Thomas – Seattle
Look at the stats and you would say that Thomas did not have a good game. He had only one tackle. But he didn't give up any plays either. He was consistently in good position in both man and zone coverage. When he is in man, he covers like a corner. He has excellent feet and hips with top mirror skills. His pedal and turn as well as his transition are excellent. He has very good anticipation and shows great range while in zone. His ball skills are excellent, and he is always around the ball whether it's pass or run. When you don't hear a defensive back's name called during a game that usually means he is playing solid football. Thomas earns a B+.
Thursday we will have our All-Rookie offensive team with the defensive team to follow Friday.