September 21, 2010 -
Greg Gabriel
Week 2 rookie report card
Miami vs. Minnesota
By some quirk in the schedule, the Dolphins opened the season with two road games. Sunday they played at Minnesota, who many had as the favorite for the NFC North. They may have been favorites on paper but reality is they are 0–2. In 2009, the Vikings were able to get away with Favre missing training camp. It's different this year. The Vikes don't have Sidney Rice and Percy Harvin is less than 100 percent and that makes it easier to defend them. The Dolphins intercepted Favre three times and made stops when they had to.
Going into the season, Miami had two rookie starters on defense. First-round pick Jared Odrick was injured in their first game and will miss a few games. Still, second-round pick Koa Misi is a starter. Third-round pick John Jerry starts at guard.
Koa Misi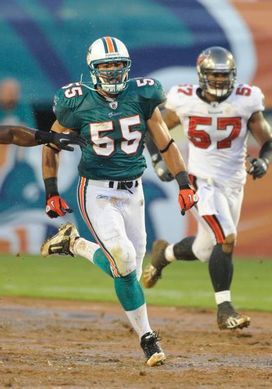 ICONDolphins LB Koa Misi
Misi starts at strongside OLB. He does play in a rotation but still seems to play about 75 percent of the defensive plays. He plays both up and down. When Miami goes to its sub package, he often lines up as a DE in a 3-point stance. Misi was a down lineman at Utah so there is an adjustment for him to play on his feet at the NFL level. The major adjustment is in pass coverage. Misi easily has the athleticism to play in coverage but on Sunday I noticed he didn't consistently get proper depth in his drops. He also lacks top receiver awareness. This will come with game and practice experience.
He plays the run well. He reacts quickly and has good instincts. He's strong in the upper body and is able to disengage from blockers. He plays with a good motor and is always running to the ball. As a pass rusher he uses his speed and power effectively. He can close quickly off blocks. In Sunday's game, he had a pressure and two hits on the quarterback and recovered a Favre fumble in the end zone for a touchdown.
Overall, Misi had a good game. He hasn't scratched the surface of how good he can be. He will be a very productive player in that scheme. He gets a strong B+ for the game.
John Jerry
Jerry starts at right guard for Miami. He had experience at both guard and tackle while at Ole Miss. I wasn't a big fan of Jerry's last year. I thought he was too heavy and didn't play with enthusiasm. He is playing much better this year. He is a naturally strong player. He has good snap reaction and gets into his run blocks quickly. In this game he was up against one of the best defensive tackles in the business in Kevin Williams and more than held his own. Williams is very strong himself, but there were times when Jerry was able to turn him and get movement. Jerry did a good job keeping his hands inside and showed good leg drive.
In pass protection he showed some inexperience. Williams was able to beat him with some change of direction moves and there was one play when Jerry didn't pick up a loop stunt. Still, he showed good anchor. Probably the weakest part of his game is pulling. Twice on pulls to the right, he lunged at his opponent and missed. You have to keep your feet under you and not lose body control to be an effective puller. He did have a good pull to the left in the third quarter. Overall, Jerry deserves a solid B. He played better than I expected but there still is much room for improvement.
Toby Gerhart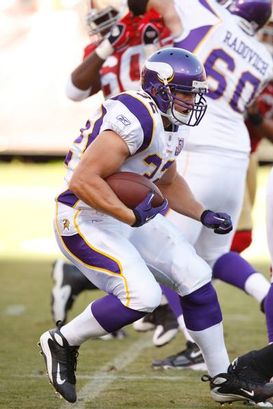 ICONVikings RB Toby Gerhart
Gerhart replaced Chester Taylor as Adrian Peterson's backup. Gerhart had a highly productive career while at Stanford but at this point of the season the Vikings do not have the trust in him that they had in Taylor. Taylor received many more touches in games than Gerhart is currently getting. Gerhart finished the game with 4 carries for 10 yards and 1 catch for 5 yards. He is quick to the hole, runs with good lean and has power. He is able to drag tacklers after contact. As a receiver he has good hands and does a good job adjusting to the ball. I have to give him an incomplete grade for the game because he just didn't play enough to grade him fairly. What I saw I liked.
Chicago vs. Dallas
After the first two offensive series by Chicago you had to wonder if Jay Cutler was going to get out of the stadium alive. Mike Martz and Mike Tice did a great job making adjustments. I only had the opportunity to work with both of them a few months before I left Chicago but I do know that they are extremely good coaches and will put the Bears offense in position to score points. They are two of the best at what they do in the league.
Chicago doesn't have any rookies who are getting significant playing time at this point of the season. Dallas has two — wide receiver Dez Bryant and fullback Chris Gronkowski.
Dez Bryant
Bryant isn't starting but he gets a lot of playing time as the Cowboys third receiver. When the Cowboys scout receivers, they seem to look for the players in the Michael Irvin mold. Their roster is full of tall, long, strong and physical receivers. Dez Bryant is no different, and he may have better natural traits that any receiver on their roster. In their opening game, Bryant wasn't used deep but he caught 8 passes for 56 yards. Sunday against Chicago it was no different. He was used on short routes and caught 2 passes for 56 yards. It was his run after catch ability that got him the yardage. Bryant is not a burner. He has good playing speed, however, and he has a quick burst and is able to get to top speed very quickly. He runs good routes, showing the ability to get in and out of cuts quickly to get separation. He has big hands, catches the ball in his hands and can adjust to the ball. He was also used to return punts and had a 62-yard return for a touchdown. He is a very strong runner. He is powerful with quick feet and a burst. He uses his stop and go ability effectively to make defenders miss.
Overall, I can only say one thing about this player. When he learns the pro game he is going to be one tough dude to stop. He gets a B+ for the game.
Chris Gronkowski
Gronkowski, a rookie free agent from Arizona, was playing because of an injury to Deon Anderson. He played well. He was not used to carry the ball but he is a very good blocker. He adjusts well on the move to hit a moving target and has pop on contact. He looks to and does finish his blocks. He also was used as a receiver. He adjusts to the ball and catches it very well. He caught 3 passes for 13 yards and a TD.
Overall, Gronkowski is an ideal fullback for this offense. He is strong, explosive, has the right attitude to be a blocker and can catch the ball. He probably earned more playing time off his game against Chicago. A very solid B+ for the game.
Click here to win cash today playing Fantasy Football with the NFP and FanDuel.