September 30, 2010 -
Greg Gabriel
Week 3 rookie report card, part two
Kansas City vs. San Francisco
This is the second year of Scott Pioli's rebuilding plan for the Chiefs and it's already starting to pay dividends. They are off to a 3–0 start partly because of the outstanding draft they had this past April. They have more rookies starting and making contributions than any other team in the league right now. The Chiefs have a very strong scouting department led by director of college scouting Phil Emery. Phil worked for me in Chicago for fours years and I know firsthand what a hard worker and an accomplished talent evaluator he is. I'm very proud of him and happy for his success.
In last Sunday's game against San Francisco, at least five rookies made significant contributions.
Tony Moeaki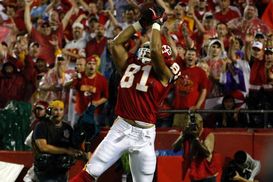 ICONChiefs TE Tony Moeaki is the team's leading receiver with 12 catches.
The Chiefs third-round pick got a start Sunday and had an outstanding game. He is mainly the "move" tight end for KC, lining up as a fullback, wing and motion man. He also plays as a conventional in-line tight end. For the game, Tony caught 4 passes for 44 yards and a touchdown. Through three games he is their leading receiver with 12 catches.
Moeaki is a consistent player. He is a tenacious blocker both in-line and on the move; he has soft hands and has an uncanny ability to adjust to the ball. His one-handed touchdown catch in the third quarter is bound for the highlight reel. Tony is a consistently strong runner after the catch, using his speed and run instincts to his advantage. The overall play of Moeaki is more like a veteran than a rookie. In fact, the tight end group from this last draft is proving to be one of the best tight end classes in years. He grades out an A for his play in the game.
Dexter McCluster
Last year I felt McCluster may have been the most exciting player in all of college football. He WAS the Mississippi offense. He may lack size but this kid is some football player. The Chiefs use him in a variety of ways, in their base offense he is a split receiver, when they go to 3-wides he becomes the slot and he is also used as a running back some. They try to get him in space and let his uncanny speed and athleticism take over. Offensive coordinator Charlie Weis has done a great job finding ways to utilize McCluster's talents. In the game, Dexter had 3 catches for 69 yards and a touchdown, 3 punt returns for 42 yards and a kickoff return for 17 yards. When he has the ball in his hands, not only is he fast and elusive but he runs hard and can break tackles. In short, he is a playmaker. Another "A" grade for his play in game three.
Javier Arenas
Arenas is used as the nickel corner for the Chiefs. He also lines up deep with McCluster on kickoff returns. He also splits the punt return role with McCluster. In Sunday's game, he had a 20-yard kickoff return to open the game and 3 punt returns for 23 yards. His best was an 18-yard return in the second quarter where he made a very quick move to make two 49ers defenders miss. Unfortunately, he sustained a minor leg injury with that return and did not play much in the second half.
In the views I had of him as a defender, he showed good press man cover skills. Arenas does not have great 40 speed, but he has outstanding feet, hips and foot quickness. This gives him top mirror ability. I have to give Javier an 'incomplete' grade for his defensive play because I just didn't see enough snaps to grade fairly; his kick return grade for the game is a solid B+.
Eric Berry
Berry starts at strong safety for Kansas City. He did not have great stats for the game (4 tackles, 2 assists) but San Fran knew who he was. He is a force in the run game. He is very quick reacting and instinctive, he comes up quickly to support and is a strong tackler. In coverage he showed good man cover skills and is excellent in zone. He has outstanding range to the sideline and consistently keeps good position. He gets a well-earned B+ for the game.
Kendrick Lewis
Lewis made the start at free safety Sunday. He was the Chiefs fifth-round draft pick. When I went to Ole Miss last year I really liked his play. He was one of the more instinctive safeties in the draft. What hurt his draft value was he didn't time well. That being said, he plays fast because of his great instincts. He finds the ball! Early in the game, he closed very quickly to get a breakup on an underneath route. When in coverage he shows good range and like Berry, consistently gets and keeps good positioning in zone. The 49ers tried a flea flicker at one point of the game and Lewis' coverage was outstanding. The only negative I saw was while in pursuit to the sideline he was a bit out of control and missed a tackle on Michael Crabtree. Because of the miss, Crabtree got a 22-yard gain. Missed tackles usually turn into big plays for the opposing team. He earns a solid B.
Click here to win cash today playing fantasy football with the NFP and FanDuel.