September 28, 2010 -
Greg Gabriel
Week 3 rookie report card
As we get further into the season, more rookies are playing. This week, we will have two editions of the rookie report card. Today, we will look at the Cincinnati-Carolina and the Indianapolis-Denver games. Thursday, we will do the Kansas City-San Francisco game.
Cincinnati at Carolina
Jimmy Clausen got his first NFL start against the Bengals but did not have the game he would have hoped for. Much of the first half was played in rain that bothered both teams. There were a number of dropped passes and interceptions by both clubs. Clausen finished the game completing 16 of 33 passes for 188 yards and 1 interception.
I thought the Carolina offense was a bit too conservative in the first half, but then again with the sloppy conditions it may have been the way to go. Clausen bobbled at least three snaps from center and lost one of those to the Bengals.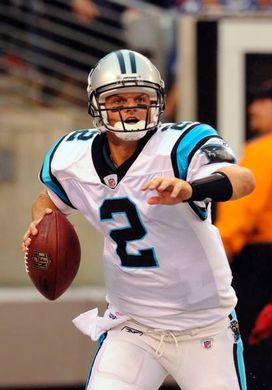 ICONJimmy Clausen was 16 of 33 through the air for 188 yards and 1 interception in his starting debut.
Near the end of the first quarter after Carolina had intercepted a Carson Palmer pass, Clausen turned the ball back over to the Bengals on the first play of the drive. He stared down his receiver giving the corner an opportunity to close and get a diving interception. The Panthers were in position to score at the time so they just threw away points.
Clausen seemed indecisive during much of the game. He waited too long to get the ball out of his hands, often giving the Bengals time to react. There were only a few stretches in the second half where Clausen seemed in control. His best play was during an 8-play, 70-yard drive in the third quarter leading to the Panthers only touchdown. He completed 3 of 4 passes in that drive for 42 yards.
Carolina was playing catch-up much of the fourth quarter, so his second half stats were fairly good but I feel the overall play was inconsistent.
Can only grade Clausen a C- for this game, as he had too many mistakes, turned the ball over two times and was just not assertive. He will get better with experience but it was a tough first start. Next week he goes against New Orleans and defensive coordinator Gregg Williams, so it won't get any easier.
Jermaine Gresham
The Bengals use Gresham in a variety of ways, which first and foremost tells you they trust his ability to learn. He lines up as an in-line tight end, a fullback, on the wing, in the slot and split out. He is best as a pass catcher, with big soft hands, can adjust to the ball and is a very good runner after the catch. They used him on a weakside tight end screen a couple of times and he was able to get significant gains each time. He is a strong and powerful runner with good run instincts. He also had a nice catch in traffic on a crossing route near the end of the first half. He finished the game with 4 catches for 59 yards and for the season he has caught 13 passes for 99 yards and a touchdown.
The weakest part of Gresham's game is his blocking. He was not known as a strong blocker coming out of Oklahoma. He is a better blocker on the move than when blocking as an in-line tight end. When in line, he seems to be more of a shadow blocker. He lacks snap and drive on contact, gets a bit tall and is not a consistent finisher. When blocking on the move he makes better contact and shows an ability to adjust to a moving target.
Overall, Gresham is going to make a lot of plays for the Bengals, and because of his size, speed and athletic ability they will be able to keep using him in a variety of ways. He will cause matchup problems for the defense. To become a complete player, though, he has to improve his blocking and intensity as a blocker. For the game I give him a B+. What kept him from an A is his blocking.
Indianapolis at Denver
Denver has three rookies who get abundant playing time on offense. They are J.D. Walton, the starter at center, starting right tackle Zane Beadles and first-round pick Demaryius Thomas, who is playing as a backup wide receiver.
Demaryius Thomas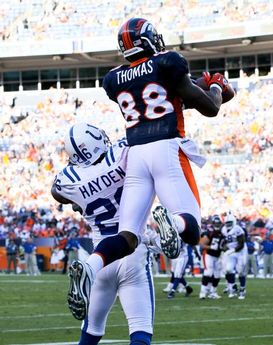 ICONDemaryius Thomas dropped a TD pass and fumbled this past Sunday.
Thomas broke his foot in the spring and had trouble with it until recently. He did little in training camp and did not play in the season opener, but played a huge role in Denver's Week 2 win against Seattle with 8 catches and a touchdown. In Sunday's game he was targeted 6 times and came up with 2 catches for 43 yards. He had a drop in the end zone with about 2 minutes left in the game. A catch would have brought Denver within 7 points.
Thomas is a unique talent, with great size, speed and overall athleticism. In college he played at Georgia Tech, which is not known for its passing game and because of that he is still very raw. While saying that he has the natural talent to be a star, he just needs playing experience. Thomas has very good route quickness, he can make quick cuts and get separation. He has very good ability to adjust to the ball and is a strong and fast runner after the catch. In Sunday's game, he caught a crossing route in traffic then put a move on the defender to get a first down. He also had a good move on a catch in the red zone earlier in the game but then fumbled the ball. For the game, because of the drop and fumble, I can't grade him better than a C+. But Thomas will be a big playmaker for the Broncos before the year is out.
Zane Beadles
Beadles starts at right tackle. They drafted him to play guard but when Ryan Harris got hurt, Beadles was moved over to tackle. He has adequate size and good ability to bend. As much as Denver throws the ball, the tackles have to be able to pass block and I was impressed with what Beadles did in this game. Denver dropped back to pass almost 60 times in the game and Beadles gave up 1 sack and a pressure. He was going against Robert Mathis, who doesn't have great size but is an outstanding speed rusher. Beadles more than held his own. He has quick hands, good hand placement and anchors well. He still needs to improve with his run blocking. He is very tenacious but lacks the bulk and power to get consistent movement with his run blocks. He does a good job getting to the second level.
Overall, this was a good game; he deserves a solid B+. When he improves his run blocking this will be a winning player for the Broncos.
J.D. Walton
Walton was the Broncos third-round pick after an outstanding career at Baylor. Though he does not possess great size, he is smart, strong and can really use his hands. He has great snap quickness and gets to his blocks very quickly. He is not an overpowering guy but he is very competitive. He tries to keep good position and always looks to finish. He is a very alert player who looks to help out and does a good job adjusting to stunts and blitzes. On the negative side he was called twice for holding. On both plays he did not keep good position on his opponent. While he usually has good hand use, he did not on those two plays. He also missed a block near the goal line and his man made the stop. While saying that, I like his overall play. He gets a B for the game but this player will be a top center in the league for years to come. He reminds me some of Olin Kruetz, the great center with the Bears.
Click here to win cash today playing fantasy football with the NFP and FanDuel.