October 07, 2010 -
Greg Gabriel
Week 4 rookie report card, part 2
The Monday night game between New England and Miami looked like two different contests. Miami controlled the first half and then New England dominated the second half. The Patriots special teams and defense accounted for 3 touchdowns. New England had five rookies make significant contributions during the game — three rookies started on defense and two more played on offense.
Devin McCourty
McCourty starts at left corner. He has been the starter since midway through the preseason. Other than a few pass interference calls (one in this game) his play has been very consistent. He can play off, man and zone. His man cover skills are very good. He shows top mirror skills because of his suddenness and body control. When in zone he shows very good receiver awareness and he moves very quickly in transition. He had a PBU in the game but it very well could have been an interception. He is very aggressive in run support; he reacts quickly and is a consistent tackler. He had 5 tackles in this game including a stop on a 4th and 2 situation just short of the first down.
Including preseason, this is the third time I have watched McCourty and he improves each time. He earns a B+ in this game and should become a top corner in the AFC for years to come.
Jermaine Cunningham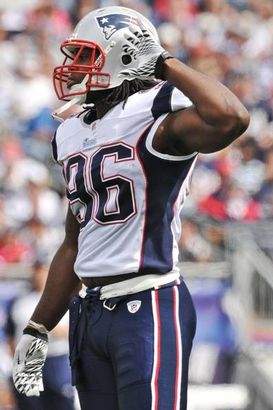 ICONJermaine Cunningham starts at outside linebacker for the Pats in the base 3-4 defense.
Cunningham starts at outside linebacker in the base 3-4 defense. When the Patriots go to their nickel package, Cunningham moves to defensive end. He is always on his feet when playing linebacker and plays both up and down when at defensive end. When he was at Florida he was a down defensive lineman so playing on his feet is new to him. He has made the transition well. He reacts quickly to both run and pass. On the few plays that you see him drop into coverage, he is able to get depth and has good awareness. He is a consistent run defender, he is able to react quickly and get to the ball. He does a good job getting rid of blockers. At this point of his career I would say he is an average pass rusher. He plays with aggressiveness and has a good motor but he has not mastered putting moves together. I have seen him start spin moves too early, giving his opponent time to recover. His hand use is average. In this game he only had 1 tackle but his play was consistent. On the tackle he had, they were playing against the "Wildcat" formation. He read the play quickly and was able to make the tackle for a loss.
The last time I looked at New England, Cunningham was not starting; he has shown steady improvement each week. He earns a B for this game.
Brandon Spikes
Spikes starts at inside linebacker but only plays in their base defense. He comes out and is replaced by a DB when they go to their sub package. Spikes has great size and instincts. He plays faster than he timed because of those instincts. He's a quick reactor and a very aggressive run defender. Usually he shows the ability to get rid of blocks quickly but there were a few times in this game that he was slow to shed. That can be corrected with better hand use. As a tackler he hits and wraps and seldom misses. He shows excellent lateral agility and moves through trash easily. He plays a very steady game and earns a solid B for the game.
Aaron Hernandez
Hernandez is listed as a tight end but he never lines up as a conventional in-line player. He is always split or in the slot and is used as a motion man often. He has excellent speed for a big guy and with his body control is able to break down well to get in and out of cuts. He does a good job finding openings in zone and has the quickness to uncover versus man. He has soft hands and always catches the ball in his hands. His run after catch skills are very good, he can look more like a wide receiver than a tight end with the ball in his hands. The weak part of his game is blocking. While he shows effort to block, he is not a strong blocker and that is probably why they don't use him in-line. For the game he had 5 catches for 29 yards. He also had about a 30-yard catch and run that was called back because of a penalty. He gets a solid B+. Because of the versatility of Hernandez and the overall play of 2nd year receiver Brandon Tate, the Patriots were able to trade Randy Moss.
Rob Gronkowski
Gronkowski is the Patriots "Y" tight end or in-line tight end. He has great size and power. He uncoils very well on contact, runs his feet and is able to get movement with his blocks. He adjusts very well in space to hit a moving target when going to the second level. He was only thrown to once in this game catching a tight end screen and running for about a 5-yard gain. For some reason I did not see him play in the second half. He earns a B+ for his play in the first half. He is developing into a much better blocker than I thought he would as a college player.
Want to work in the NFL? Click here to register for the NFP's "Chalk Talk" session on October 22nd in Chicago.