October 05, 2010 -
Greg Gabriel
Week 4 rookie report card
Today, we will look at two games from Sunday: Baltimore at Pittsburgh and Washington at Philadelphia. On Thursday, we will look at the New England at Miami Monday night game.
Baltimore at Pittsburgh
The only rookie to get a lot of playing time in this game was Pittsburgh center Maurkice Pouncey, the team's first-round pick out of Florida. To date, Pouncey has played extremely well. The Steelers coaches have been raving about him, saying he was playing like a seasoned vet not a rookie. Most of this game he played well but was up against two big, tough and strong defensive linemen in Haloti Ngata and Kelly Gregg. Those two can be tough for anyone to block let alone a rookie.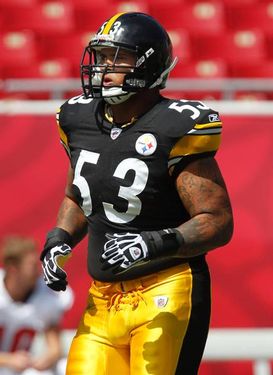 ICONSteelers center Maurkice Pouncey
Pouncey gets off the ball quickly and into his blocks. He's aggressive and shows explosive snap on contact. He is an extremely good athlete with size and power. He does an excellent job staying on his feet and sustaining blocks, and can also get to the second level easily. He is very good at finishing blocks and will look to make a second block if he has the chance. In this game he had some trouble in pass protection, more so against Ngata than Gregg. Nagata is so big and strong that on a few occasions he was able to push Pouncey back. He was also able to get by Pouncey once and get a sack. In fairness to Pouncey it was more a coverage sack than a bad play on his part. On another play he was late picking up a delayed blitz by Ray Lewis and the QB took a hit.
I like Pouncey's consistent effort, though. After a Steelers fumble, he hustled to the play to get the recovery on a play that looked like a sure TD for the Ravens.
Pouncey gets a B+ for the game. He needs to still work on his pass protection but he has the makings of a future Pro Bowler.
Washington at Philadelphia
In Donovan McNabb's return to Philly we saw a physical game in which mistakes kept the Eagles from a possible win. I was hoping to see the Redskins Trent Williams perform but he still isn't ready to play after suffering an injury early in the season. Still, we got a good look a few young players of the Eagles.
Brandon Graham
Graham, the Eagles first-round pick, starts at left end in their 4-3 defense. He lacks great height measuring about 6-2 but he has bulk and long arms. He is very athletic and has excellent playing speed for a defensive lineman. He started out a little slow, getting hooked blocked early and the Redskins runner was able to turn the corner but his overall game was strong. He is a great effort player with very good instincts. In the first half he diagnosed a screen play and was able to make the stop.
The Eagles use a lot of zone blitzes and when they do Graham often drops into coverage. He has a good drop and shows very good awareness. On a few plays he was even locked up in man coverage and showed better than adequate man cover skills. He is still not a polished pass rusher but he comes hard every play. He finished the game with at least 2 QB pressures and forced a bad throw on one. He is an excellent pursuit player showing speed and range and takes good angles. He finished the game with two tackles but his hard play and penetration forced runners to change direction. He deserves a B+ for the game. His lack of size will always limit him to some degree but this is an excellent football player.
Nate Allen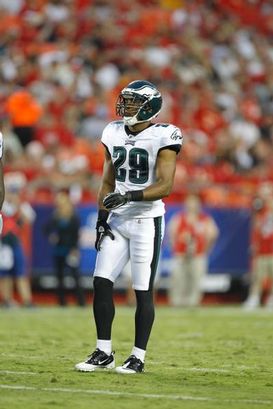 ICONEagles safety Nate Allen
Allen is a player that I really liked last year when he was a senior at South Florida. He has an outstanding all-around game. There is not much he can't do at the safety position He has excellent size to go along with speed and fluid body control. On top of that he is a great kid. If you can get a bunch of kids like Nate Allen on your football team you are going to win a lot of games.
Going into Sunday's game, Allen was named the NFC defensive rookie of the month for his strong play in the first three games. He continued that play against the Redskins with an interception and 3 tackles. Allen has excellent instincts. He reads things quickly and gets to the ball. He keeps good position in zone and he has the athleticism to play man. His ball skills are very good and he has good hands. While he was a junior at South Florida, I had some concerns about his tackling but no longer. He has become a consistent tackler and will really lay a hit on his opponent if he has a chance. He wraps up and tackles well in the open field. His play on Sunday earns him a B+. He will be a top free safety in the league for years to come. The Eagles defense is loaded with a bunch of good young players, as this group continues to play together they will only get better.
Want to work in the NFL? Click here to register for the NFP's "Chalk Talk" seminar in Chicago on October 22nd.